As an IT specialist, your work is essential to the smooth operation of any business. You ensure that its networks, servers, and systems all run seamlessly, and when IT-related fires emerge, you're the one to put them out and help avoid any major business disruptions.
You've got your hands full, ensuring that networks and computers are always working as intended. However, if you want to take your career to the next level, you'll need a resume template that summarizes your talents in an eye-catching layout.
We're here to help you do just that. Thanks to our IT specialist resume examples and tips, you'll wow recruiters and land that dream job!
---
IT Specialist Resume
---
Clean IT Specialist Resume
---
Modern IT Specialist Resume
Related resume examples
---
What Matters Most: Your In-Depth Knowledge & Experience in IT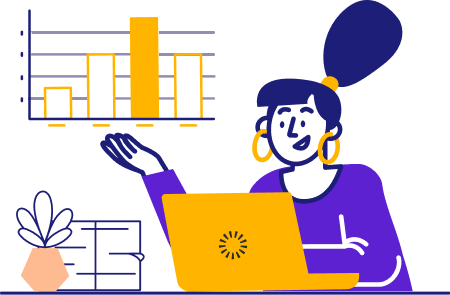 You're a pro at various IT systems, including cloud infrastructures like AWS or Azure, and Linux or Windows operating systems. You know how to get the most out of them, as well as how to troubleshoot and resolve issues that sometimes arise.
While your excellent people skills play a part in your daily success, let them shine through your work experience rather than listing them here. In this part of your resume, it's better to focus on technical know-how.
Get into the specific systems, languages, protocols, and software that you're familiar with. For instance, talk about managing virtual machines with VMware, your proficiency with Active Directory, or your familiarity with popular cybersecurity software.
9 best IT specialist skills
VMware vSphere
Cisco ASA
Azure/AWS/GCP
Windows/Linux/macOS
SQL Server
Active Directory
Norton/McAfee
TeamViewer
Nagios
Sample IT specialist work experience bullet points
In IT, the best way to show your value to recruiters is through your work experience. To bolster the impact of this part of your resume, prioritize your achievements where you used the skills you listed in the previous section. It's far better than simply talking about the daily grind.
Just as you monitor network performance metrics using Nagios, back your achievements with concrete metrics to truly catch the eyes of recruiters.
For example, talk about how you streamlined software installations with VMware to reduce setup time or how you reduced operational costs by overseeing a large-scale AWS cloud migration project.
Here's how to do this in your resume:
Implemented network monitoring solution using Zabbix to reduce network downtime by 33%
Designed and deployed a scalable and secure network infrastructure using Cisco ASA firewalls, reducing security incidents by 21%
Led a team in upgrading 200+ company devices to the latest OS, completing the project 14% ahead of schedule
Leveraged Nagios to maintain and monitor network performance, reducing server downtime by 39%
Top 5 Tips for Your IT Specialist Resume
Fine-tune your resume

Study each job description carefully and note the skills that it emphasizes. If you're confident in these skills, place them at the top of your list. For example, if a listing mentions virtualization and network monitoring, highlight your proficiency in VMware, Nagios, and Wireshark.

Showcase your automation skills

If you're familiar with any automation tools or scripting languages, such as PowerShell or Python, highlight them in your resume. In today's IT landscape, automation skills are precious and can help set you apart.

Elaborate on your troubleshooting

Rather than just mentioning your ability to resolve IT issues, dive into the details of complex problems you've troubleshot and resolved. Talk about the methodologies you employed and supplement them with the positive impact you achieved, be it improved uptime or efficiency.

Highlight your certifications

IT specialists are often required to have certifications such as CompTIA A+ and ITIL, so highlight them in your resume. If you also have any specialized certs, such as AWS Certified Solutions Architect, they're worth mentioning, too.

Emphasize your project management

If you've ever dabbled in the management side of things, mention the number of projects you've overseen, their goals, and outcomes. For instance, say that you managed 20+ IT projects from creation to completion, all while staying under budget.
How long should my resume be?
Unless you have more than 10 years of experience as an IT specialist, it's best to stick with a single-page resume. If you're struggling to fit everything in, prioritize including only your most recent and relevant work experience. 
What should I discuss in my cover letter?
Think of your cover letter as an opportunity to delve deeper into the thought processes and analyses that led to your achievements. For instance, elaborate on your decision to use AWS over Azure or GCP for the company-wide cloud migration project you oversaw.
How can I demonstrate my collaboration?
Demonstrate it by including examples of cross-departmental teamwork. One example of this can be about how you trained 60 employees in IT best practices, leading to a 12% decrease in user-generated tickets.