Working as an industrial electrician, you play a pivotal role in powering industrial operations. You install, maintain, and repair complex electrical systems and ensure the highest levels of safety compliance and proper documentation.
While you're adept at interpreting technical manuals, creating an effective resume may feel like uncharted territory.
You might be surprised—our industrial electrician resume templates helped countless professionals land their dream jobs. We'll help you pinpoint the exact formatting, style, and content you need to stand out from the competition.
---
Industrial Electrician Resume
---
Modern Industrial Electrician Resume
---
Professional Industrial Electrician Resume
Related resume examples
---
What Matters Most: Your Skills & Experience As An Industrial Electrician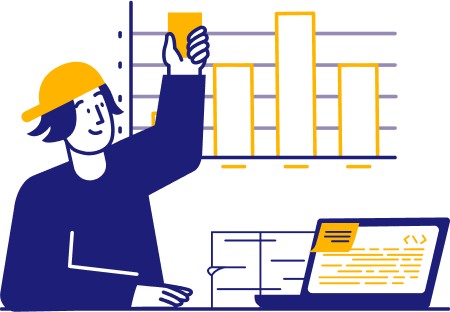 Your job is just about as technical as it gets. You work with industrial machinery, design blueprints, and troubleshoot electrical systems when something goes wrong. Good news—this will make filling out this part of your resume a lot easier.
When it comes to your resume skills list, an easy way to hit the keywords recruiters are looking for is to avoid generalized topics and get specific about technologies, equipment, and software. 
For example, instead of listing "blueprint design and interpretation," list the CAD software you use to create blueprints and other technical diagrams.
This approach also demonstrates your industry knowledge and clearly shows you have professional experience, which helps you get your foot in the door during the initial screening process.
9 best industrial electrician skills
AutoCAD
Industrial Machinery
RSLogix
Power Tool Operation
PLC Programming
System Maintenance
eMaint
ETAP
Blueprint Interpretation
Sample industrial electrician work experience bullet points
The "classic" way to add work experience to a resume is to describe the role and list your responsibilities. However, you can make things more personal and eye-catching if you list your achievements instead.
This showcases your expertise in the role, demonstrates a self-starting attitude, and shows that you understand the impact of your work and the value of your skills.
To take this strategy to the next level, use figures and metrics to highlight exactly how well you did the job. For example, don't just say that you worked on electrical system reliability—quantify your impact and say that you improved it by 47% to make more of an impression.
Here's how to use this tactic in your resume:
Achieved a 16% improvement in energy efficiency by identifying and implementing power-saving measures, resulting in annual cost savings of $45,000
Optimized motor control circuits by implementing variable frequency drives, resulting in a 22% reduction in energy consumption
Spearheaded the installation of a lightning protection system, ensuring the facility's compliance with safety standards and reducing the risk of electrical damage by 75%
Developed and implemented standardized procedures for emergency troubleshooting, resulting in a 41% reduction in average downtime per incident
Top 5 Tips for Your Industrial Electrician Resume
Include your licenses

As an industrial electrician, your certifications are very important and should definitely have their own section. Since you may have a number to choose from, make sure to include the ones most relevant to the job in question, such as the OSHA or NFPA 70E.

Emphasize safety awareness

In your industry, prioritizing safety is not just a regulation—it's a life-saving practice. Demonstrate your commitment to safety by mentioning real-life instances where you prioritized safety, such as leading a campaign to reduce safety incidents or implementing enhanced safety training procedures.

Polish your resume

Spellcheck and grammar check your resume to completely ensure it's error-free. It's best to make this a habit since you should also be making constant changes to your work experience and skills list to tailor them to each application, swapping skills in and out based on the job description.

Demonstrate problem-solving skills

Mentioning improvements is good, but you should also mention instances where you solved a problem or overcame a challenge. This can mean responding to a critical failure call or spotting an error in the blueprint before production started.

Keep your work experience varied

You've likely worked on quite a number of projects during your career, so you'll need to be selective about which you mention. Make sure to choose projects of varying types that display broad knowledge and experience.
How should I format my resume?
Use an elegant font and clear headings to format your resume into easy-to-read sections. Include your education, certifications, and skills in a wide margin and bullet point your work experience in the main section. Your contact information should be at the top under your name and title. 
How can I make my resume ATS-friendly?
The initial stages of the application process often include AI-powered resume screenings. To make your resume ATS-friendly, use standard text formatting and simple fonts, and make sure to include industry-specific keywords and vocabulary. You should also mirror the keywords used in the job advert itself. 
Should I include a cover letter?
If you're particularly enthusiastic about the job you're applying to or the job post mentioned cover letters, it's best to take the time and include one. It gives you space to expand on your resume, create a more personal impression, and address the company directly.