Attract! Engage! Retain! You're a pro at pulling in customers by developing fine-tuned strategies that zero in on your company's target audience and all its subsets to achieve maximum potential growth.
But while you might know how to add fresh value to each level of the funnel to keep customer engaged, you might wonder how to make your resume just as enthralling.
Never fear! We've distilled years of experience into these three growth marketing manager resume templates and some handy advice to help you build momentum.
---
Growth Marketing Manager Resume
---
Formal Growth Marketing Manager Resume
---
Elegant Growth Marketing Manager Resume
Related resume examples
---
What Matters Most: Your Skills & Professional Experience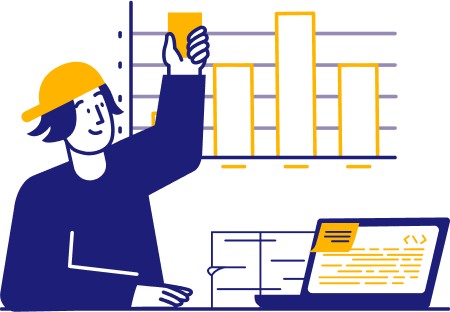 It's time to think creatively: Since you handle all stages of customer engagement to ensure that each angle is optimized for peak business growth, your skill set must demonstrate diversity and adaptability.
That means you'll want to emphasize your soft skills more in your experience section and use your skills list to get more technical. Which programs do you use for customer awareness and acquisition? What strategies do you use to keep them coming back for more?
Try to be as profession-specific as possible with your skills: Keep everything as close to your growth marketing niche as you can. Avoid generic, vague stuff like "communication" or "social media" that should be a given for your job anyway!
9 most popular growth marketing manager skills
Google Analytics
FB Ads Manager
Adobe InDesign
Adobe Photoshop
Mailchimp
Hootsuite
Sprinklr
Power BI
Campaign Outlines
Sample growth marketing manager work experience bullet points
Nice! Now that you've laid out all those impressive skills, it's time to show that you know how to use them. Recruiters want to see solid, measurable accomplishments that show what makes you a uniquely excellent growth marketing manager.
What makes an experience point solid? Relevance! Feature past experiences that relate directly to content marketing, and put special emphasis on anything involving a leadership role to highlight your credibility within a managerial role.
And how do you measure your impact in each experience point? With quantifiable data that assigns a number to the growth marketing results you achieved, of course.
Here are some examples:
Spearheaded a new product line launch, resulting in an increase of sales revenue of over 12%
Collaborated with SEO and PPC groups to develop strategic marketing campaigns that increased website traffic by 34%
Managed a content creation team to generate engaging blog posts that boosted web traffic by 23% month-over-month
Created email campaigns with open rates of over 63%, resulting in an average order value of $126 per sale
Instituted 11 new marketing strategies and 22 campaigns that generated over $8M in revenue
Top 5 Tips for Your Growth Marketing Manager Resume
Emphasize leadership

We can't stress this one enough! To stand out as an ideal candidate for a managerial role, you need to really show how well you handle leadership. Include examples on your resume that provide success stories featuring your marketing guidance.

Metrics really matter!

Quantify every experience example that you can—seriously. Provide percentages, dollar savings, manual work hour reductions, and ratings. Any time you can measure your impact as a growth marketing manager in numbers, don't pass up that opportunity to shine!

Don't get too noisy

We mean visually, of course (although it's important to keep your composure during that interview, too!). Avoid any loud colors or less-than-readable fonts that distract recruiters from your information. Recruiters are going to skim for the next ideal growth marketing manager fast.

Brevity is your friend

Since recruiters initially spend so little time on each resume, you'll want to cut right to the chase with each point from your job history. Just say what you did, why you did it, and what measurable impact it had: How did that marketing strategy retain customers and increase revenue?

Context helps

If you're worried about making your history sound interesting enough while keeping each point brief, turn to context. You can add a surprising amount of variety with just a couple of words when you share why you did what you did to grow the company!
Do I need a summary or objective?
Much of the time, you actually don't need a summary or objective. This especially holds true for any manager's resume: You can sum up your qualifications in your experience section much more effectively.
Do I really need to keep it to just one page?
We're afraid so, yes: Remember that recruiters only spend a few seconds on average skimming your resume. You don't want yours to get pushed aside in favor of a quicker read!
Just how specific should I be?
We mean really specific: List programs in your skills section by name, and tie those names to key growth objectives in your experience section, too. Recruiters want to see how useful your abilities can be in a managerial role!