You specialize in your company's content-based presence, optimizing their content to make it current, relevant, and downright delightful. You're a pro at engaging with your company's target audience and keeping them interested, generating leads and strategizing your way to peak discoverability.
But how do you make your resume just as engaging as your marketing content? How do you balance good looks and information?
Not to worry: I've been familiar with marketing and content creation for years, and I can help you get right where you want to be. Just refer to my seasoned tips and these 3 resume examples to get rolling!
---
Content Marketing Specialist Resume
---
Elegant Content Marketing Specialist Resume
---
Clean Content Marketing Specialist Resume
Related resume examples
---
What Matters Most: Your Skills & Job History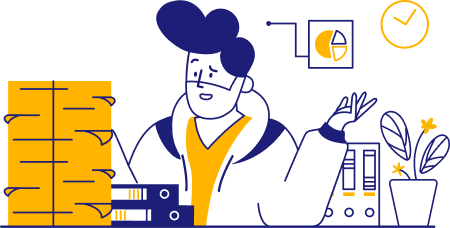 Nothing says "skilled" like a content marketing specialist's role! You'll need to show recruiters what you've got right out the gates by listing the key abilities that you use to work your magic.
You can't waste time on generic stuff here: Be specific about your skills, listing strategic areas and software tools by name. Every word should be highly relevant to your field, and each ability you highlight should make recruiters say "I'd love to see examples of this one!"
Check out these examples of nicely-honed skills that are extremely relevant to your profession for some inspiration:
9 Top Content Marketing Specialist Skills
Google Analytics
Trend Research
Business Development
Thought Leadership
MS SharePoint
MS Teams
Hootsuite
Brightspot
SEMrush
Sample Content Marketing Specialist Work Experience Bullet Points
So, after the ability to do something comes your awesome way of applying that potential! This is what recruiters want to see: How did you leverage your skills to excel in your role? How did you benefit your teammates and polish up the company image?
Make sure you include relevant points from all types of prior job roles–and even accomplishments from previous projects, too, if they fit the bill. The job itself doesn't have to relate to content marketing as long as it shows that you've demonstrated what it takes to specialize in it!
The best way to make any relevant experience points truly pop is to back them up with quantifiable data that measures your positive impact. Always bring in metrics of your success.
Here are some sample experience points:
Designed 3 social campaigns that resulted in an 84% audience growth rate and a 27% increase in social shares
Analyzed social media engagement to identify high-performing campaigns for scalability, increasing brand reach by 28%
Digitized library catalog of 10.2K+ items by converting print catalog items into online entries using OCLC & EOSi software to increase search efficiency by 11%
Created 34+ content marketing initiatives to drive traffic, increasing revenue by 12% with a 6% boost in donor retention
Top 5 Tips For Your Content Marketing Specialist Resume
Consider your audience

Just as you'd do while planning out a marketing campaign, gauge your audience–in this case, it's the recruiter. The recruiter has written or read the original job description, so analyze it for indicators of what to emphasize and reflect back in your resume.

Customize the details every time

Yes: Check the description for each job ad and tweak those details for every position! It's well worth the added effort (which won't be as much as many people think anyway), and it will show that you've put in the time and taken the position seriously.

Streamline your layout

Ensure that your template of choice is as organized, methodical, and sleek as your work is. Your best points, such as your skills and professional experience, should be put at the center stage. (And put your best accomplishments in noticeable areas within each section!)

Limit yourself to one page

This sort of falls in line with tip #3–your resume can only be a page long or less. If you go past that, recruiters are less likely to read your resume. And if they do, they'll probably wonder about your ability to prioritize and consolidate information.

Use active, engaging words

In content marketing, you already know that it's all about action! You want to use active words like "designed" and "created" when you describe your achievements to engage with recruiters who read your resume.
How should my resume look?
I knew you were probably waiting for this one! As a content marketing specialist, you're bound to want to make your resume look as awesome as you can. And you also understand that it's important to look professional–so keep colors and fonts understated, clear, and highly readable.
Are there metrics I should avoid?
Yes: Sometimes people grasp for metrics to quantify what they've achieved and wind up with "floating" numbers like project counts or how many hours they spent on an initiative. These details are best saved for a more in-depth interview discussion. For your resume, focus on highlighting the results of your impact!
What about points I love too much to let go?
Don't worry if you have to trim away some really good accomplishments to shorten your resume. They'll make great building blocks for your cover letter to round off your application!