Every business has tons of data and resources they manage. That means they need pros like you who can develop the right ERP software for their needs and carefully manage all the data involved without leaks or losses.
But is your resume template up to the job so you can be as successful as possible during the hiring process?
Businesses screen resumes to ensure they hire the appropriate developer to maintain their ERP software. If you aren't sure where to start, use our ERP developer resume examples to get you on track.
---
ERP Developer Resume
---
Modern ERP Developer Resume
---
Professional ERP Developer Resume
Related resume examples
---
What Matters Most: Your ERP Developer Skills & Work Experience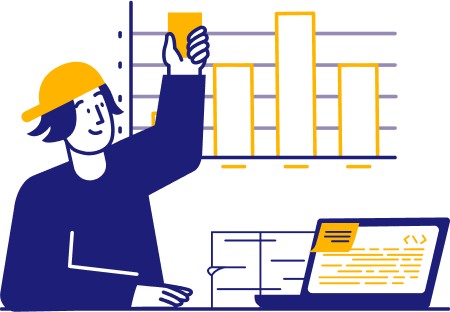 A company's ERP will be the focal point of many big decisions. Therefore, they will want to know you have the right skills before bringing you onto their dev team. 
Several resources and technical skills go into developing an ERP solution, so where do you start when listing skills on your resume? 
The best approach is to start by looking at the job description. Do they need help with program testing? Then your skills in Jira and Apache JMeter may be ideal to include. 
Here are some of the most popular ERP developer skills in 2023.
9 most popular ERP developer skills
Data management
HTML & XML
Java
SQL
Jira
LotusSmart Suite
SharePoint
Unit testing
Debugging
Sample ERP developer work experience bullet points
Your top skills, like HTML and Jira, will have caught the hiring manager's attention. However, they'll still want to see real examples of how you've used them before they have you start building their ERP.   
Your digital solutions revolve around data, so you know how important metrics are to a company's success. Lean on that to provide metrics-based examples, such as how your ERP generated more sales growth or improved user experience scores. 
Keep in mind that several hiring team members may review your resume, including some that don't have as much knowledge about ERPs. Keeping the focal point on metrics that are easy to grasp, like efficiency or margins, is a good way to make this section understandable to anyone.
Here are a few samples:
Adjusted HTML code based on feedback from managers and team members to improve user experience scores by 55%.
Delivered scalable customer data tracking software that improved data accessibility by 68% across 59 company locations.
Implemented agile frameworks using Jira Suite to improve workflow efficiency by 82%.
Coded AI software to automate basic data analysis processes, boosting productivity rates by 48%.
Top 5 Tips for Your ERP Developer Resume
Aim for one-sentence descriptions

Hiring managers don't have much time to review each resume, so get the details across in succinct, one-sentence descriptions. For instance, a sentence about how you used LotusSmart Suite to organize data across 67 company locations and boosted compliance by 45% goes a long way. 

Let your cover letter and resume work together

Your job involves many technical processes that are tough to sum up in a one-page resume. Use your cover letter to help expand on your main points, like diving further into how you use SharePoint to scale shared data across company locations. 

Add impact with action words

Action words like "developed" will help make your examples more impactful. For instance, you could say you "developed an automation system in Java to improve process efficiency by 64%."

Use reverse chronological formatting

As you've grown in your career, you've probably gained tons of new skills in fields like relational databases and program debugging. Therefore, you should first list your most recent experiences relevant to the job to help hiring managers immediately notice your abilities. 

Proofread thoroughly

It would be devastating for a business to get incorrect insights from an ERP system because your formula had a typo. With that in mind, hiring managers will be looking to ensure you have an accurate and grammatically correct resume so they feel confident you're a detail-oriented professional. 
Should ERP developers use a summary? 
Resume summaries work well for ERP developers with ten or more years of experience. For example, you could write about how your financial management programs have helped companies improve margins by an average of 45% across your 12-year career. 
Can my resume be longer than one page?
Aim for a one-page resume. Having too many details can lose a hiring manager's attention. Instead, focus on primary skills like data compliance if that's a big concern for a company. 
What if I don't have much ERP development experience?
Those newer to ERP development can lean on education to show how their computer science degree has equipped them so they can build a successful ERP system. Additionally, other applicable experiences involving skills relevant to the specific role will help show your abilities.