When making quick business decisions, one of the last things department leaders want to do is sift through a wall of data to find the insights they need. You make their job easier by producing meaningful intelligence and visualizations from those complex numbers.
Will your resume format help hiring managers visualize how you'll fit into their company's work environment? 
You excel at making sense of data, so you probably need a few ideas about how to best portray your achievements in process efficiency and data compliance inside the workplace. You can use our BI developer resume examples as a template for success.
---
BI Developer Resume
---
Formal BI Developer Resume
---
Elegant BI Developer Resume
Related resume examples
---
What Matters Most: Your BI Developer Skills & Work Experience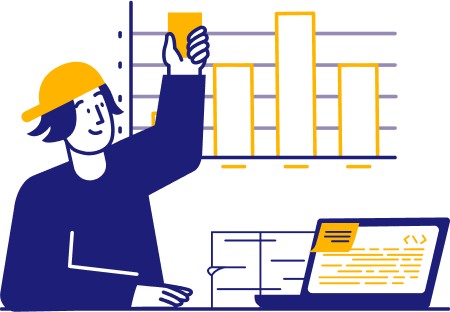 In a company's quest toward sensible information, they'll want to ensure they're bringing in a highly skilled BI developer who fits their needs.
Every company has different needs, so you must tailor the skills you list for each job you apply to. For instance, one company may need a specialist in agile methodologies, whereas another needs help with server integration services. 
Here are some of the most popular BI developer skills to get you off to a great start.
9 most popular BI developer skills
Data Visualization
Tableau Servers
SQL
Oracle Suite
SSIS
SharePoint
Power BI
Data Management
Agile Methodology 
Sample BI developer work experience bullet points
Once you have tailored skills to the company's needs listed in aspects like tableau and SQL, your next step will be showing how you've successfully used those abilities in past work experiences. 
You're an expert at making data easier to understand, so this section should be a breeze. The main idea is to use metrics-based examples that illustrate your impact, such as how you improve data accessibility rates or reduce costs.
Ideally, you want to keep these examples concise and easy to understand, just like you would with visualizations for insights from key market data.
Here are a few samples:
Developed a multi-database application in SQL for 27 clients that improved data processing by 58%.
Converted inherited customer data into an enterprise-based system using Zoho CRM to increase data accessibility by 79%.
Controlled data access for over 860 users with row-level security systems to reduce the chance of data breaches by 97%.
Designed database structures in SSIS to support 12,000 users and 40TB of data in real-time, reducing user errors by 65%.
Top 5 Tips for Your BI Developer Resume
Keep your resume to one page

You know that portraying data in an easily accessible manner is the key to success. Limiting your resume to one page will help focus on your most relevant skills based on the company's needs, like data integration with SQL, Oracle, or MongoDB databases. 

Use action words

Bland examples that don't show actionable results will lose a hiring manager's attention. Optimize with action words like "designed" to stand out while they're reviewing resumes. For instance, you could say you "designed and implemented data structures that led to a 17% increase in system efficiency." 

Optimize with reverse chronological formatting

You've probably used a lot of different technology throughout your career as new programs have grown and developed. Therefore, listing your most recent experiences first in systems like SSIS will be the most relevant to a company's current needs.

Focus on technical skills

Rather than saying you're detail-oriented or organized, you should focus on technical processes like data warehousing or compliance that show how you do that in action. It'll help you stand out from other candidates with complex skill sets. 

Always proofread

Your decisions on the job matter to help improve processes and prevent data leaks. Hiring managers will look to ensure you're accurate from the beginning, so submit a resume free of grammatical errors. 
Should BI developers use an objective?
A resume objective can be a good idea when you're newer to the BI field. For example, a few sentences about how you're a dedicated professional with three years of experience using Microsoft SQL servers to increase data accessibility by 56% will help your essential skills stand out right from the beginning. 
What do I write in my BI developer cover letter?
Your cover letter can get more personal by connecting with the company or showing more details about how you'll help with their processes. For instance, you could write about how you relate with their mission and will use Tableau servers to create visual insights that'll help them achieve their goals. 
Should I list my entire career history?
It's best practice for BI developers to limit their resumes to three or four jobs that are the most recent and most relevant to the position's needs. For example, if you've been a BI developer for 12 years, your positions as a BI development intern or junior developer may not be as relevant anymore.