You may not be in the position to lead social media marketing strategies just yet, but you collaborate with marketing managers to ensure that you're on the right track. You help create visual and written content alongside effective promotional strategies.
But what about your resume? How should it look, and what do you include?
It's all good: I'm experienced with this type of thing. Refer to these 3 resume examples and corresponding advice, and you'll be on the path to success in no time!
---
Entry Level Social Media Manager Resume
---
Formal Entry Level Social Media Manager Resume
---
Elegant Entry Level Social Media Manager Resume
Related resume examples
---
What Matters Most: Your Skills & Professional Experience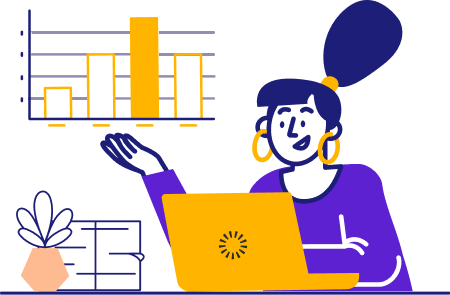 Your skills are some of the most essential building blocks of your resume, especially at an entry-level. Since they're such key elements in painting a picture of your qualifications, you'll need to make sure they're relevant and specific.
Don't use generic skills like "communication" that could apply to any job role. Instead, look deeper and consider what you use your communication abilities for–and which tools you use to do it.
What programs do you use to reach your audience? What technical tools do you use to analyze data and share your findings with others?
Check out some examples of what I mean:
9 Top Entry-Level Social Media Manager Skills
MS Teams
Slack
Google Docs
Hootsuite
HubSpot
Paid Advertising
SEMrush
Adobe Photoshop
Adobe Analytics
Sample Entry-Level Social Media Manager Work Experience Bullet Points
Many entry-level applicants worry about making themselves sound credible once they reach their resume's experience section. But don't worry! There are plenty of ways to show solid examples of your value.
Obviously you'll want to pull the best experience points from any job you've had, even if it only loosely relates to social media management: You can still include relevant experience points that used overlapping skills, no matter what your job was.
The best thing you can do to bolster your experience points (whether you pull them from previous jobs, internships, or school projects) is to quantify them. Use metric data to highlight the impact you've had.
Here are some examples:
Created Twitter account to post relevant content that grew organic follower count to 24.7K
Tested which time of day maximized post engagement to increase engagement rate by 42%
Organized inventory management system, establishing a checklist-based system that decreased ordering errors by 83%
Managed a monthly budget of $7K for paid Facebook posts, generating $19K worth of business
Worked closely with the creative director of marketing to increase following on Twitter and Instagram from 114K to 217K followers
Top 5 Tips For Your Entry-Level Social Media Manager Resume
Set off your resume with an objective

For anyone who's breaking into a new career or freshly graduated, an objective summary could add some game-changing value to your resume. Just ensure that it provides fresh, non-repetitive info to make it worth the page space.

Include relevant courses if you lack experience

Your education section doesn't have to be limited to your degree! Don't let it get lonely: Add any other independent courses or certification classes you've taken that are relevant to social media management.

Keep it professional

I know it's tempting to make your resume look cool with lots of colors and fancy fonts, but it's really important to keep things readable. Recruiters won't skim for long–keep color minimal and fonts crystal-clear so that you're taken seriously.

Cover all the bases with a cover letter!

A cover letter is the perfect place for you to expand upon how your resume bullet points qualify you for your dream job. Use your cover letter to tie in odd job experiences or other projects that have improved your social media management skills.

One page only

Your resume should always be limited to one page or less. And don't worry–you don't have to fill the entire page, either!
Frequently Asked Questions
How do I pick a template?

Play around with various templates to see which ones makes each section look the most powerful. You'll want to minimize large areas of white space on your resume, but still leave some breathing room.

How can I seem even more qualified?

If you can get your hands on any professional letters of recommendation, definitely do! Having people to back up your potential and existing credentials can really help set off your resume and cover letter for an impressive entry-level application package.

What shouldn't I include in my resume objective?

Remember: Any objective statement must provide unique, fresh value. That means only new information about your personal abilities and background–no repeating bullet points from the rest of your resume! Always avoid redundancy.