Your job as an entry-level construction worker provides essential support to those around you. By carrying materials, setting up equipment, cleaning work areas, and assisting others in complex tasks, you help make sure the project progresses on schedule.
It can be difficult to avoid understating or overstating your skills and experience when starting out. Striking a balance that communicates your hard work, commitment, progress, and future potential isn't easy to achieve and requires a well-organized resume template.
That's where our entry-level construction resume examples come into play. They're designed to shine a light on your potential—use them to jumpstart your career!
---
Entry-Level Construction Resume
---
Modern Entry-Level Construction Resume
---
Professional Entry-Level Construction Resume
Related resume examples
---
What Matters Most: Your Construction Skills & Past Experience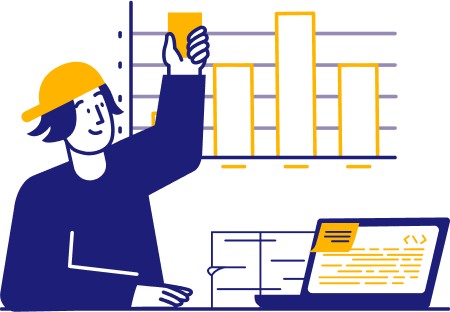 For experienced workers, there are a lot of basic skills that employers will assume you have even if you don't explicitly mention them, be it using AutoCAD or basic carpentry. For junior workers like yourself, however, no one knows what you've learned so far and what you haven't.
That's why it's best to be specific and cover all the bases, so recruiters know exactly what you can do. At the same time, it's important to include the specific skills mentioned in the job description you're applying to.
Highlight abilities that show your physical fitness as well as your knowledge of construction and any mandatory safety regulations. The more you can zone in on your unique abilities, the higher the chance that you'll be able to stand out among other applicants.
9 best entry-level construction skills
Construction Equipment
Blueprint Reading
AutoCAD
OSHA Compliance
Power Tool Proficiency
Site Preparation
Basic Math
Material Handling
Physical Stamina
Sample entry-level construction work experience bullet points
When written well, your work experience section can cover multiple jobs simultaneously. You can use it to showcase knowledge about the construction project lifecycle, safety procedures, and budgeting best practices.
As an entry-level worker, it's especially useful for you to hit all these points and prove your qualifications to take on the job.
The key is to focus on your accomplishments and the impact you've had in your previous roles. To make your work experience stand out even more, make sure to include some numbers, stats, and figures to further expand on your achievements.
After all, saying that you "loaded and unloaded over 5,000 lbs of materials per week" sounds far more impressive than just saying that you "carried materials."
Here are a few examples:
Assisted in the completion of 25+ projects by efficiently handling and transporting materials, operating machinery, and assisting with complex tasks
Collaborated with a team of 10+ workers, improving task completion rate by 24% through effective communication and coordination
Demonstrated strong attention to detail in measuring and cutting construction materials, resulting in accurate cuts and keeping waste amounts 13% under the estimate
Collaborated with team members to ensure proper inventory management, accurately tracking and reporting material usage, and reducing material waste by 8%
Top 5 Tips for Your Entry-Level Construction Resume
Focus on education and training

If you haven't had much professional experience yet, it's fine to focus on training and educational experience. Any time you've spent on-site developing your skills and learning about the job is important information for recruiters, so describe those experiences in detail. 

Include any certifications you have

If your training includes certification exams, make sure to include them in a separate section under your skills list. This includes certs like OSHA 10, OSHA 30, or NCCER Construction.

Showcase safety awareness

There are plenty of things construction workers learn on the job—but safety protocols are one area where on-site mistakes need to be limited as much as possible. Make sure to demonstrate your knowledge of safety protocols and show that you're ready to work alongside others in a safe environment.

Include related experience

You can also include volunteer experience, workshops, short courses, internships, part-time jobs, and any other types of experience you have if your resume still looks a little empty after you've covered your primary education.

Demonstrate your teamwork

Working together as a seamless team is crucial in construction, so highlight your people skills in your resume. Use a couple of your experience bullet points to talk about reporting to construction managers or working alongside demo crews.
What kind of experience should I include?
Volunteer work, helping out with a family construction business, short courses, internships—anything you can think of. It shows that you're committed to your new career and getting involved in various different ways.

Should I include a cover letter?
Adding a cover letter can benefit your application, but it always needs to be custom-made for the specific job you're applying for. Use it as an extension of your resume and elaborate on your knowledge of construction.
How long should my resume be?
As an entry-level construction worker, your resume should definitely fit on a single page. This is what looks most professional and concise, and it will make sure your resume doesn't look empty. A one-page resume fills up in no time at all.