No matter what type of engineer you are, you're rigorously logical with a penchant for numbers.
You shouldn't also have to be an expert resume builder to showcase your abilities and land your next (or first) engineering job.
Getting started is the hardest part of building an engineering resume. These five engineering resume samples are proven to work in 2023, so they're an excellent starting place for some inspiration and valuable resume tips.
Engineering Resume Example
Why this resume works
A resume objective is largely optional. Only include an objective if you're going to take the time to customize it to each software engineering role to which you apply.

Tailor it to each job by mentioning relevant keywords found in the job description (which genuinely apply to you!) and list the target company by name.

It's important that your engineering resume mentions the technologies in which you have experience. You can list these tools, programming languages, or technologies in a dedicated resume skills section on your resume.

We recommend limiting the web developer skills section to no more than 10 since a long laundry list can be a red flag to employers.
Software Engineering Resume Example
Why this resume works
Your software engineer resume should make clear which aspect of the tech stack you've worked on in your previous positions (front end, back end, full stack, etc.). It's also a good idea to mention which programming languages and frameworks you're most comfortable using.

As a rule of thumb, only include a programming language on your resume if you could whiteboard coding solutions in that language.

When possible, quantify the impact of your previous projects. These can be rough estimates associated with any metric (revenue, reduced downtime, efficiency improvements, etc.).

Hey, if you're worried you might miss something and want to see if your resume contains enough metrics, just stack it up against our AI-powered resume checker for fast fixes.

Need a little more detail? We've got you covered with our software engineer resume examples for 2023.
Data Engineering Resume Example
Why this resume works
As a data engineer, it's important that you quantify the size and scale of the data systems and pipelines you've tackled. For example, if you built a data pipeline for streaming data for a consumer app with 500,000 concurrent users, then specifically state that.
If you can, your data engineer resume should also show the impact your work has had on business. These can be estimates.

Did you help increase revenue, site speed, or reduce manual reporting time?
By highlighting your business impact, you make it clear to the hiring manager that you're focused on what really matters to the business.

Feel like you need a bit more help? See several more data engineer resume examples for 2023.
DevOps Engineering Resume Example
Why this resume works
As you gain more experience in your DevOps career, your education section should take up less and less space.

Keep your DevOps engineer resume to one page because real estate is gold.

Instead, make your work history what really shines on your resume.

Sprinkle your work experience sections with numbers and metrics that quickly make the case for your qualifications and interview worthiness.
Use action verbs like "built," "created," and "owned" to show your leadership experience and prove you've had a meaningful impact in your previous roles.

If you'd like additional ideas, we've got several more DevOps engineer resume examples for 2023.
Network Engineering Resume Example
Why this resume works
If you've put in the hard work to earn certifications (CCNA, MCITP, etc.), list them in a dedicated "Certifications" section on your network engineer resume. Doing so makes it clear to the hiring manager that you've got the technical skillset required.
Have you had the chance to mentor or lead other network engineers either on a project or full-time basis? Be sure to include that on your resume while discussing the number of people you mentored and how.

This kind of leadership experience can set you apart from the competition.

Our network engineer resume examples for 2023 can also help get you where you're going with some added insight.
How to format your engineering resume
How you format your engineering resume can determine whether you get an interview. Formatting is important because of how employers skim over resumes. Your resume needs to be in a logical format that can be quickly reviewed, and it needs to include all necessary information. Chances are, if you leave important details out of your resume, you won't have the opportunity to prove yourself.
Let's briefly explore our three best tips for resume formatting for engineers in 2023:
Reverse-chronological, functional, and combination/hybrid formats
Engineering Resume Formats
It sounds more complicated than it is.

Reverse chronology

means the information listed on your resume begins with the most recent experience. For example, your current job, which you began five years ago, is listed at the top. The job you had before is listed right below it.

The

functional resume

format focuses on your skill set over your experience. The functional resume is also known as a

skills-based

resume because it focuses on how your skills and abilities qualify you for a job. For example, you could focus on a skill set you've used for several different jobs. Even if the job was 20 years ago, your experience will still help you today. Using MySQL in your very first job will still be relevant if the job for which you're applying also requires MySQL.

The

combination/hybrid

resume format is exactly what it sounds like. You combine the best parts of a functional resume with a reverse-chronology resume. This is done by including a skills section first, followed by your experience. It immediately shows employers your skill set and experience.
Engineering is definitely a field that has plenty of opportunities for career progression. Toward that end, in 2023, reverse-chronology formatted resumes are best for engineers because they show your most recent experience first as well as an increase in responsibilities over time. Additionally, this format allows you to include more details for more recent positions and less information for older jobs.
Formatting your engineering resume's header and contact information
You'll want your header to stand out in a professional way. Many of the resume examples we have show your name in large letters at the top of your resume. We recommend the following:
Use a font size of at least 16 points.

Use a Serif font like Times New Roman, Helvetica, or Bookman Old Style.

Avoid cursive or curly fonts.

Write your name in bold colors like black or dark blue.

Avoid overly bright colors like purple or orange.
Also, include the title of the position you're applying for directly under your name. Are you applying to be a DevOps Engineer? A Network Engineer? A Data Engineer? Your future employer should know the position you're applying for right away.
Additionally, you'll want your contact information close to your name. Some resume writers put this information directly under their names, but you can also place this at the top of the sidebar. Include the following information:
When it's all said and done, your engineering resume header may look something like this: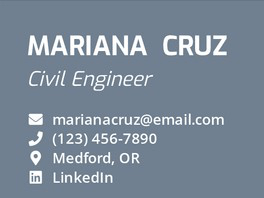 Will your engineering resume make it through ATS?
Most employers use an Applicant Tracking System (ATS) to filter through resumes. If your resume is hard to read, the ATS could nix it from the system before employers ever have a chance to look at it. For this reason, you'll want to take the following steps to ensure your resume is ATS-compatible:
Don't use charts or images in your resume.

Use simple, round bullet points; complex graphics don't make sense to ATS.

Include keywords from the job listing in your skill set.

Save your document in .pdf and .doc.
To save you a headache, we think you'll love using our resume builder, which will automatically ensure your resume is ATS-friendly.
How to write your engineering resume
Writing your engineering resume will likely feel daunting. It feels like a lot to take on because a lot rides on it. It can be anxiety-inducing, to say the least. Because we understand this well, we're devoting this section to breaking down how to write your resume.
Do you need an objective or summary for your engineering resume?
Your objective for your resume is to get a job. If you write an objective, you'll want to discuss very clearly what type of job you're seeking. A summary is different. Its focus is to give a brief synopsis of your whole resume.
Here's an example of a resume summary:
Skilled DevOps engineer with 10 years of experience in nodes, infrastructure, and server management. Excellent at time management and saving companies money.
This summary is ineffective because the information can be gathered from other sections of the resume. It's a waste of space that could be used for other things, like an objective that stands out. Here are a couple examples of strong objectives.
Experienced developer with eight years of experience in full-stack, consumer-facing applications. Wanting to transition to B2B applications to improve interactions between small and medium-sized businesses at a company like OpenEd.
Veteran data engineer with five years of experience in B2B applications. Looking to switch to DevOps engineering to focus on improving overall company efficiency by improving applications through user interface.
Both of these examples work because the objective is:
Cleary written; we know what the applicant wants

Experience is stated

Desire for growth and change is appropriate

A clear motive is evident; the applicant isn't floundering
Work experience for an engineer
Your most relevant experience should be listed first. We recommend listing two to four jobs that best show your qualifications for the position to which you're applying. You don't need to list more than four jobs, nor do you need to list every job you've ever worked. The employers who review have limited time, and they want to quickly see what you have to offer.
Writing your engineer bullet points
It's easy to sink or swim when it comes to bullet points.
Use action verbs and active language. This includes writing in the present tense and using verbs that show action. "Being" verbs (are, is, was, were) are not your friend here. "Action" verbs (collected, sampled, organized) show strength and a strong skill set.





Avoid using personal pronouns. Saying "I" is superfluous since the recruiter already knows you're talking about yourself. Instead, allow the action verb to drive your actions forward (Example: Collected samples of different websites...).





Punctuation is optional. Either include punctuation

everywhere

or completely omit it.
Not every bullet point is created (or, rather, written) equally. Here are some poor bullet points:
Designed the EmptyNest app

Fixed bugs and looked at reviews for future app updates

Updated the app coding once a month
These bullet points are weak because they don't provide any information. What is the EmptyNest app? Who is it for? What functions does the app perform? What kind of bugs did he fix? Why were user reviews important? What kind of coding updates did he make? While you can't include every single detail about your work, asking these kinds of questions will get you headed in the right direction.
Here are the same bullet points, written strongly:
Designed an app called "EmptyNest" to help parents transition to children moving out of the home

Updated app to omit long loading periods for chat features to encourage 32% higher user engagement in the "Chat" feature

Analyzed user feedback to implement monthly changes to the app, which increased users by 82% over a six-month period
These bullet points work because they provide details that help recruiters understand the project, demonstrate accomplishment and success, and prove ability through numbers. Metrics are vitally important, so let's dive into that next.
Quantify your impact as an engineer
For engineers, quantifying your impact is a crucial part of showing your success. The numbers tell the whole story. While this is daunting, it works in your favor if you successfully implement quantities and qualifications. Try to include metrics in about 60 percent of your bullet points.
We recommend taking the following steps to quantify your impact:
Use data to show how solutions are being created to correct problems:

Show how changes increased profit or saved time:
Quantifying your impact will show employers how valuable your work is and why they should consider you for their position.
Top engineering skills to include
Including your skillset is essential for any resume. How you present skills on your resume is important. You want both your hard and soft skills to show. Your soft skills are the ones you can't easily show on paper. For example, managing conflict and communicating with others are imperative soft skills. Your hard skills include software you've mastered and programs you use. It's easy to show proof of your work.
Look for keywords from the job ad description. Implement them throughout your resume to pass ATS software.

Include your four to five hard skills relevant to the job.

Include soft skills

if

they're relevant to the position; you should list fewer of these than your hard skills.

Limit the skills you share so that your best shines through. Extraneous info is not needed.

List your skills based on your experience level.
There are many types of engineers, so if you're an aerospace engineer, civil engineer, chemical engineer, etc., these skills are a wide overview of what will serve you well:
Math and physics

Project management

Analytically minded

Interpreting blueprints

CAD

Design

Data analysis

Research
For instance, if you're a civil engineer, your skills section on your engineering resume may look like this:
Additionally, software engineering is a quickly growing, evolving field, and if this is you, here are some of the most sought-after skills:
Python (Django)

Java (Spring)

Ruby (Ruby on Rails)

PHP (Laravel)

Javascript (Node, React, Vue, jQuery)

SQL (MySQL, PostgreSQL, NoSQL)

HTML5

CSS

AWS, GCS, Azure

Unix

Git
An engineer's education and certifications
If you're an engineer, you'll have your bachelor's degree at a minimum. You may even need a master's degree, and some jobs even require a doctorate. Education is very important to being an engineer. Without it, you couldn't perform many of the functions of your job. And in a constantly evolving world and workforce, high pressure is placed on engineers to stay at the top of their game. This includes continuing education and becoming certified in new programs as they come out.
Many states have strict requirements regarding continuing education. For example, a certain number of hours of continuing education may be required to keep certifications and licenses. There isn't a one-size-fits-all requirement. In fact, these requirements can vary by state and by the job.
If you're an Engineer-in-Training, list the following:
Relevant class projects that will help in an entry-level position

Internship experience

EIT Certification

Your degree and GPA (if it's at least 3.2)
If you've been in the field for less than 10 years, list the following:
All the relevant experience that should be included for ATS

List your most recent jobs in reverse-chronology

List continuing education and certifications in reverse-chronology

Certifications should be job relevant, like for inspection, design, or reliability

Include your degree
If you've been in the field for 10 to 20 years, list the following:
Detailed bullet points with job description keywords to satisfy ATS

List the jobs that gave you specific experience for this job

List continuing education and certifications in reverse-chronology

List your degree
When should you add projects, interests, or hobbies to your engineering resume?
Most engineering jobs don't provide room for your interests or hobbies on your resume. The exception to this is for entry-level positions. If you're a brand-new college grad, you're going to need to list advanced projects from your collegiate experience. Showcasing your interests and hobbies through your projects will show passion for your career field and will encourage employers to give you a chance.
Listing interests and hobbies can help you nail a job if it's a close call between you and another candidate. If you're equally qualified, being a "better fit" for the company could work in your favor. You don't have to include interests or hobbies, but doing so might benefit you when you're starting out, especially if you're looking for a trendy startup that's likely to care more about cultural fit.
Tailor your engineering resume to each position
We know it would be easier to make one resume that you submit to dozens of different jobs. But this won't result in success. In fact, you aren't likely to score any interviews using this method. ATS will weed your resume out for missing job keywords.
You'll need to tailor each resume to each job you apply for. Some drafts of your resume will be very similar to each other. Others may look quite different. Adjust your bullet points, skills, and objective/summary for each job. While it takes time, your efforts will be worth it!
Edit and proofread your engineering resume
Engineers are perfectionists by definition. Because of this, it's important to have a flawless resume. This is where editing and proofreading come in. It's often overlooked because most resume writers just want to be done. After all, drafting a resume can take hours, but using our free resume tool can save you lots of frustration and time.
We recommend taking the following steps when editing and proofreading your resume:
Take advantage of our

resume checker

to make sure your resume is complete and is using the best techniques.

Look for mistakes at least twice, preferably thrice!

Get a second pair of eyes to look over your resume.
Taking these three steps after you've finished writing your resume will help ensure that it's as polished and professional as possible.
Land an interview; win your dream engineering job
Keep the following in mind for your engineering resume:
Format your engineering resume in reverse chronology.

Include accurate, clear contact information.

Consider whether you need an objective or a summary.

Use action verbs, and quantify your impact.

Include your top skills that are

most relevant

to the position.

List additional information, such as education, certs, projects, interests, and hobbies.

Tailor your resume to each job, using keywords from the job ad to pass ATS.

Edit your resume to catch careless mistakes.

Use our

resume creator

to get you started and finished in as little as 12 minutes.
Congratulations on writing your resume. It's the first and most important step to getting a job. Without a resume, you can't submit any applications. But with the right resume, you can score the perfect engineering job.