As an e-commerce account manager, you've mastered the art of building and fostering lasting relationships with your clients. There aren't any problems you can't solve or sales targets you're unwilling to tackle.
You always come out on top in the ever-changing world of e-commerce, but to reach greater heights, you need to write a resume that perfectly highlights your expertise.
We're here to help you put your skills and experience first. Check out how to prepare a killer e-commerce account manager resume that helps you land your next job.
---
E-Commerce Account Manager Resume
---
Formal E-Commerce Account Manager Resume
---
Elegant E-Commerce Account Manager Resume
Related resume examples
---
What Matters Most: Your Marketing Skills & Account Management Experience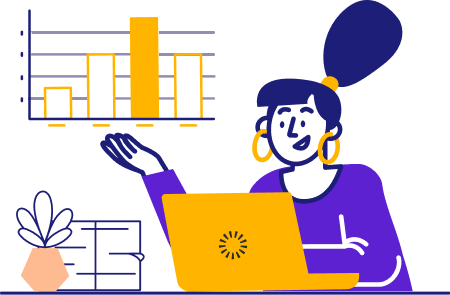 As you're getting ready to woo recruiters with a professional resume, the skills section is going to be your best friend.
For an e-commerce account manager, people skills are the key to victory. Your persuasive and thoughtful approach helps you land clients and opens the door to upselling later. Similarly, acting quickly when problems arise and being flexible ensures you can maintain high customer retention.
While your winning personality is important, it's better to emphasize your technical skills instead, such as knowing how to use Shopify or WooCommerce. Avoid generic terms—the more boxes you tick, the better.
9 best e-commerce account manager skills
Google Analytics
Shopify
Salesforce
HubSpot
Data analysis
SEO strategy
Sales forecasting
User Experience (UX)
CRO
Sample e-commerce account manager work experience bullet points
You know better than anyone that your job is highly data-driven. Between various KPIs you need to track and revenue targets to hit, at the end of the day, it can all be measured.
Great news—you can use that same data-centric approach to impress recruiters with your accomplishments. Don't focus on your daily tasks as much as your greatest achievements, such as increasing customer retention or exceeding portfolio targets by a certain amount.
Here's how to make an impression with your work experience:
Grew annual revenue from $3M to $8M as the first account manager for a key client
Increased ROI of client accounts by 27%, resulting in incremental and cross-selling opportunities worth $840K
Identified and addressed problems within renewal policies, increasing customer retention by 38%
Conducted business reviews with priority clients 2 times per month, increasing satisfaction rate by 47% and upselling by 17%
Top 5 Tips for Your E-Commerce Account Manager
Show off your toolkit

Some of the most sought-after tools in your industry deserve mention. If you know how to use Shopify, Magento, WooCommerce, Salesforce, HubSpot, SEMrush, or Google Analytics, put it in your resume skills section to score with potential employers.

Highlight your success stories

As an e-commerce account manager, your clients' success lies largely in your hands, so it's a great point to add to your resume. Talk about the tangible impact of your work on your clients' businesses, such as an increase in ROI or sales targets you've exceeded.

Get clever about people skills

Show, but don't tell. Instead of listing forgettable terms like "patient" or "ambitious," mention how you were the sole account manager for seven major client accounts with a 98% satisfaction rating. Let the numbers do the work.

Update your resume for each role

You juggle many daily tasks, from planning social media campaigns to analyzing complex data to identifying revenue sources. Highlight the skills and tasks that matter most, such as SEO knowledge and data analysis, and aim for as much overlap with the job description as possible. Applying for a new job can get tiring, so use an easy-to-update resume template.

Digital marketing is key

Your experience in fields related to digital marketing, such as SEO and PPC, can elevate your resume for this role. Talk about marketing-adjacent tasks, like managing social media profiles or keyword mapping for SEO campaigns.
Which resume sections should I use?
Employers focus on skills and experience, so those two areas are a must, with education snagging a solid third place. Also put your contact information front and center, and mention relevant certifications, such as any of the CRM variants, CCMS, GAIQ, or HubSpot Inbound Marketing.
I don't have any experience. Now what?
If you've never worked in a similar role, try to emphasize the overlapping jobs and tasks. This includes sales, customer service, and social media management. If this is your first job out of college, mention projects you've led or participated in and what you achieved with them.
How long should my resume be?
As you know, capturing someone's attention is hard and even harder to hold. Recruiters scan your resume for a few precious seconds before moving on. That's why it's best to keep it short and sweet, focusing on quantifiable metrics that make your accomplishments stand out.