You take all the usual salesperson's methods and apply them through various digital channels. You use social media, emails, and other online tools to reach potential customers and close the sale.
But maybe looking at that empty resume template is giving you pause. How do you convey your versatile expertise in technology and sales, and how should it look when you're done?
We've got this! After years of helping people land great jobs, we've got the deets to share. These three digital sales resumes (plus some tips) will get you ready to roll.
---
Digital Sales Resume
---
Modern Digital Sales Resume
---
Professional Digital Sales Resume
Related resume examples
---
What Matters Most: Your Skills & Experience History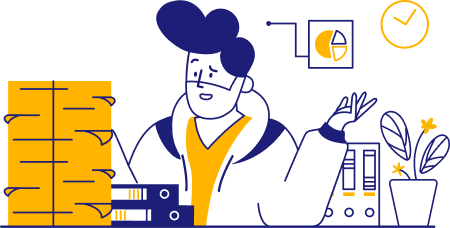 It's time to remember the Marketing Funnel and consider what you're "selling" on your resume: Your skills and abilities. Recruiters want an instant snapshot of what you can do. A concise, specific skills list allows them to skim quickly.
And that means getting highly profession-oriented with your skills. If recruiters see a generic term like "people skills," they won't take time to ask whether you meant negotiation or product demos.
Don't let them lose interest, so dig deep for precision: Do you specialize in social media outreach? How about nurturing responses?
Try these skill samples on for size:
9 best digital sales skills
Negotiation
Product Demos
Proposal Writing
Lead Generation
SEMrush
Hootsuite
Google Sheets
Canva
HubSpot
Sample digital sales work experience bullet points
Your experience should play off your skills list to tell a story of improvement and growth—just like what you aim to achieve when you reach out online! Your skills show what you can do, and your experience points show how.
Sales roles are all about numbers: customer retention, lead acquisition, feedback percentages, sign-up rates, and more. The common denominator here is data that can be used to measure your impact.
Numbers show how you tangibly benefitted the organization via digital outreach. Again: If recruiters have to ask basic questions to get through your resume . . . they won't.
Here are a few examples of solid digital sales metrics:
Generated digital marketing campaigns directed toward target audience via Hootsuite, driving 167+ clicks and AppStore visits
Increased net profits by 12% and surpassed $350K sales incentive targets
Established customer trust by providing honest service cost assessments and increased sign-up rates by 46%
Awarded Employee of the Quarter for ensuring customer satisfaction and increasing purchase rate by 28% through seasonal promotions
Top 5 Tips for Your Digital Sales Resume
Aim for the top

Present the best of your work for recruiters to review: Your strongest sales tactics and greatest acquisition and retention numbers. Aim high during your job search, so put your best foot forward and demonstrate credibility.

Know your own resume

This one might sound like a no-brainer, but lots of people overlook it. Deliberately include points you'd be comfortable discussing in detail during an interview. Know every digital ad campaign you reference like the back of your hand!

Pick a clean layout

When weighing different resume formats, go for something streamlined (reverse-chronological, just sayin') that emphasizes your top selling points. Stick with clear fonts and tasteful colors, just like you would with any other outbound document on your desk.

Spotlight your versatility

Round up a robust variety of experience points and skills for your digital sales resume. You want to demonstrate that you can successfully interact with diverse target audiences and connect with a broad social network.

Show your knowledge depth

Demonstrate more than a surface-level knowledge of digital skills. Recruiters want to know you can navigate an entire ad campaign or customer acquisition initiative. Make a great resume by showing you can catch leads and keep them!
Frequently Asked Questions
How important is my education?

It depends on your experience. Got a lightweight work history? You might want to emphasize your education with any supplemental sales courses or digital media certifications you've earned.
Pay attention to the sales job description, though, as some companies may prefer or even require a degree in marketing, communications, or something similar.

Do I have to tailor my resume for every job?

Yes! Just like you tailor every digital sales objective to your audience, do the same for each company you apply to. Simply read the job ad, look for specific keywords about skills and organizational values, and then tweak your resume accordingly.

How many sections do I need?

Only as many as it takes to emphasize your greatest attributes without crowding your resume. Include your contact information, education/certifications, top skills like Lead Generation and SEMrush, and digital outreach experience and projects.