Sales is universal, but you bring a little more pizazz to the table. As a sales engineer, you've got extra oomph in the form of specific expertise that helps you facilitate the sale of technologically and scientifically advanced products and services.
You know how to make a challenging sale, but the most important sale of all is you.
With our sales engineer resume examples, even the most complex sales are made easier. Take the first step towards your next role with our help.
---
Sales Engineer Resume
---
Elegant Sales Engineer Resume
---
Clean Sales Engineer Resume
Related resume examples
---
What Matters: Your Skills & Work Experience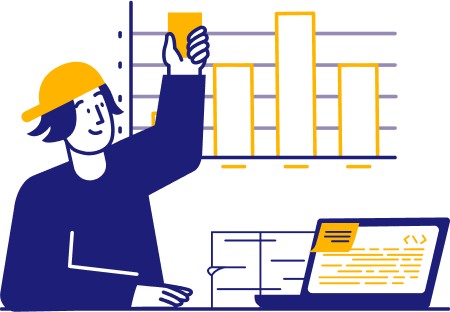 Recruiters hiring sales engineers look for individuals who can strike the balance between sales and technical understanding.
Ideally, you'll demonstrate your proficiency in product and service knowledge throughout your sales process while also successfully persuading your client towards closing the deal.
Here are a few of the most popular skills recruiters are looking for in sales engineers.
9 Most Popular Sales Engineer Skills
Analytical thinking
Problem-solving skills
Communication skills
General programming
Persuasion techniques
Presentation skills
Product knowledge
Project management
Technical knowledge
Sample Sales Engineer Work Experience Bullet Points
Sales engineers excel at breaking down complex products and services.Your work experience bullet points help to tell potential employers how you can bridge the gap between their clients and their products.
If your efforts to improve clarity in the sales process helped your team close more deals, include that achievement in your resume. If you refined sales material to facilitate better client communication and that created a knock-on effect of boosting customer satisfaction, add that, too.
As a sales engineer, you know how concrete, measurable examples can add more perspective. Make sure to include quantifiable metrics in your bullet points to provide a better picture of what you're capable of.
Here are a few samples:
Utilized technical knowledge to increase sales rates by 23%, 19% above targets
Explained product engineering to 110+ clients without engineering backgrounds, ensuring information was accessible and easy to understand
Traveled across the country, presenting technical product information at 17+ corporate events, improving product awareness and web traffic by 13%
Maintained expertise in 11+ complex products, ensuring 100% of customer inquiries were answered
Coordinated with 60+ national organizations and industry professionals to facilitate 4+ technical product conferences
Top 5 Tips For Your Sales Engineer Resume
Keep your resume to one page unless you have more than 10 years of experience,

A resume that's short, sweet, and to the point will help recruiters stay focused on how you're a good fit for the role. While you may have a boatload of certifications and work experience, you should only include the information most relevant to the job you're applying for.
If you're the exception with more than 10 years of experience, the number of pages for your resume can go to two.

If you have a generic skill in your skills section, your work experience can help explain how it's relevant

We don't always recommend adding generic skills into your resume, but if you can show how you applied this particular skill in an extraordinary way, go for it.
Another way you can do this is by showing how you applied the knowledge from a recently acquired qualification or certification to improve your work performance, as this shows that you're invested in career progression.

Put work documentation to use by including it in your resume

Sales data and reports are often overlooked as a pesky additional step, but they can be handy in tracking your work performance over time. If you know how doing x made y metric go up and you were responsible for implementing this, make full use of the statistical figures and add them to your resume.

General sales certifications can help you in your job search, too

Some organizations will be happy with what you already have if you don't have specific industry certification.
A general sales certification like Certified Professional Sales Person (CPSP) might be enough to land the job, and your new company might send you for training especially if their product or service is particularly niche.

Leave out the career summary in your resume unless you have a really good one

We normally recommend omitting the career summary in sales engineer resumes as you'll need the space for more important things like skills and work experience.
However, you can still include it if you have an outstanding achievement that you'd like to highlight. Make sure you tailor it to the job you're applying for.
Frequently Asked Questions
What kind of industries does a sales engineer normally work in?

While sales engineers can be employed just about anywhere, they are usually found in production fields like technology, manufacturing, construction, and service. Some engineers will work in independent sales and specialize in technical products, while other engineers work as sales personnel for technical companies.

Should I include my education in my sales engineer resume?

Definitely yes! You've put a lot of time and effort into getting your education, and your potential employer will be glad to know that you have the technical background necessary for the job. You might also highlight any projects you did while in school, as they can help demonstrate some of the skills you've included in your resume.

How should I format my sales engineer resume?

Since sales engineer resumes can be pretty dense, you should make sure to arrange the sections so that they flow naturally, with ample spacing and a good font. Don't include too much industry jargon – if you need cues on what to include, refer to the job description and match the language used.