You know software, SQL and programming languages inside and out. Your emotional intelligence is off the charts, making it a breeze to anticipate objections and lead your prospects to an enthusiastic yes.
But when you're selling yourself, how do you convince recruiters to go for your sales pitch? If you're not sure how to capture your software sales skills on your resume, we can help.
I've helped thousands of job seekers in software sales move on to bigger and better software sales jobs. The following three software sales resume templates offer a starting point as you create your resume.
---
Software Sales Resume
---
Professional Software Sales Resume
---
Modern Software Sales Resume
Related resume examples
---
What Really Matters: Your Skills and Experience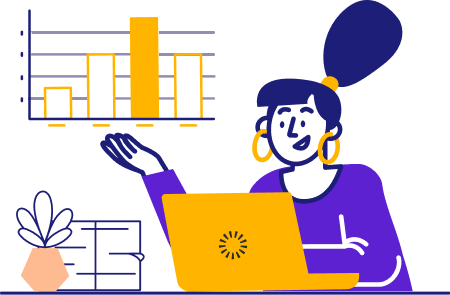 Software sales recruiters look for technical know-how and strong sales skills. Getting specific in your resume with past software and sales-related experiences shows recruiters that you're ready to boost their sales numbers.
But how do you know what the right software sales skills are? Check the job description! Your dream tech company gives you the playbook for your skills section.
Refer to the job posting to learn more about the tech and sales skills they need. If you can say you have those skills — and have the work experience to back it up — put them on your resume.
9 Top Software Sales Skills
Javascript
Negotiation
POS systems
Interpersonal communication
Scheduling
SQL
JAVA
HTML
CSS
Sample Software Sales Work Experience Bullet Points
Your impact in software sales is your top priority in the work experience section. Every bullet point should show that you can sell software to even the toughest prospect.
So how do you prove your sales prowess? You use measurable outcomes: profit increases, sales increases, dormant accounts revived. Gather the facts and figures that prove you pulled your current software company out of a sales slump or took it to the next level.
Did you increase profits by 15%? Did you generate millions of dollars in sales? Describe the actions you took, the skills you used and the outcomes to show your impact.
Follow these examples:
Conceptualized an innovative sales plan that increased annual profits by 23%
Exceeded sales goals by 85% after implementing new client management protocols
Generated over $4M in revenue in 2022
Increased sales for 3 quarters in a row
Top 5 Tips for Your Software Sales Resume
Showcase your sales impact

Employers want to know you can sell their software. Show them with concrete numbers how you've impacted sales in your current position. Highlight specific sales skills, such as reviving dead accounts or implementing customer management skills.

Highlight your technical skills

Selling software isn't the same as selling general office supplies or cars. You need to know the ins and outs of software. Describe how you've gained tech experience through other careers, such as working as a software engineer or in IT support.

Customize your resume for the job

You spent all this time perfecting your resume. Why customize it for each job? You can position yourself as a top candidate when your resume matches the sales and technical skills, software type and programming languages the employer wants. This can be as simple as rephrasing statements or putting more emphasis on key mentions from the job description.

Give context for your experiences

A laundry list of skills and work experience doesn't tell the recruiter why they should choose you. Highlight how you used those skills and what impact they made on the software company's sales. You're giving proof that you not only have those skills, but you also know how to apply them.

Focus on expertise

You don't need to have experience in every type of software or programming language. Demonstrating expertise in one or two areas is often more impressive to an employer than a little knowledge in lots of areas.
Frequently Asked Questions
How do you describe software sales on a resume?

List your specific software sales experience based on types of software, sales and tech skills and impact. Be specific with the programs you've used and how your sales numbers helped the company.

Does my software sales resume need a career objective?

Save real estate on your resume for skills and experiences. Career objectives are usually generic and don't highlight the impact you have on your company. Plus, the recruiter is likely to skip that section anyway. Use your space for the meat of your resume — proof that you can take the company's software sales to the next level.

What skills are required for software sales?

You need a strong technical and sales background to land a software sales job. On the tech side, skills like SQL, POS systems and various programming languages grab the attention of recruiters. On the sales side, show you have strong negotiation and interpersonal skills to convince prospects to buy your software.