You're a real marketing expert, capable of leading successful campaigns from the early stages of market research to the in-depth analysis that comes after. Your endless drive brings results that elevate the projects you work on to a whole new level.
Between running a successful team and chasing various KPIs, you've got your hands full enough as it is. Still, in order to advance in your career, you need a professional resume that effectively expresses your talent.
That's what we're here for. Our assistant marketing manager resume templates helped marketing pros like you land their next job. Here's how to score yours!
---
Assistant Marketing Manager Resume
---
Clean Assistant Marketing Manager Resume
---
Modern Assistant Marketing Manager Resume
Related resume examples
---
What Matters Most: Your Marketing Skills & Management Experience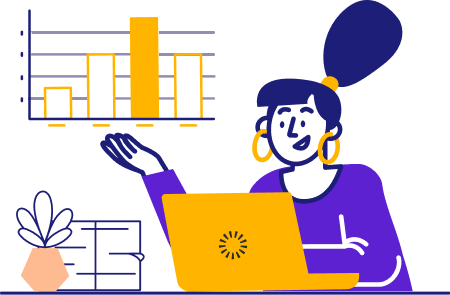 SEO? CRM? SEM? SERP? No problem! As a seasoned marketing veteran, you know all the tools and strategies that help engage, convert, and sell. All that remains is to demonstrate them to recruiters.
Make sure to focus on the marketing side of things here. You can express your communication and leadership skills later by describing your past work at greater length. When it comes to skills, stick to quick attention-grabbing buzzwords.
This is the place to mention the strategies you use in your daily work. Don't neglect to name-drop your favorite software, be it HubSpot or Sprout Social.
Include a good mix of skills, from traditional marketing to social media, unless the job description leans heavily in one direction.
9 most popular assistant marketing manager skills
SEO/SEM
Salesforce
Google Analytics
Budget Management
SEMrush
Mailchimp
HubSpot
Market Research
Hootsuite
Sample assistant marketing manager work experience bullet points
At this point, your career consists of a long line of exciting highlights. Perhaps you've participated in a new product launch, or you revamped your company's email marketing strategy to increase conversion rates. This is where you can talk about some of your greatest achievements.
Using the right wording is important—stick to strong action verbs. Instead of a passive "worked on," use "spearheaded" or "implemented" to showcase your leadership. To further drive the point home, strengthen each sentence with metrics that give it more impact.
For example, skip saying "worked on a campaign" and instead say that you "led a 2-month social media marketing campaign on TikTok and Instagram, increasing conversion rates by 12%."
Here's how to use this trick to your advantage:
Led a team of 4 marketing specialists to execute over 10 marketing campaigns, bringing in over $100,000 in revenue
Maintained company content calendar for social media, email campaigns, and content marketing, increasing organic reach by 19%
Utilized SEO strategies, including keyword research, to boost website ranking on SERP by 38% in 3 months
Spearheaded the implementation of a new social media strategy across Facebook, Instagram, and YouTube, increasing customer engagement by 23% over 6 months
Top 5 Tips for Your Assistant Marketing Manager Resume
Never use the same resume twice

Each job description calls for something different, so try to pinpoint the exact scope of the role and adjust your resume to match. For example, if there's a stronger focus on social media marketing, highlight your experience in using Hootsuite or your knowledge of the latest TikTok trends.

Talk about software

From adjusting mailing lists to scheduling blog posts, you're working with all kinds of software on a daily basis. Mention the tools that you use the most, such as Google Analytics, Mailchimp, Ahrefs, or WordPress.

Showcase your knowledge of the company

You may be able to recognize a company's marketing efforts before even joining the team. This is a good thing to drop into the cover letter or your career objective. As an example, if the company recently utilized user-generated content in its Instagram campaign, comment on how it effectively built brand authenticity and drove consumer engagement.

Include relevant certifications

There are also plenty of marketing certificates that show your commitment to the job. Some of the most useful ones to include are CPM, Google Analytics Individual Qualification, Hootsuite Social Marketing, and HubSpot Content Marketing.

Express your teamwork

Between assisting the senior marketing manager and working with other team members, your role is highly collaborative. You can emphasize your ability to work in a team by talking about campaigns you've run with others and the results they brought in.
How to make my resume stand out?
Focus on using action verbs and keywords that recruiters may be looking for with applicant tracking systems (ATS), and add some metrics to make your accomplishments have a greater impact.
What to do if I have no management experience?
Underscore your confidence and ability to work in a team. For example, talk about a specific campaign in which you've played a key role, and the results it achieved, such as increased open rates or ROI.
What to do if I'm transitioning to a new field?
Emphasize transferable skills. Even if it's a new industry, your knowledge of marketing and ability to lead a team both still apply. Try to include a diverse range of marketing strategies and achievements to show that you're flexible and a quick learner.