Working as an architecture intern is all about developing your skills and supporting the team you work with. You help land clients, ensure legal compliance, put together documentation, and add the final touches to design work. 
Given your budding career, you might find it difficult to know what achievements you can call yours and include on your resume.
With our architecture intern resume examples, we'll show you exactly how to present your experience to showcase both impeccable teamwork and personal accomplishments. Just follow these resume tips and get ready to land your next role!
---
Architecture Intern Resume
---
Modern Architecture Intern Resume
---
Professional Architecture Intern Resume
Related resume examples
---
What Matters Most: Your Skills in Architecture & Past Experience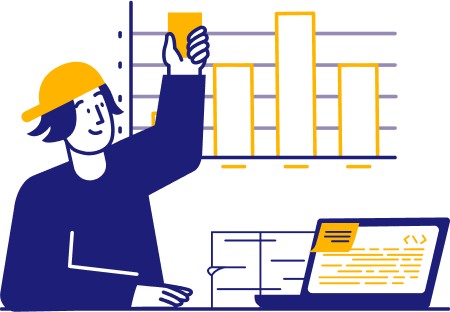 Architecture is a complex field where technical knowledge reigns supreme. Your education will vouch for your theoretical knowledge of building codes, design principles, and structural systems, so your skills section should focus on tools and software.
By matching the tools on your list with those mentioned in the job description, you can show that you're paying attention and you're the perfect candidate. Most importantly, be highly specific and use terms that show your knowledge of the field.
While it's fine to list multiple BIM software tools, make sure you bump those mentioned in the job description to the top of your list. This will stop hiring managers from assuming you have less experience with the company's software of choice.
9 most popular architecture intern skills
AutoCAD
SketchUp
Revit
Rhinoceros 3D
ArchiCAD
Lumion
Grasshopper
Unity
Adobe Photoshop
Sample architecture intern work experience bullet points
As an intern, your experience will be varied. It's your job to expand your knowledge in a range of areas rather than gain expertise in one. Internships are intended to provide broad exposure, so you don't have to try and force an area of expertise on your resume.
Instead, lean into your diverse skill set and show that you're ready to begin a role in multiple areas. To grab the attention of readers and recruiters, turn your experiences into achievements and back them up with metrics.
This will show readers exactly what you achieved and how it impacted the rest of the project. Don't worry if your on-the-job experience is limited—you can always focus on college projects and coursework instead.
Here are a few examples:
Conducted in-depth research on sustainable building materials for 3 projects, leading to a 33% increase in the integration of eco-friendly solutions
Generated accurate 3D models for 5 projects, aiding in client visualization and resulting in a 25% reduction in design alteration requests
Completed analysis and documentation of local building codes for 7 projects, achieving 98% compliance rate
Contributed to the development of presentation materials for four client pitches, resulting in a 25% increase in the project acquisition rate
Top 5 Tips for Your Architecture Intern Resume
Include a portfolio

Don't just tell recruiters you can use Revit and AutoCAD, show them. Put together a professional portfolio of design projects, 3D models, and renderings that showcase your skills. Simply add the portfolio link under your name.

Demonstrate research skills

Research is one of the main tasks allocated to architecture interns, so it's an important area to highlight. Make sure to talk about the results of your research and how they contributed to the project.

Mention relevant certifications

If you have any accreditations related to architecture, such as LEED (Leadership in Energy and Environmental Design), be sure to include them on your resume. Pick a resume template that has a separate section for this.

Make it look good

As an architecture intern, it's your job to make attractive, well-structured, and efficient designs. It may seem a little unrelated, but it's important to show your passion in these areas by creating a well-presented resume as well. Keep the color palette readable and cohesive, and use a clean template that looks highly professional.

Match the job

Pay attention to the specific requirements of each job post and the specific software that's required. It will look good to both AI screenings and human recruiters to see these keywords repeated in your resume. Of course, only mention programs you're well-versed in.
Should I include non-architecture work experience?
As an intern, you may not have extensive architectural experience yet, but it's still best to focus on what you do have. You can mention other work if it highlights relevant skills such as client pitches or liaison. 
Should I add references to my architecture resume?
It's generally not necessary to add references directly to your resume, as they won't be needed at this stage of the process and will only take up space. You can, however, add a "references on request" note at the bottom of the page.
Should I include academic achievements?
Yes, your academic record is still important at this early stage in your career and you can create work experience bullet points from your achievements in the same way as you would a job or internship.