You're a well-versed leader who can set company goals and strategies in the right direction. Financial statements are analyzed, processes are improved, and meetings are led effectively with you on the executive leadership team.
Have you optimized your cover letter to complement your executive resume and show you have the right business sense for the job?
Every company goes through a careful selection process when hiring executives. If you're wondering how to stand out, our executive cover letter examples will provide a great template for success.
---
Executive Cover Letter Example
USE THIS TEMPLATE
Why this cover letter works
Who said it's all about the words? Your choice of template significantly impacts your executive cover letter's impression.

Choose something professional and modern with a perfect balance between visual appeal and word delivery. Overly flashy graphics can distract from your narration, though.
---
Executive Director Cover Letter Example
USE THIS TEMPLATE
Why this cover letter works
Highlighting influential hobbies and devotion that match the hiring organization's needs is a lesser-discussed trick to propel your executive director cover letter ahead of the competition.

An example would be how Gabriel cleverly incorporates one of his pastimes (exploring Washington DC's tech sphere). Perhaps he spends evenings at tech meetups or weekends familiarizing himself with the latest tech startup. The secret ticket here is that these interests perfectly align with the hiring company's endeavors.
---
Sales Executive Cover Letter Example
USE THIS TEMPLATE
Why this cover letter works
Do you remember shattering a sales target that seemed impossible? Turned a struggling sales team into a top performer? The hiring manager wants to hear about those wins.

Fortify your sales executive cover letter with quantified facts to prove your sales prowess and that you're a force to be reckoned with when it comes to spurring profit growth. Examples include "drove costs down by 18%" and "increased the subscriber base by 36.8%."
Related cover letter examples
---
How to Write an Executive Cover Letter That Stands Out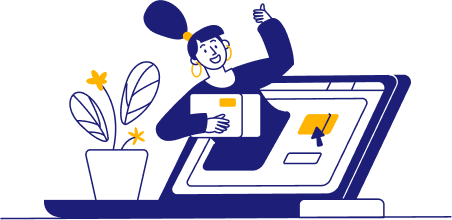 Standing out as an executive requires more than just presenting the analytical and leadership skills that will help you succeed. It's also important to show how you'll fit in with the company culture and help them achieve their mission.
The best way to optimize is to review the job description to identify the company's goals and the essential skills they seek. That way, whether the company needs help with strategic planning or creating a team-focused environment, you can write a custom cover letter that grabs their attention.

Catch attention with the greeting and intro of your executive cover letter
When leading a meeting, you'd want to start with key information that grabs employees' attention and relates directly to their needs. You can do the same in your executive cover letter to get off to an excellent start.
That usually includes two things. The first is addressing someone by name if you can find a hiring manager listed in the job description or company website.
Then, you'll want to craft an intro paragraph directly related to the company's needs and mission. For example, how you'll use your abilities in management information systems to help the business achieve a data-driven and efficient work environment.
The opener below falls a bit short on that since it doesn't get into enough detail about the skills that will make the applicant a great fit for the account executive role.
Try to get more specific than this!
Hello Mr. Brenton,
I'm pleased to be applying for your account executive job opening. With years of management experience under my belt, I think my skills will make me a great fit for your needs.
The opener below does a much better job of showing how the applicant fits in with DISH Network's strategic leadership needs while relating to their mission of innovative entertainment solutions.
A highly specific opener for the win!
Dear Ms. Clark,
I'm unequivocally drawn to DISH Network Corporation's commitment to providing innovative entertainment and communication solutions. My unquenchable thirst for grappling with unfamiliar challenges makes the chief executive officer position an exceptional match for my skill set. In independent and collaborative settings, I'm at ease taking charge and leveraging feedback data to shape strategic decisions.

Provide more evidence of your skills in the body of your executive cover letter
Once you have the hiring manager's attention, it's time to show why you're the best fit for the executive position with data-based examples of past achievements.
One of the best ways to do that is leveraging the numbers you know companies care about the most, like costs saved or increases in conversion rates.
It'll also be important to show how you've led teams, such as providing employees with coaching to boost productive efficiency.
A great body paragraph showcasing leadership skills!
Beyond technical expertise, I successfully managed a team of IT professionals at TechFlow and SecureData. By leaning into my leadership role, I inspired my team to exceed their potential, improving IT service delivery by 6% and 12%, respectively.

Make a lasting impact with the closing of your executive cover letter
As you close out your executive cover letter, it'll be important to think about what elements will make a lasting impact on hiring managers as they decide on applicants to bring in for an interview.
One of the best ways to optimize will be relating back to key skills and elements of the company mission you emphasized. For instance, how your e-commerce management skills will help create a top-notch online shopping experience for customers.
It's also an excellent idea to close out by thanking the hiring manager for their time and ending with a light CTA, just like you'd do when trying to boost conversions on a sales page.
The closer below is missing many of those details since they don't give enough information about their executive leadership skills or use a CTA.
Include more details than this!
Overall, I believe my years of sales experience will make me a great fit for the position. Thank you for considering my application for your sales executive role.
Sincerely,
Vincent Benjamin
The closer below does a much better job relating to a hands-on approach and problem-solving skills aligning with the company's culture and mission.
A well-rounded closer relating to company needs!
My affinity for problem-solving and broad-spectrum IT skills can be valuable for your team. I'm eager to see how my unique perspective and hands-on approach can advance your organization's vision. Thank you.
Sincerely,
Gabriel Santos
Why does my executive cover letter need to be custom for each job?
Every company will be seeking different skills from executives and have a unique work culture. Writing a custom cover letter for each role will show your passion for their mission and how specific job skills like business intelligence or change management will help them achieve their goals.
What's the best tone for executive cover letters?
The best way to optimize the tone of your executive cover letter is to review the job description and try to match the tone they use. For instance, if they use a formal and educated tone, you can match that and show why you're the knowledgeable leader who's right for the company's culture while helping them boost conversions during client acquisition.
How many skills should I focus on in my cover letter?
Aim for around three to five skills you emphasize that are highly relevant to company needs. For instance, if the company wants you to be proficient in business intelligence, you can explain how your skills in Microsoft Power BI will be an excellent fit for their data analytics system.