The banking industry requires a detail-oriented mindset with compliance as a top concern. You shine in that role by overseeing client accounts, monitoring transactions, and providing excellent customer service.
Are your banking resume and cover letter helping you connect with hiring managers to show you're right for the job?
When banks are looking for the most accurate and skilled employees, they'll perform detailed reviews to ensure they bring the most qualified applicants in for interviews. To ensure you stand out, use our banking cover letter examples as templates to display your abilities successfully.
---
Banking Cover Letter Example
USE THIS TEMPLATE
Why this cover letter works
Your banking cover letter's format is as crucial as the narrative. At the very least, keep the piece under one page. Yet, use white spaces to avoid drowning your highlights in an ocean of text.

Speaking of the structure, craft a compelling intro diving into your passion, motivations, and possibly, company knowledge; a middle highlighting your professional experiences in reverse chronological order, and a conclusion reinstating your interest and encouraging further discussion.
---
Mortgage Banking Intern Cover Letter Example
USE THIS TEMPLATE
Why this cover letter works
Curious about making a mortgage banking intern cover letter hook the hiring manager from the outset? How about rethinking your approach to the introductory paragraph?

Following Anton's lead, kick off by strategically aligning your career aspirations with the hiring company's mission and values. From there, intertwine your objectives for the roles with the shared values, showing your readiness to inject passion and drive into the role.
---
Electronic Banking Specialist Cover Letter Example
USE THIS TEMPLATE
Why this cover letter works
Maximizing the potential of your electronic banking specialist cover letter often boils down to thoughtful tailoring: in other words, fitting into the prospective employer's requirements.

Quickly draw attention to your career's landmarks that saw you apply relevant industry-relevant skills, such as fraud detection and prevention, database management, and data visualization and analysis, solidifying each experience with numbers. Did you slash financial losses by 31%? Improved operational efficiency by 29%? Flaunt these triumphs, but concisely.
Related cover letter examples
---
How to Optimize Your Banking Cover Letter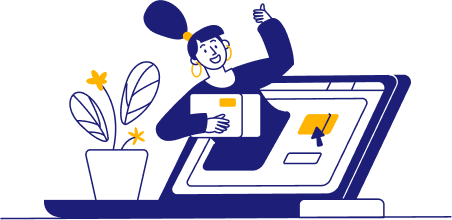 While all banks have standardized processes to ensure compliance, that doesn't mean that each one won't have unique qualifications they're looking for applicants to possess.
For instance, one bank may be seeking a reconciliation expert, whereas another may be looking for a customer-centric teller who can create a great experience for everyone who walks through their doors. You'll want to customize each cover letter you submit based on the job description.

Write an attention-grabbing intro to your banking cover letter
When someone walks into the bank, you know the importance of creating a friendly atmosphere since every customer makes a first impression quickly. The same is true when bank hiring managers are reviewing cover letters.
The first step to stand out is greeting a specific hiring manager by name if it's listed in the job description or on the bank's website. It's the same as connecting with customers by learning their names before discussing investment opportunities.
Then, once you get into the first paragraph, you'll want to show how you connect with the bank's mission and where your skills fit in. For instance, how you want to use your knowledge of debt consolidation and index funds to help customers make smart financial decisions.
The intro below doesn't make enough of a connection since it lacks key details about the applicant's specific mortgage banking skills and the company's mission.
Not connecting enough!
Hello Mr. Halbert,
Upon seeing the mortgage banking job you have available, I immediately thought this sounded like a great role for my skills. This sounds like a great company to work for, and I would be excited to join your team.
The opener below makes a better connection since the applicant showcases an evident passion for Citibank's commitment to customer service excellence and exceptional banking experiences.
A well-connected opener based on the bank's mission!
Dear Mr. Mitchell,
Having long admired Citibank's commitment to precision and customer service excellence, I'm thrilled at the opportunity to contribute to your mission of delivering exceptional banking experiences that serve clients and promote financial success. I share your goal of providing reliable and accurate financial services to individuals globally. My valuable experience in this field can help enhance customer satisfaction, streamline banking procedures, and foster stronger client relationships as your bank teller.

How to make the body of your banking cover letter more impactful
As you get into the body of your banking cover letter, it's time to think about how you can share more details about the customer service and financial solutions skills you highlighted in the opening paragraph.
A great way to illustrate your impact as a banker is by using metrics since every financial solution requires data to make accurate decisions. Depending on your role in the bank's success, everything from customer satisfaction rates to loan-to-asset ratios could work well in this section.
Additionally, if you're applying to a role like a mortgage banker or investment banker that requires some education, you could also explain how your degree in finance or related fields has equipped you to succeed.
A well-formed body paragraph with banking metrics!
As an operations associate at 1st United Credit Union, I handled, on average, $267,124 in cash transactions daily. This task necessitated meticulous cash management and record keeping, aiding a 24% reduction in transaction anomalies.

Make the closer of your banking cover letter stand out
As you begin the closing paragraph of your banking cover letter, you'll want to relate back to some of the key financial solutions skills and your connection to the bank's mission. For example, your passion for the bank's commitment to excellence and how you want to use your financial analysis skills to provide accurate service to every customer.
After that, it's a good idea to thank the bank's hiring manager for their time and end with a light call to action. It's similar to thanking customers for banking with you and saying you look forward to seeing them again to increase customer retention rates.
The closer below lacks impactfulness since the applicant doesn't use a call to action or reference the bank's mission.
Lacking impactfulness here!
Overall, I believe my experience as a mortgage banker will be a valuable addition to your team. Thank you for considering my qualifications.
Sincerely,
Lucy Carlson
The closer below makes a much better impact by referencing the applicant's passion for helping clients achieve their dream of homeownership.
An impactful closer relating to the bank's needs!
My dedication to assisting clients to achieve their dream of homeownership fuels me to seek further opportunities to enhance my knowledge and skills. I'm confident that my drive and acquired knowledge would contribute meaningfully as Wells Fargo's next mortgage banking intern. I eagerly anticipate discussing my candidacy further with you. Thank you.
Sincerely,
Anton Ivanov
How do I choose the right banking skills to write about?
Reviewing the job description and understanding the bank's needs is the best way to include job skills that stand out. For instance, if the position requires cross-selling, you could write about previous experiences cross-selling credit cards or business banking solutions.
What's the best tone for banking cover letters?
The best way to optimize the tone you write in is by reviewing the job description and trying to match the tone each bank uses. For instance, if a bank uses a formal and logical tone, matching that shows how you'll fit in with their professional and knowledgeable work culture.
What if I don't have banking work experience?
If you haven't worked in banking before, you could emphasize translatable skills like other jobs involving customer service or data entry. Or you could emphasize relevant education like a bachelor's degree in finance that equipped you with the necessary skills.