Your work puts you in charge of all aspects of a project, from its initial planning stages to its completion. As well as liaising with stakeholders, you also manage the entire project team, including architects, engineers, contractors, and subcontractors. You resolve every issue that comes your way, and that's no easy feat.
In fact, the scope of your role is so broad that it almost seems impossible to fit it all onto a tiny one-page resume. How can you show off your management and problem-solving skills without the space to explain anything?
Well, while resume writing is definitely a skill in its own right, you don't have to be a pro to get the job done. Our senior construction project manager resume templates show you exactly how to demonstrate your expertise and attract the attention of recruiters.
---
Senior Construction Project Manager Resume
---
Modern Senior Construction Project Manager Resume
---
Professional Senior Construction Project Manager Resume
---
What Matters Most: Your Construction Skills & Project Management Experience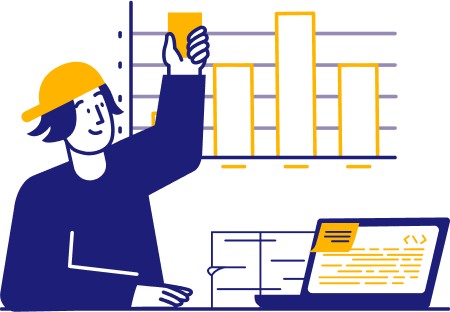 Your resume skills list is a great opportunity to tailor your resume to each application. With the wide range of tools and software available for tasks ranging from project management to design in construction, showcasing your prowess with these tools can give you an edge. 
Different companies use different software, and you can use your skills list to show recruiters you have the exact skills they're looking for.
This strategy helps you hit multiple birds with one stone—you can demonstrate a skill such as project management, demonstrate industry knowledge by name-dropping specific tools, and hit the necessary keyword quotas all in one bullet point.
Aside from relevant software, don't forget to touch on other aspects of running successful projects, such as managing risks, budgets, and key stakeholders.
9 popular senior construction project manager skills
Microsoft Project
Primavera P6
AutoCAD
Risk Management
Revit
Team Leadership
Construction Law
Procore
Stakeholder Liaising
Sample senior construction project manager work experience bullet points
The traditional approach to presenting work experience on a resume involves describing your previous role and responsibilities. However, you can shake things up by focusing on your achievements instead.
This shows how you as an individual made an impact with your work and exceeded average standards. To make your achievements stand out even more, make sure to back them up with metrics and figures.
Including your exact cost reductions or satisfaction ratings shows recruiters just how well you can do your job.
Here are some examples
Managed a $70M commercial construction project, delivering it within the allocated budget and meeting all quality standards, resulting in a client satisfaction rating of 95%
Successfully managed up to 6 construction projects simultaneously, ranging from $10M to $90M in value
Developed and implemented a comprehensive risk management strategy, resulting in a 22% reduction in project risks and mitigating potential issues
Collaborated with architectural and engineering teams to optimize project designs, resulting in a 16% reduction in construction material waste
Top 5 Tips for Your Senior Construction Project Manager Resume
Include professional certifications

Your certifications such as the CCM (Certified Construction Manager) or LEED (Leadership in Energy and Environmental Design) help validate the skills listed on your resume. Include them to show your dedication to professional development.

Showcase leadership abilities

Mentioning times that you've led teams, spearheaded projects, or liaised with stakeholders can help demonstrate your leadership and soft skills early on in the application process. You'll also get a chance to expand on these areas in the interview.

Focus on problem-solving

Problem-solving skills are essential for project managers because, frankly, the problems often never stop coming. This skill can be difficult to demonstrate on paper, but you can try to include examples of your solutions in the work experience section.

Demonstrate communication skills

As a manager, your communication skills are also of utmost importance. You can demonstrate these through your work experience bullet points, a well-written resume, and a personalized cover letter. Discuss things like negotiating with vendors or de-escalating conflicts in your team.

Never re-use your resume

Each job description is different and it's important to match the keywords, skills, and required experience to every application. For instance, if there's a lot of focus on running a team, talk about your skills in giving performance appraisals or setting realistic deadlines.
Should I include a career summary?
With a long-standing career, a summary can elevate your resume. Three great things to cover include the number of years you've been in the industry, the number of projects you've completed, and a personalized call-out to the company you're applying for. 
How can I demonstrate my knowledge of industry-specific regulations?
A great way to showcase specialized knowledge is within professional certifications and professional development courses. You can also list organizations you're a part of or industry events you like to attend. 

How far back should I go in detailing my work experience?
Since you're now a senior manager, it's best to cover your most recent work experience. This keeps things as relevant as possible and showcases your current level of ability. There's generally no need to list more than three separate jobs on your resume.