From business performance and organizational challenges to maximizing growth and creating value, you provide professional advice on how to manage countless facets of a company's operations. Improving business performance is the name of your game!
But how do you optimize your resume to show off exactly how you guide management teams? How should your resume look when you're done?
Don't worry! We've got three management consultant resume templates lined up for you to try so that you can pick the best possible fit and make your credentials more memorable than ever.
---
---
Clean Management Consultant Resume
---
Modern Management Consultant Resume
Related resume examples
---
What Matters Most: Your Skills & Professional Experience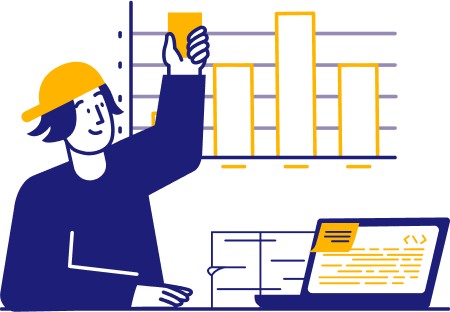 You exemplify all kinds of skills as a management consultant! Show the familiarity with a wide range of business operation types that empowers you to advise a larger client base. Your thorough and versatile skill set enables you to provide insights based in expertise, and recruiters appreciate that.
Fill your skills list with strong abilities from a various management areas like stakeholder relations and budget strategy, presenting each one in a matter-of-fact way. Don't derail with vague terms that don't add any credibility, like "people skills."
Be highly specific about your abilities, making sure each skill you list is well-honed and brings value to the table. Each list item should give another reason why you're so good at management consulting!
Here are some examples:
9 top management consultant skills
Active Listening
Negotiation
Sales
MS Excel
Google Docs
Jira
Zoho
Salesforce
Google Analytics
Sample management consultant work experience bullet points
Now that you've assembled your best skills to share with recruiters, it's time to give examples of how you've utilized them to optimize business strategies in the past. Don't let your accomplishments gather dust!
When you write out your work history in bullet points, always keep results in mind. After all, that's what your job is all about: Driving more and better results to improve business (or career!) growth.
The best way to measure those results and back up your achievements is quantifiable data. Use metrics to reinforce solid examples of your impact, calling upon everything from dollar savings to productivity increase percentages.
For example:
Developed relationships with small businesses, specializing in process improvement to increase efficiency by up to 37%
Collaborated with senior management consultants to decrease delayed flight departures by 14%
Built relationships with clients, key stakeholders, and employees to determine business needs and goals, surpassing 87% of objective expectations
Grew profits from $2.1M to $4.4M year-over-year for consulting firm's Digital Solutions department
Contributed to white papers detailing products, services, and common concerns for businesses and organizations to improve customer engagement by 31%
Top 5 Tips For Your Management Consultant Resume
Stay organized

Organization is a key point in your job role, helping you centralize information and lay out actionable responses to data trends. Like our examples, you'll want your resume to be just as organized and reader-friendly!

Write your resume for the interview

Think one step ahead while you write your resume, and emphasize the points you'd be most comfortable discussing in an interview. Consider the contextual details of your management consultation accomplishments and how you'd use them to enhance your credibility even further.

Vary your context

Speaking of context, it's a great way to add variety and a greater sense of accomplishment to your resume. Use little bits of backstory to reinforce how your actions and strategies had a positive impact on others: How did you decrease flight delays or increase retail customer satisfaction?

Just one page, please!

Recruiters really don't like spending long on a resume during their first round of skimming: In fact, they likely won't. So make sure you get your points to the recruiter in time by diving right into how you increased year-over-year profits for that real estate firm!

Consider your tone

Take another look at the job description to get a feel for the company culture. Assess the job ad's writing tone so you aren't pitching corporate-ready professionalism to a business that emphasizes an approachable startup feel. Reflect these in your job description!
How to Write a Management Consultant Resume
Choose the right resume format and outline

You know all about making data-driven decisions and providing useful, concise insights. Let your resume reflect those very important abilities. You can do this by keeping it to a single page and using the reverse-chronological format to put your most recent jobs front and center. Recruiters will appreciate your analytical approach right from the get-go!

Craft an impactful career summary

You've led businesses and individuals toward success, so starting your resume with a career summary can be a great way to immediately showcase your strong background. Use it to quickly describe your ability to build lasting relationships and steer projects in the right direction. Include the company name each time.

Pick out the skills that fit the job

Each job description may call for a slightly different set of skills. The company might need you to focus on helping it establish relationships with new stakeholders, including a lot of travel, or you might be tasked with a restructuring project. Mix and match your skills to suit each role based on what's in the job listing.

Leverage your greatest successes

It's easy to spotlight how effective you are—simply talk about those same metrics that you keep track of anyway! Instead of dull work experience points like "reporting" and "financial analysis," talk about how you increased operational efficiency by 22% using Tableau, or how you spearheaded a $3M project and still managed to stay 9% under budget for a whole year.

Maximize your credentials

If you have special certifications, land on a resume template that lets you throw them in—they'll serve to further emphasize your credibility. This includes the Certified Management Consultant (CMC) certificate, but also things like the PMP, CFA, or the CBAP.
How can I bolster my education?
Always include your education—but you don't have to stop there! Added credentials like a Certified Management Consultant (CMC) certificate or relevant courses that fall outside your business administration degree can look great, too.
How do I customize my resume?
Back to the job description once again! Make sure you didn't miss any buzzwords, focal points, or key skills that you could reflect in your resume. Alter your approach for each job application, just as you'd adapt within the management consulting role.
Be critical about summaries and objectives
Do you really need one? Chances are, you may not! If you have a well-rounded professional history with intriguing customer engagement and senior management collaboration examples, there's no need to waste space on a summary statement that risks sounding redundant.