You file, scan, copy, and fax. You also take charge of scheduling hearings, court depositions, and other meetings for the attorney you work with, and you're always there to make sure all deadlines are met and any necessary travel plans are booked.
But what about making your resume just as flawlessly organized? How do you make sure your work experience is eye-catching and suitable for the job?
Don't worry! After years of helping people in the legal system find comfortable niches in their profession, we've put together three legal secretary resume examples to get you going!
---
Legal Secretary Resume
---
Professional Legal Secretary Resume
---
Formal Legal Secretary Resume
Related resume examples
---
What Matters Most: Your Skills & Work Experiences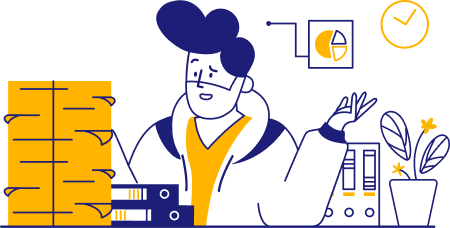 As a legal secretary, most of your skills will revolve around concepts like communication, organization, and technical abilities. But don't list them like that!
Every skill you list should be clarified in a way that makes it clear that you're applying for a legal secretary job—not just any job. While those major skill areas span across many professions, including yours, you'll want to narrow things down.
Precision is your friend as you list your abilities. Why say "data entry" when you can say "database management" or "legal documentation"? Be as specific as you can (list software by name), and emphasize technical over soft skills.
9 most popular legal secretary skills
MS Excel
Legal Documentation
Google Calendar
Problem Solving
Multitasking
Flexibility
Bilingual (Spanish)
Meeting Planning
Typing (87 WPM)
Sample legal secretary work experience bullet points
Your skills are looking sharp! But recruiters want to see that you can put them to good use, too. That's what your work experience bullet points are for. Each point should concisely outline one of your accomplishments in the legal office.
Recruiters need solid examples of what you did, why you did it, how you achieved your end results, and what those results were. These examples need to be highly relevant to your work as a legal secretary, of course!
And don't forget to include metrics. These are the most solid way for you to demonstrate your positive impact. Include quantifiable data like success percentages, efficiency increases, work hours reduced, or budget savings for your firm.
Here are a few examples:
Typed non-legal documents for office staff, including memorandums, emails, and letters, boosting personal rating based on workflow efficiency to 4.8/5 stars
Scheduled 3+ appointments per day for each attorney, prepared timesheets, and managed client invoices while using bilingual abilities to increase client return rate by 8%
Scheduled and confirmed client appointments with 4 attorneys and scheduled staff conferences 2 times per month, maximizing productivity by 6% using Google Calendar
Conducted legal research per caseload demands, communicating with court officials and clients within 24 hours, improving client satisfaction by 11%
Top 5 Tips for Your Legal Secretary Resume
Are there any extra credentials I can include?
Absolutely include your Certified Legal Secretary (CLS), but add in any additional certifications too. Think of other things that may not scream "legal secretary" but still bolster relevant abilities, such as a Certified Medical Administrative Assistant (CMAA).
Should I use references?
It's not a bad idea! A professional letter of recommendation is a classic way to provide outside materials to back up your qualifications for a legal position. Do you have any college professors or any attorneys you've previously worked with who can give the thumbs-up on your desirability?
What if my job history's all over the place?
No worries! Plenty of legal secretaries have started out in customer support or other fields that don't relate. Just look for experiences within those jobs that overlap with things you do now as a legal secretary. Did you save your company money by organizing office supplies? Did you boost restaurant ratings with your efficiency as a seating host?