You might be a fresh addition to the team, but you still know how to impress a senior PM with well-coordinated plans and schedules. You know your way around project progress and data reports, too.
But how about writing a resume? You may still have questions about things like skills and certifications.
We've been helping people advance their positions in project management for years, and we have some top resume tips to share with you! Check out these three junior project manager resume samples for some guidance.
---
Junior Project Manager Resume
---
Clean Junior Project Manager Resume
---
Modern Junior Project Manager Resume
---
What Matters Most: Your Skills & Work History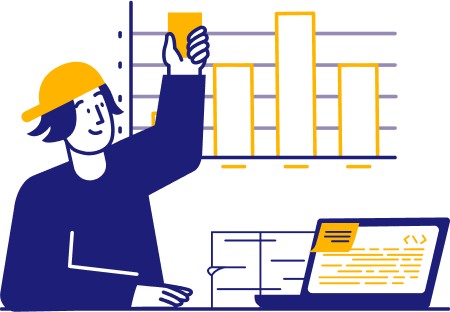 Some junior project managers worry about how to make their skills section look complete, but if this is you, don't worry. You might be more qualified than you realize!
Look closely at the job requirements and search for anything you can do. You might have more skills than you thought, and simply need to articulate them better. Generic terms like "project management programs" aren't too impressive, but specifics like Marketo and Bing Ads are.
Just make sure that anything you list (including soft skills) clearly relates to your field. Check out these samples:
9 best junior project manager skills
Problem-solving
Forecasting
Data Reporting
Marketo
Salesforce
Google Ads
Bing Ads
Facebook Pixel
MS PowerPoint
Sample junior project manager work experience bullet points
Your work experience shows that you know how to turn knowledge into action! Recruiters need to get a nice, quick snapshot of your biggest achievements to know you can help drive a project to its successful end.
Make sure you describe each of your bullet points concisely and show that you're eager to learn and grow. Your accomplishments should be highly relevant and easy to follow.
You'll also need to back up your claims with data to build credibility. Sometimes metrics can be tricky if you're new to your profession, but you can look for things like productivity rates or percentages that tie in nicely.
Here are a few samples from our resume examples:
Tracked and analyzed 114 marketing projects and presented data to senior marketing directors, resulting in a 16% increase in productivity
Managed 60%+ projects assigned to the internal and external marketing departments
Forecasted project revenue recognition against anticipated completion dates, empowering marketing team to exceed expectations by 12%
Implemented and communicated 34 project updates to stakeholders and directors
Top 5 Tips for Your Junior Project Manager Resume
Keep it classy

Your resume template, we mean. You want to come across as well put together and professional, so avoid overly flashy colors or strange fonts. Stick with clean, readable text and minimalistic color usage that speaks to your professionalism, even in a junior role.

Show your certs

You definitely don't want to leave credentials like a Professional Certificate in Digital Marketing (PCDM) out of your resume! Make sure you include any other training certificates or independent courses that relate to project management, too, especially if it's mentioned in the job ad.

Nix the objective statement

If you have enough experience via previous employers, internships, or even volunteer initiatives that tie in with junior project management, you probably don't need one. If you include a resume objective, it should add fresh value that bolsters your qualification for the job role.

Revisit the job ad

When in doubt, always refer back to the job description! If you're drawing a blank when it comes to hard vs. soft skills or which part of your experience to emphasize, match your angle, such as your chops in Asana, to what the project manager job requirements ask for, like managing teams via Asana.

Don't forget to proofread

If your job history is looking a bit "airy," then any mistakes or typos are bound to stand out all the more. Show your attention to detail and seriousness about the job by checking your resume as needed.
Should I really customize my resume every time?
You bet! Taking that extra step to ensure you're aligning as closely as possible with the individual job description is worth the time. Make it easy on yourself by looking for keywords or special skills, like negotiation, having a PMP certificate, or knowledge of Agile methodologies, that you can reflect in your resume.
How long can my resume be?
Stick with one page, and if you're coming up short, consider adding internships or personal and academic projects that show you using your skills to complete the project lifecycle!
What if I don't have enough relevant experience?
We're sure you can find plenty: even volunteer projects could connect with the junior project manager role if you take the right angle with it and focus on skills that transfer well. If all else fails, opt for a resume format that makes your qualifications look fuller!