When patients and visitors enter the hospital, they can rest easy knowing they have top-notch security guards like you patrolling the grounds and preventing disturbances.
You have the vigilant and protective skills necessary to keep hospitals safe. Now let's help you lock down which skills to put on your resume to land your next job. 
Safety is a top concern for every hospital, so they'll do detailed reviews when hiring security guards. We've done tons of research to find what hospital hiring managers look for in resumes in 2023, so our hospital security guard resume examples will be an excellent place for you to start.
---
Hospital Security Guard Resume
---
Elegant Hospital Security Guard Resume
---
Clean Hospital Security Guard Resume
Related resume examples
---
What Matters Most: Your Hospital Security Guard Skills & Work Experience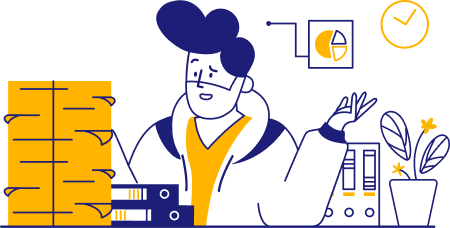 When doing a detailed sweep of the hospital's grounds, you look for crucial aspects to ensure everything is secure. Hiring managers will also be vigilant to ensure you have the skills they're looking for in the position.
Ideally, you'll want to tailor your listed skills to the job description since every hospital has different security protocols. For instance, one hospital may have you focusing on guest authorizations, whereas another one will have you monitoring video surveillance systems. 
Here are some of the most in-demand hospital security guard skills to get you off to a good start.
9 best hospital security guard skills
CCTV Surveillance
Card Access Systems
Conflict Resolution
Customer Service
Law Enforcement
CPR/First Aid
Patrolling
Incident Reports
Radio Communication
Sample hospital security guard work experience bullet points
Getting results is a must for security guards when every detail and decision is crucial.
You're used to recording data about activities across the grounds you're patrolling. Use that same level of detail when forming numerical achievements from previous work experience.
If you're having trouble thinking of metrics, consider aspects like reduction in incidents or response times that your job would directly impact.
Here are a few samples:
Implemented a new access control system with regular audits to reduce security breaches by 43%.
Performed hourly patrols of the hospital premises, remaining vigilant of anything out of place to reduce reported incidents by 28%.
Assisted patients who reported security concerns and answered questions calmly to improve satisfaction scores by 56%.
Monitored cameras and communicated over radio systems regularly with the hospital and security staff to ensure 91% of incidents were responded to and resolved within 10 minutes or less, avoiding disruption to hospital operations.
Top 5 Tips for Your Hospital Security Guard Resume
Use action words to emphasize your impact

When responding in action, you're expected to make crucial decisions at a moment's notice. You can emphasize the impact of your efforts by using action words in your examples, like "patrolled" or "secured."

One page is the best length

If you were giving a security brief to staff members, you'd want to keep it concise so they can take in all the information. Do the same with your resume by limiting it to one page and focusing on key needs for hospital security, like CCTV systems and access card management.

Proofread thoroughly

Every detail as a security guard can make or break incident prevention efforts. Show hospital hiring managers you have the necessary skills with a resume free of grammatical errors. 

Both interpersonal and technical abilities are essential

Your abilities to monitor systems and identify threats must also be coupled with interpersonal skills to resolve conflicts and provide great patient service. You should emphasize both in your resume, such as how you streamlined procedures to reduce response times by 40% and improve hospital staff confidence by 52%. 

Use reverse chronological order

Security technology and hospital safety procedures are always changing. Therefore, you should put your most recent experiences first on your resume to emphasize your most relevant abilities in current surveillance and law enforcement procedures.
What if I haven't worked in hospital security before?
Skills from other non-hospital security jobs can still translate, such as using video surveillance systems or patrol techniques. Otherwise, if you don't have any security experience, focus on transferable skills like customer service or data management from previous jobs. 
Should hospital security guards use an objective?
A resume objective is great for hospital security guards with less experience. For instance, you could include a few sentences about how you're a dedicated professional with two years of experience in card access systems that you'll apply to the position to help reduce security breaches. 
What should I write in my hospital security cover letter?
You can use your cover letter to connect with the hospital's mission and explain more about why you'll be a good fit for the position. For instance, you could explain why patient safety is important to you and how you'll use your conflict resolution skills to produce positive results in difficult moments.