Enterprises have a lot of moving parts. Fortunately, as their account executive, you can manage it to drive revenue, generate leads, and maintain great client relationships.
Does your resume show the positive impacts you have when working with enterprise accounts?
Enterprise-based businesses have a lot to consider when choosing suitable applicants. We're here to help with our enterprise account executive resume templates that'll showcase your top skills effectively in today's job market.
---
Enterprise Account Executive Resume
---
Clean Enterprise Account Executive Resume
---
Modern Enterprise Account Executive Resume
---
What Matters Most: Your Enterprise Account Executive Skills & Experience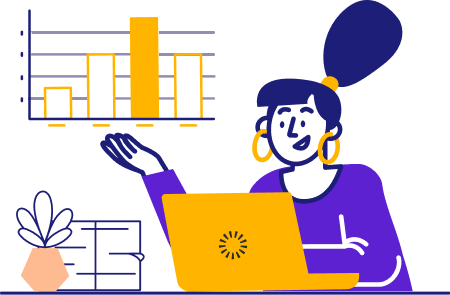 Managing enterprise accounts means you need a wide array of skills. It can be confusing trying to present an in-depth view of your abilities in a short list of 6 to 10 top skills on your resume.
Look at the job description and see what the company you're applying to needs the most. Do they work with enterprises in the B2B space? Then your knowledge of B2B marketing strategies and top software like JOOR would be best to include.
Here are some highly sought-after enterprise account executive skills in today's job market.
9 most popular enterprise account executive skills
Salesforce
Cold Calling
Solution Selling
Sales Presentations
Lead Generation
Monday.com
Oracle Netsuite
Zendesk
Client Relations
Sample enterprise account executive work experience bullet points
When working with enterprises, hiring managers want to see more than just your top skills. They'll want to know how you've managed aspects like generating leads or leading successful cold-calling campaigns.
You're skilled in sales presentations and outlining key data, so this part should be a breeze. Use quantifiable examples from past achievements, like how you increased revenue or renewed contracts for five top-performing accounts.
Also, keep your bullet points to straightforward single-sentence descriptions that quickly explain aspects like how you used solution selling to close 68 percent more leads.
Here are a few ideas from our sample resumes:
Integrated new workflows using Monday.com, boosting efficiency in creating marketing campaigns by 73%.
Used Salesforce to create more personalized customer experiences, boosting satisfaction scores by 49%.
Set up PowerPoint presentations with key market data and completed 109 sales presentations, successfully closing 57 new accounts.
Built a new customer service portal using Zendesk that helped service reps answer customer questions 60% faster.
Top 5 Tips for Your Enterprise Account Executive Resume
Use numbers to your advantage

All enterprises make big decisions based on data. Quantifying your examples with numbers will help. For instance, you could explain how your system in Oracle Netsuite made resource planning 82 percent more efficient.

Reverse-chronological formatting is the best choice

Listing your most recent experiences first will help since hiring personnel quickly review resumes. They'll be able to easily identify your most relevant skills in enterprise client relations and top software like Salesforce to decide you're the right fit.

One page is an appropriate length

Hiring managers want to make decisions quickly, so a concise and relevant one-page resume will work best. You don't need to go into every detail about how you manage lead generation, but a short description of how you generated 2,080 leads and converted 60 percent of them can go a long way.

Merge top skills in your resume and cover letter

Your resume and cover letter should work together to present your skill set effectively. You may not be able to fit every detail on your resume. Still, you can explain more about how you relate to clients and are passionate about finding business solutions for enterprises within your cover letter to give a more personal feel.

Always proofread for errors

Companies want enterprise account managers to be accurate and detail-oriented. Make a good first impression with a resume free of grammatical errors to show you can accurately manage aspects like data from market analysis.
What if I haven't worked with enterprise accounts before?
Any sales or account management experience can show you have the skills needed to work with top enterprise accounts. For instance, if you worked as a junior account manager and used consultative selling to close 63 percent more deals, that will help show you have the skills necessary for the position.   
Should I include a resume summary? 
Those with ten or more years of experience as an account executive can consider including a summary. Two or three sentences about how you have 12 years of experience managing $780 million in top enterprise accounts can help showcase you have the well-rounded skills needed.  
What if I'm having trouble fitting everything on one page?
Look for a minimalist resume template to give you more room, but also try to get as job-specific as possible to narrow it down. For instance, if the company you're applying to needs an account executive for e-commerce enterprise portfolios, listing experiences like using Zendesk to implement e-commerce customer service solutions would be the best fit.