When customers call in with questions or concerns, you lead the way to ensure they get the help that's needed. With you in charge, team members are coached, scheduling is completed, and complex customer problems are handled with ease.
Are your leadership abilities well-represented on your resume?
Call center hiring managers will review resumes carefully to ensure they hire a skilled professional to lead the way. Our call center supervisor resume examples are a great place to start when trying to stand out amongst other applicants.
---
Call Center Supervisor Resume
---
Modern Call Center Supervisor Resume
---
Professional Call Center Supervisor Resume
Related resume examples
---
What Matters Most: Your Call Center Supervisor Skills & Work Experience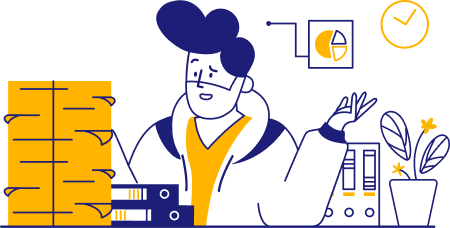 When you're in a supervisory position, you need both the ability to lead a team and to know how to handle all customer issues effectively.
Using a good mix of skills specifically focused on what's emphasized in the job description will help you stand out. For example, if the call center works with Internet providers, your understanding of modems, routers, and tech troubleshooting should be emphasized. 
Here are some of the most sought-after call center supervisor skills in 2023.
9 most popular call center supervisor skills
Team Management
Scheduling
Operations Refinement
Microsoft Office
Data Entry
HelpDesk
Zendesk
Customer Service
Compliance
Sample call center supervisor work experience bullet points
Creating an excellent customer experience drives recurring purchases and positive company feedback. That means what you can achieve as a supervisor matters a lot.
If you've used software like Zendesk, consider some of the primary numbers you tracked in past positions. Using metrics like satisfaction scores, first reply times, and resolution times will help you stand out as a supervisory applicant.
Additionally, note that hiring managers review resumes quickly. Short examples of how you performed accurate data entry or ensured compliance will be best to allow those essential skills to stand out. 
Here are a few samples:
Oversaw 20 service reps while ensuring all security compliance measures were met to reduce the chance of customer information leaks by 97%.
Managed difficult customer issues by using a calm tone and avoiding arguing to maintain 94% positive satisfaction scores.
Used Zendesk to implement a new customer service live chat feature that allowed simple customer questions to be handled 87% more efficiently.
Regularly checked emails after every call to answer all service requests within 1 hour or less during regular working hours.
Top 5 Tips for Your Call Center Supervisor Resume
Use correct formatting

Reverse chronological formatting will be optimal for call center supervisors. You've worked your way up to be a supervisory applicant, so your most recent skills in team management and operations improvement will be most important to hiring managers to identify your leadership abilities.  

Use action words whenever possible

Call center supervisors need to be able to handle problems at a moment's notice. Action words like "oversaw" and "assisted" will make your examples more impactful. Such as how you "assisted 22 customers per day and worked to solve problems in an average of 30 minutes or less."

Limit your resume to one page

Your resume should be a concise and easily readable page of information. If you're struggling to narrow in on what to list, think about the core requirements of the position. For instance, if the company uses multi-line phone systems, your previous experiences working with similar technology should be emphasized.

Keep it organized

Think about how you would organize customer service data on a spreadsheet and apply similar methods to your resume. Clear headers, bullet points whenever possible, and easily readable 12-14 point font are all ideal ways to organize everything.

Emphasize a well-versed skill set

Call center supervisors must lead a team, know how to provide excellent customer service, and use current technology like HelpDesk to track information. List skills in all those aspects to show you can manage each of the call center's daily tasks.
Should call center supervisors use a summary?
Resume summaries work well for supervisory candidates with ten or more years of experience. For instance, a few sentences on how you managed a 40-person service team and 10,200 open customer accounts for 12 years would make for a great summary.    
What if I'm applying for my first supervisor position?
Aim to include examples that show how you'll be a good leader. For instance, if you led compliance training for five new team members, that would be an excellent example to include. 
What do I write in a call center supervisor cover letter?
Your cover letter can get more personal about your passion for the position or provide more details about what makes you a great fit. For instance, you could talk about why you want to help the company achieve its mission or the strategies you use to lead a team successfully.