While your Agile team works hard during each sprint to create new software pieces, you analyze their progress' alignment with the main goal and lead any necessary adaptations along the way. You use your understanding of data analysis and Agile methodologies to help product owners stay on track with the business's primary needs.
But what about your resume? What's the best way to present key information about what you do and how it helps?
Let's start with these three Agile business analyst resume templates and advice distilled from years of experience helping people in your field! Try out our resume tips to gain inspiration and make your abilities shine.
---
Agile Business Analyst Resume
---
Elegant Agile Business Analyst Resume
---
Clean Agile Business Analyst Resume
Related resume examples
---
What Matters Most: Your Skills & Work Experience Sections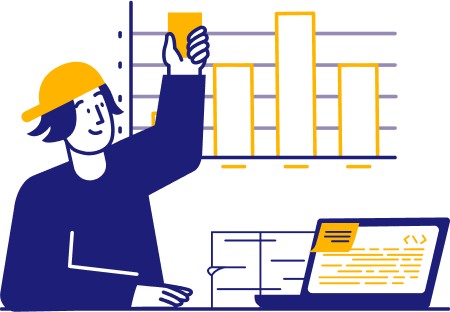 Your skills section is super important since it shows recruiters what types of problems you're equipped to tackle. You might think you should lean more toward soft skills since so much of your role centers around advising others, but this section should actually be more technical.
Your soft skills are important, but they should be honed down to a specific edge that shows exactly how your interactions with others are beneficial. And, they should take second stage to your hard skills!
Everything you list should be as relevant to your profession as possible and highly specific. You want to think as technically as possible while phrasing your skills, and mention each program you use by name.
For example:
9 most popular Agile business analyst skills
Agile Development
Big-picture Thinking
MS Teams
Trello
Jira
GitHub
PostgreSQL
MySQL
MS Excel
Sample Agile business analyst work experience bullet points
Now's the time to let your interpersonal agility shine alongside all those excellent technical skills! Recruiters want to see that you can put each ability you've listed into action.
They also want to see how you've used those skills to create success through Agile methodologies and actionable insights in the past. And that means giving recruiters metrics of your achievements!
Think of specific goals you surpassed and what metrics were used to gauge the end results. When you provide quantifiable data that measures your impact, your history becomes way more impressive.
Worked to understand how existing product suite could be leveraged to increase customer retention by boosting product usage by 16%
Managed and efficiently re-prioritized product backlog, coming in under budget by $54.7K on average for each project
Owned planning and scheduling of 2-week sprints and articulated product visions to engineers to define product goals and achieve a 97% success rate during Q1
Developed seven different user stories for new subscription products, leading to a more focused marketing copy that resulted in an ROI increase of 16%
Fostered communication between stakeholders, engineers, and marketing teams, resulting in improved speeds of feature development lifecycle by 26% year-over-year
Top 5 Tips for Your Agile Business Analyst Resume
Show that specialization

Make sure you maintain a focus on Agile methods and their outcomes throughout your resume. Hearken to sprints and product planning strategies, and reference key departments you led collaboration with.

Get down to business

The other key emphasis, which you'll want to strengthen with metrics, is the direct impact you had on improving overall business strategies. You might guide each project, but your defining role is your big-picture understanding.

Stay organized

Make sure you pick a resume template that shows how well-organized you are. After all, keeping data and planning materials in order is a key part of what you do! Demonstrate that you already accomplish this by ensuring that each resume section is clean, easy to find, and readable.

Make "readable" your aesthetic

Prioritize readability in your resume, not only through your wording but through your color and font choices. Color should be used only minimally for a bit of "pop," and your fonts need to be clean and modern.

Be concise

Keep your resume to only one page—or even less. Anything on page two is likely to get passed over if recruiters even get that far instead of reaching for a quicker one-page resume! Remember that your resume should reflect the organization and concise nature of Agile methodology.
How else can I stand out?
Refer to the job description for any unique phrases or buzzwords, such as "key liaison" or "turning ambiguous business requests into technical action" that you can switch out in your resume. Do this each time you apply to a different role to show that you're aligning yourself with company values.
What if I can't trim my resume down?
Brevity is super important when you specialize in anything Agile-related! So if you're having trouble parting with any sweet experience points in your resume outline, use them to build a great cover letter to go with your resume instead of trying to pack them in.
How do I keep my resume interesting?
Switching up your metrics and adding context to your experience points are great ways to spice things up! Make sure that your metrics vary to include percentages of business goals met, opportunities and success in dollar amounts, hours saved, and so on, just like you'll find in our resume samples.