You can analyze data like no other. You understand what a business needs to improve the bottom line and reduce costs while effectively communicating that to business owners and leaders.
How do you highlight both your soft and hard skills on your resume?
We're here to help. Since launching BeamJobs, we've helped thousands of business intelligence analysts update resumes, so they shine and stand out among the crowd.
These business intelligence analyst resume templates are designed to be a starting point to help you update or build your own.
---
Business Intelligence Analyst Resume
---
Business Intelligence Analyst 2 Resume
---
Business Intelligence Analyst 3 Resume
---
Business Intelligence Analyst 4 Resume
---
Business Intelligence Analyst 5 Resume
Related resume examples
---
What Truly Matters: Your Skills & Work Experience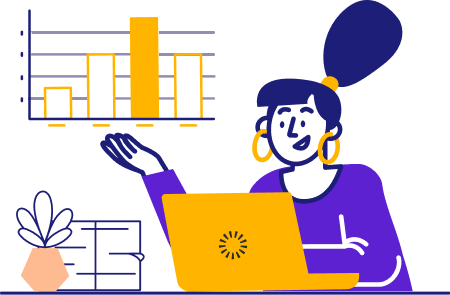 When recruiters check out your resume, they first want to see you have the required data analytics skills. They know their most pressing business intelligence needs and want to know if you can meet those needs.
The hiring team will jump directly to your "skills" section to determine this. Here is where your resume will go into the "no" pile if they don't believe you have the minimum qualifications for the job.
It's best to focus on the top two to three data analytics skills you have that align with what the company is seeking based on the job description.
9 top business intelligence analyst skills
Data analysis
Data security
Data visualization
Data prep & reporting
BI strategic planning
Stakeholder partnership
Keen finance acumen
Descriptive analytics
Statistical analysis
Sample business intelligence analyst work experience bullet points
As a business intelligence analyst, you have many hard skills to highlight on your resume. This is good news. Your job, then, is to emphasize how those hard skills improved a company's business intelligence efforts and bottom line.
Highlight the different areas of business intelligence analysis you've touched on and discuss your role in meeting the needs of department heads and business users.
Provide context for the types of data you gathered, analyzed, and cleaned, and the business areas of focus, then describe your impact. Offer up as much quantifiable data as possible that shows your impact vs. simply describing your job responsibilities.
Here are a few ideas from our sample resumes:
Defined and analyzed 30+ data points for monthly supply chain cost reports that supported the development of cost-cutting efforts, saving the company $100K annually while improving supply chain efficiency by 3%
Developed, implemented, and defined 20+ business metrics along with seven program-oriented automation processes, which improved data reporting efficiency by 7% and reduced procurement costs by 4%
Constructed 60+ SQL statements to use with new dimensions and measures to replace antiquated reporting measures and improve data retrieval capability
Built 25+ BI dashboards and reports that illustrated the fall-out rate of customers engaged in a product purchase funnel, leading to the implementation of process improvement strategies that reduced fall-out by 11% over six months
Top 5 Tips for Your Business Intelligence Analyst Resume
Data ownership and expertise are key

You're being hired to help the business improve its metrics, like revenue, profits, cost reduction, and customer engagement. Focus on and make your work experience bullet points showcase your high level of data ownership and expertise to improve these business metrics.

It's all about the numbers

Quantifiable data shows the recruiter what you can do. It provides a story of your impact and allows them to visualize how those accomplishments will help you succeed on the job. For example, reduction in cost by 5%, increase in productivity by 8%, and streamlining and consolidating five reports into a single report for easier data assimilation.

Be specific about your business intelligence experience

No one individual being hired is expected to know everything in their field of expertise. So, for your resume, be specific and highlight where you truly stand out in your field to capture a recruiter's attention, like the time you caught an error in reporting to reduce costs by $10K in a quarter or identified process improvement to boost sales by 11% over two quarters.

Tailor your resume for each job application

If the company mentions in its job listing that it needs descriptive analytics expertise, but your resume only mentions statistical analysis, you may be out of luck. Customization should only take 10 to 15 minutes per application, and it's well worth your time, since it lets the company know you've done your homework.

Showcase your ability to communicate effectively

As a business intelligence analyst, you regularly communicate your findings with business leaders and users. Showcase your ability to effectively communicate your insights and conclusions to remove any questions about this capability.
What should I write in my career objective?
If you include a career objective, you want to tailor it for each application you submit. It should consist of a few critical skills with your years of experience and goal.
For example: "Resourceful and insightful professional with over seven years of experience as a business intelligence analyst, providing me with excellent analytical, technical, and communication skills. Eager to thrive in KeyLogic Systems's flexible and fast-paced environment to achieve and exceed client goals and expectations."
How do I format my business intelligence analyst resume?
The best format for a business intelligence analyst resume is reverse-chronological. Your internships and entry-level BA roles help set the foundation for your career and should be at the bottom, so your most recent and most relevant work can be at the top of the page, where it's easy for the reader to see.
Where should I include certifications on my resume?
Certifications can fall under their own category or be included under your resume's education section. If you choose the latter, list your certifications below your degrees, such as Microsoft Certified: Power BI Data Analyst Associate or Certified Business Intelligence Professional.