Every warehouse operation needs a strong leader to ensure the company's policies and vision are achieved. You ensure operations succeed by overseeing and optimizing receiving, storage, and distribution processes with expert care.
Does your resume template help display your warehouse management skills effectively to help you land interviews?
With many policies and process improvement tasks in play, companies will want to know they are bringing in a well-versed pro for the job. You can optimize for success with our warehouse manager resume examples that have helped many applicants land leadership roles in 2023.
---
Warehouse Manager Resume
---
Clean Warehouse Manager Resume
---
Modern Warehouse Manager Resume
Related resume examples
---
What Matters Most: Your Warehouse Manager Skills & Work Experience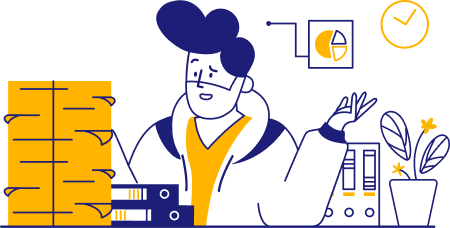 You handle many tasks, from cost management to enforcing OSHA safety regulations. That leaves many warehouse management applicants wondering what are the most essential job skills to include on resumes.
The first place you should look is the job description. Companies will tell you what they're looking for by emphasizing key skills needed for the role. For instance, a company that needs help with supply chain optimization may highly value your experience managing data in the Da Vinci Supply Chain Business Suite.
Here are some top warehouse management skills to give you some ideas.
9 top warehouse manager skills
Budgeting
Da Vinci Suite
OSHA Safety
Process Improvement
Scheduling
Employee Relations
Excalibur WMS
Oracle NetSuite
Quality Control
Sample warehouse manager work experience bullet points
Your abilities to improve processes and manage data in top software like Oracle NetSuite will catch a warehouse hiring manager's attention. That said, you'll still need to show the impact of your decisions on a warehouse's operations in past positions.
Ideally, you'll want to include metrics every warehouse tries to optimize for within each example you list. For instance, you could explain how your new quality control measures helped reduce damaged shipments by 42%.
Keep these examples straightforward, like you'd do when explaining a new packaging protocol to employees, to ensure the details you're trying to emphasize stand out.
Here are a few samples:
Developed a new 2-month employee orientation system that helped reduce operational errors by 56%.
Monitored monthly performance goals using Excalibur WMS and provided employee coaching as needed to ensure 97% of performance metrics were met.
Introduced a new 6-point quality inspection process during distribution to reduce the number of damaged items in shipment by 45%.
Operated pallet jacks and hand trucks to assist in loading/unloading during short-staffed timeframes to ensure 98% of deadlines were met.
Top 5 Tips for Your Warehouse Manager Resume
Keep it on one page

You know that warehouse operations are fast-paced, with products always moving in and out of the facility. Optimize for success in the fast-paced hiring process by keeping to a one-page resume and concisely presenting your top skills in process improvement and team leadership.

Use an organized template

You'll want to structure your resume like you would present performance data to company leaders. Keep it organized with clear headers, bullet points with key warehouse metrics, and easily readable 12-14 point font.

One-sentence examples stand out

You want to make your examples easy to read during quick reviews. For instance, a short sentence about how you implemented new space-saving techniques in packaging to reduce costs by 33% will go a long way.

Always measure your impact

Want to make your management abilities stand out? Always quantify your impact in the examples you list. Anything from boosting storage efficiency to reducing product shrinkage during operations will help you stand out as the right warehouse management candidate.

Optimize with action words

Action words like "monitored" or "reduced" will make your top achievements as a warehouse manager sound more engaging. For instance, you could explain how you "reduced product shrinkage during receiving by 47% by implementing new forklift safety procedures."
What if I haven't worked as a warehouse manager before? 
Try to get creative about how you showcase your leadership skills. For instance, you could explain how you led a 16-person team during a seasonal distribution operation that resulted in packing and shipping 9,000 products on time ahead of Christmas. 
What's the best format for warehouse manager resumes? 
Reverse chronological formatting is the best choice. You want to list your most recent experiences first since they'll be the most relevant to your current team leadership skills, along with the use of top software like Excalibur WMS, which is frequently updated. 
How many jobs should I list on my resume? 
Keep it to three or four jobs. You'll want to list your most recent positions and those that used the most relevant skills to tasks you'll perform, like overseeing budgets or managing quality control processes.