You're a pro at optimizing the design and functionality of the company website, alongside developing other related web applications. You may also mentor junior web developers and guide or assist other members of your development team.
But even senior level professionals sometimes have questions about what makes a great resume. How can you best demonstrate your career growth and extensive skills?
I can answer these questions for you–and I've got some additional advice alongside 3 resume examples to get you on the path to success!
---
Senior Web Developer Resume
---
Modern Senior Web Developer Resume
---
Professional Senior Web Developer Resume
---
What Matters Most: Your Skills Section & Job Experience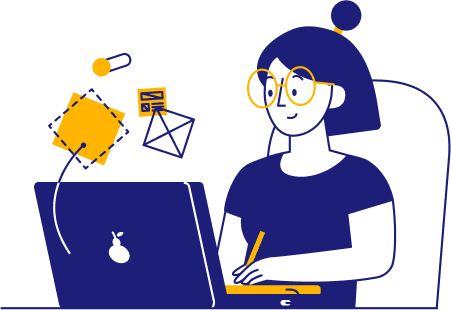 Skills are a crucial part of any good resume, and yours will be especially nuanced within a senior role. You'll want to go beyond the basics and get highly specific about what you can do since you've had years to develop your abilities.
Fine-tune your skills as much as possible, and keep them as objective as you can. Hard skills are the name of the game in your profession, so really dive into your technical abilities.
And be super specific as you highlight your prowess! Name specific programs and methodologies that might apply to you.
Check out these examples:
9 Top Senior Web Developer Skills
Python
JavaScript
PHP
jQuery
Selenium
Angular.js
Laravel
MongoDB
Mocha/Chai
Sample Senior Web Developer Work Experience Bullet Points
Talk about a nice roundup of web development skills! But what are skills without results? Recruiters want to see how you answer that question through examples in your experience section.
Provide mini success stories thoughtfully formulated as bullet points to show that you know how to make the most of all the abilities you've compiled. Talk about what you did, why you did it, and how you made a positive impact.
And always measure that impact! No recruiter has time for baseless claims–especially in a technical field like yours. You'll need quantifiable data and metrics to truly shine.
Here are some samples:
Ensured the technical feasibility of UI/UX designs, saving over 3.1K hours that would have lacked viable results
Worked with developers, designers, copywriters, and other cross-functional teams such as CRO, video, and marketing, to drive innovation and maximize conversions by 41%
Oversaw concept mock-up and wireframe design, guiding towards better end products and increasing client satisfaction by 34%
Collaborated with VP of sales to create digital marketing designs that led to an average of 21.1K+ additional clients per month
Worked with development team and facilitate more efficient communication through MS Teams, increasing productivity by over 52%
Top 5 Tips For Your Senior Web Developer Resume
Use a sleek template

Don't use any templates that result in your particular qualification lineup looking disorganized or confusing. Recruiters don't have more than a few seconds to spend skimming your resume, so make their jobs easier!

Stay understated

That means no unusual colors or fonts that would interfere with the readability of your resume. A little burst of color to showcase your personal info and make your name more memorable is nice, but keep it simple and extremely legible.

Demonstrate advancement

Anyone in a senior role should be able to point to a crystal-clear trend of advancement throughout their career. You'll really want to emphasize this through the use of increasingly complex and large-scale examples.

Mention mentorship

Leadership and guidance are also key aspects of your role as a senior web developer, and you should highlight your ability to encourage a development team. Your extensive technical knowledge doesn't leave much room in your skills list for soft skills, so work them into your experience section.

Never mind the summary (or objective)

By the time you've reached the senior web development role, your accomplishments speak for themselves! Don't waste valuable resume page space on a redundant summary or unnecessary objective statement.
Do I really have to stick to one page only?
I know it can be tough, but yes: Longer resumes get pushed aside in favor of shorter ones that are easier to read. Keep your resume to a single page!
What experience points take top priority?
As a general rule, you'll want to emphasize points that you're most comfortable discussing in an interview. You want to come across as your best self at all stages of the application process, so set yourself up for success.
Do I still need to include my education?
Yes, you should still include your degrees in an education section! Your experiences and skills might take more of the spotlight, but your original qualifications and certifications should still be there.