Every company can use expertise that helps them gain an edge, and that's what you do best. Spending habits are tracked, schedules are created, and goals are met with you on staff as the senior program manager.
But is your resume helping you meet your goals in career growth? Are you using a suitable resume template?
You manage a lot, so trying to display your top skills effectively can feel like a challenge. We're here to help with our senior program manager resume examples that are proven to be effective in today's job market.
---
Senior Program Manager Resume
---
Clean Senior Program Manager Resume
---
Modern Senior Program Manager Resume
Related resume examples
---
What Matters Most: Your Senior Program Manager Skills & Work Experience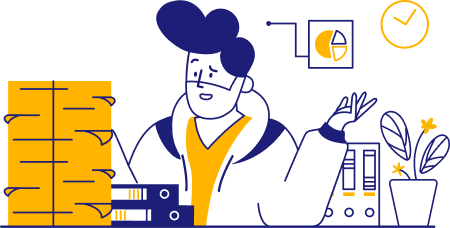 One of the first things hiring managers will look at when reviewing your resume is the top skills you list. Choosing the right ones is important to show you have what it takes to bring business operations to the next level.
Since senior program management can cover a lot, you'll want to customize what you list to the specific company's needs. Does the business mention they need help with process improvement? Then your project planning and cross-functional team leadership skills would be great to include.
Here are some of the best senior program management skills to put on resumes in 2023.
9 best senior program manager skills
Database Integration
JIRA
Agile Scrum
Waterfall Methodology
Data Visualization
Team Leadership
SQL Servers
Vendor Management
Community Outreach
Sample senior program manager work experience bullet points
The primary aspect you'll need to cover is why you're the right fit to help businesses improve their processes.
Examples using metrics from your past work experiences will help. Consider examples like how you helped implement systems that completed tasks more efficiently or increased sales volume.
Remember that short examples are the most impactful. One sentence on how implementing Agile Scrum frameworks boosted employee satisfaction by 76% will be very effective in communicating your abilities.
Here are a few samples:
Introduced waterfall methodologies to streamline the project management process, leading to tasks being completed 54% more efficiently.
Used data visualization to communicate key findings from market analysis, leading to the development of 5 new marketing strategies that generated $1.6 million in revenue.
Created a cross-functional leadership program to facilitate better team communication, reducing production errors by 68%.
Conducted a community outreach program about new sustainability efforts that boosted consumer perception scores by 47%.
Managed 9 product testing teams that caught 3 errors before products hit the market to facilitate a successful launch.
Top 5 Tips for Your Senior Program Manager Resume
Consider including a summary

Once you've made it to senior program manager, you've likely built up a lot of experience in your career. A summary can help showcase your top accomplishments effectively. Your summary could include how you're an experienced professional who has generated $50.5 million in sales over 11 years.

Use reverse chronological formatting

Program management techniques are always changing, so your most recent experiences in waterfall methodologies and Agile Scrum will be the most relevant to the position. It also helps hiring managers easily look back to see how you've grown your project management and data analysis skills throughout your career.

Focus on business metrics

Listing that you're skilled in aspects like vendor management is a good start. However, you can make it more impactful by saying how you did so while saving $250,000 in material costs.

Mix technical and leadership skills

Your position will involve technical strategy and leading others to implement it successfully. Examples like how you led a 20-person database integration project to process market analytics 78% faster can show how you used both.

Use action words

Action words like "created" and "introduced" make your examples more engaging. For instance, you could say you "introduced a new project management database in JIRA to complete tasks 40% faster."
What do I put in my senior project management cover letter?
Your cover letter can be more personal and fill in additional details about your skills. For example, you could explain why you're passionate about the mission of the company you're applying to or provide more information on how you implement strategies to help team members work better together.        
What if I haven't worked as a senior project manager before? 
You'll want to showcase examples of past leadership and data about how your strategies have been successful. For instance, you could explain how you led a 30-person team in setting up an SQL database that made data retrieval 55% more efficient.         
Should I list my education?
If you have a bachelor's degree in business administration or other related fields, you should list it. Your education will provide additional information on the skills that'll make you successful in managing key business processes throughout an organization.