At an entry-level role, you assist other data entry clerks in compiling and documenting customer information. You also help check for any inconsistencies while you learn more about databases and information management.
But while you might be able to take on all those tasks at typing speeds of 76WPM, you may still have questions about your resume. How should it look and sound?
No sweat: We've helped tons of people enter the data entry field, and these three resume templates we've put together can help you, too, alongside some helpful hints!
---
Entry-Level Data Entry Resume
---
Modern Entry-Level Data Entry Resume
---
Professional Entry-Level Data Entry Resume
Related resume examples
---
What Matters Most: Your Skills & Work Experience Sections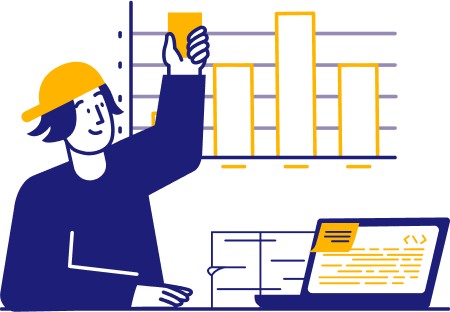 Many people who apply for an entry-level role are switching career paths—and if this applies to you then you may need to think creatively about your work experience: What skills did you use in past job roles that overlap with those you'll need for data entry?
Now, don't be vague! It can be tempting to go for low-hanging fruit by listing common overlapping abilities like "people skills" or "strong work ethic". But you want to go for technical skills that relate as closely to data entry as possible.
We mean stuff like multitasking, problem-solving, and team-friendly software like the Google Suite. Be specific about your abilities and think technically about how they apply to your field.
Here are some examples of what I mean:
9 best entry-level data entry skills
Problem-Solving
Multi-Tasking
Organization
Empathy
MS Excel
Google Sheets
Google Docs
Detail-Oriented
Adaptability
Sample entry-level data entry work experience bullet points
So, now that you've stated what you can do, it's time to show how you've applied those abilities! Recruiters want to see real-life examples of how you respond to changing work environments and still keep everything in order.
Again: Even job roles that didn't emphasize data entry almost certainly still required you to carry out tasks that bolster your credibility in the context of data entry. Think of the times you kept logs of customer feedback or optimized restaurant seating flow to increase customer satisfaction!
And always back those points up with quantifiable data. Measure your success with numerical metrics like percentages, ratings, and relevant time frames:
Verified each reservation to prevent overbooking, resulting in a 34% improvement in overall restaurant ratings
Managed dining and seating flow by proactively monitoring restaurant activity, resulting in a 52% decrease in wait times and a 46% increase in customer satisfaction
Planned and created healthy, budget-friendly meals using MS Excel to include children in the cooking experience 3 times a day, improving personal nanny rating by 11%
Developed individualized educational activities based on specific needs and cutting-edge research, increasing engagement by 42%
Top 5 Tips for Your Entry-Level Data Entry Resume
Stick to one page!

You may have heard this one before, but it's important, so I'm just here to remind you: If you go over one page, recruiters are more likely to push your resume off to the side and move on to a shorter one instead of reading page two.

Refine your objective

A resume applying for an entry-level role that involves switching careers is the perfect context for an objective statement. Make sure yours is concise and clearly states what data entry role you want, how you're qualified for it, and what you offer that's unique.

Speaking of context . . .

Make sure you provide it in your experience section! Showing the "what" and "how" of your quantified achievements is excellent, but telling just a bit more of the story behind it can really clarify the nature of your impact and make recruiters remember why you'd be great at data entry.

Keep a clean, modern look

Use clear and highly readable fonts for your resume to show recruiters that you can make information easily accessible—and easy for them to skim! After all, they only spend a few seconds on average reviewing each resume during the first round.

Be strategic about your awards

If you earned something like Employee of the Month in one of your previous employment roles, it's definitely worth mentioning! Showing your dedication bolsters your credibility when you're under consideration for a job in data entry. If you have several accomplishments like this, they deserve their own section. If you just have one or two, work them into your experiences.
Do I need a letter of recommendation?
You may not need one, but it couldn't hurt! If there were any especially memorable hurdles you overcame during a previous job, see if one of your old work buddies or managers will write about how well you handled it
(and why that makes you great for entry-level data entry).
Do I need to fill the resume page?
Nah. As long as you prioritize quality above quantity, a little bit of breathing room is just fine. Plus, it can often make your data entry achievements look better and more methodical once you cut out the fluff!
What kind of template do I need?
Try out a couple of ours and see which one makes your individual resume look its best. While white space is nice, you want to pick a template that puts your best accomplishments in the spotlight so that nothing looks sparse or overcrowded. Present the right balance of key details, just as you would for clean record keeping.