You're a ninja with all things database-related, ensuring that your company's customer and financial data is all backed up and organized in the business database. You also make sure everything is as accurate and easily retrieved as possible.
But you might still have questions about how to organize your resume and keep it easy to read and interpret.
It's alright: I've had plenty of experience helping people streamline their data entry processor resumes, and I can assist you with these tips and 3 resume templates, too!
---
Data Entry Processor Resume
---
Professional Data Entry Processor Resume
---
Formal Data Entry Processor Resume
Related resume examples
---
What Matters Most: Your Skills & Work History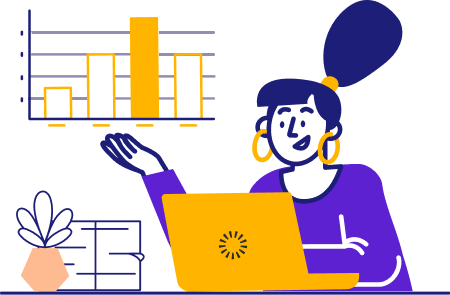 While soft skills are important in any profession, your data entry processor skill set should be way more focused on technical abilities. Even your softer skills should be presented through a technical lens–get specific about personal traits that increase your effectiveness.
Recruiters want to see really specific hard skills, too. Don't just give categories of software: List programs you're proficient in by name!
Being specific about your skills shows recruiters that you have an understanding of data entry and database management that goes much deeper than surface level.
Here are some examples:
9 Top Data Entry Processor Skills
Detail-oriented
Typing (78+ WPM)
Nentex
UiPath
Zoho
EntryPoint
Data Analysis
QR/QC
Time Management
Sample Data Entry Processor Work Experience Bullet Points
Your skills show what you can do, building the perfect foundation for some shining examples of what you've achieved in the past! Recruiters want to know that you can optimize your skills to the fullest.
Make sure all your experience points are highly relevant to the role you're applying for, even (or especially!) if they're from previous jobs that only loosely relate.
And no matter what points you include, make sure you back them up with relevant metrics that show how much impact you actually made. Quantify your success!
Consider these samples:
Systematized work order data entry (including purchasing, shipping, and receiving) to improve efficiency by 23%
Collaborated with company owner to improve the data system, resulting in a 27% efficiency increase
Streamlined systems by upgrading to 100% computer-based ordering and payment processing, reducing manual work by 71%
Compiled statistical information for monthly reports and eliminated 597+ redundancies, resulting in cleaner data and a 22% reduction in time-to-analysis
Supported 12+ additional functions in administrative, payroll, and reception areas, improving productivity by 13%
Top 5 Tips For Your Data Entry Processor Resume
Never be generic

Strong attention to detail and accuracy is a huge factor in your job, so demonstrate this by avoiding anything vague. You already heard me emphasize well-honed skills, but the same goes for your experience points.

Use context to enrich impact

Show how your accomplishments made a difference by briefly stating the context for each milestone you surpassed. Include key details like payroll error reduction or a decrease in manual work hours.

One page only!

That's right: Keep your resume to just one page or less. Anything more will probably sit there unread anyway–and there might be some great points to include in your cover letter instead!

Stay sleek

Pick a template that really streamlines your personal experiences and skills. You want a bit of white space, and everything should look trim and clean. Use extremely clear fonts for readability and easy skimming.

Reflect the job description

When you're writing your resume, refer to the job description again to get a feel for the company's culture and tone. Mirror this in your own wording to show that you're already a great fit.
What about colors?
A little bit of color can really set off key elements like headers or your block of contact info. But make sure you keep it minimal so that nothing interferes with readability or distracts from your qualifications.
Do I include references?
Not on your resume itself–but a couple of professional references can take your credibility to the next level when included along with your application! Just make sure they're up-to-date and highly relevant to the job.
How many hard skills do I include?
It's good to opt for quality over quantity, especially if some of your skills are very similar (such as MS Excel and Google Sheets). List as many diverse types of programs and data entry tools as you can think of first.