Business projects have many moving parts, but you help them all run smoothly. Teams are organized, communication is facilitated, and risk mitigation strategies are implemented successfully, with you overseeing everything.
Are the top skills on your resume organized to impress hiring managers?
You don't have to be an expert in project management and creating a stellar resume. Allow us to help with our associate project manager resume examples that you can use as an effective template to display your top skills.
---
Associate Project Manager Resume
---
Elegant Associate Project Manager Resume
---
Clean Associate Project Manager Resume
---
What Matters Most: Your Associate Project Manager Skills & Work Experience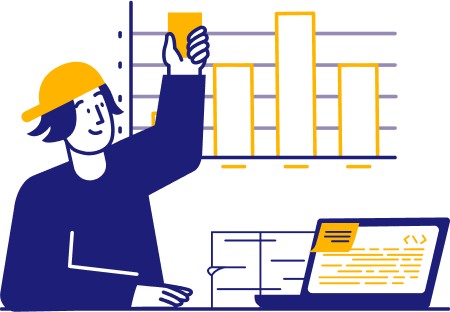 Project management requires a well-rounded skill set. You'll be working interpersonally with team members while also creating technical strategies.
A good way to stand out is using a mix of top industry skills and aspects emphasized in the job description. Does the company mention using Asana and Slack? Then, listing your abilities in both would be a good idea.
Here are some of the top skills companies are looking for associate project managers to have.
9 top associate project manager skills
Performance Metrics
Client Management
Team Leadership
Contract Negotiations
Risk Mitigation
Microsoft Office
Asana
Slack
Monday.com
Sample associate project manager work experience bullet points
Before businesses put you as the head of their most important projects, you'll need to show results you've achieved in past work experience.
You're used to analyzing performance metrics to lead teams to success. Take the same analytical approach here. Using key business metrics like net promoter scores and productivity rates will help you stand out by creating numerical examples where your impact is easily measured.
Also, keep your descriptions simple. A lot goes into leading projects, like scheduling tasks and managing client expectations. However, explaining everything would be too overwhelming. Remember that one sentence about how you achieved 97 percent positive client satisfaction goes a long way.
Here are a few samples:
Introduced a new checklist system that helped employees adhere to safety codes and reduced workplace accidents by 62%.
Tracked product status and identified potential issues ahead of time to finish 96% of projects on schedule.
Used Asana to coordinate weekly workflows for the marketing team to successfully execute a pre-launch campaign that generated 64,300 pre-orders.
Negotiated contracts with 53 new clients to generate $1.7 million in revenue while maintaining 98% positive client satisfaction scores.
Performed market analysis and created detailed presentations with key data in Microsoft PowerPoint to lead the sales team in more targeted marketing campaigns, increasing revenue by 36%.
Top 5 Tips for Your Associate Project Manager Resume
Combine interpersonal and technical skills

Your job will involve working with team members and clients while using strategic methods to ensure top performance. You can combine both in examples, like how you trained employees in a new production method that increased efficiency by 70 percent and employee satisfaction by 44 percent.

One page is the optimal length

When you coordinate projects, you know giving clear and concise instructions is essential. You should write your resume in the same way. Aim for short examples that clearly portray your top skills in team leadership and client management.

Always proofread

Accuracy is crucial in your position. For example, giving your team the wrong data to use for product specifications would have poor results. Show you have the detail-oriented abilities needed by submitting a resume with proper grammar and accurate information.

Action words are more engaging

Tackling projects is all about taking action. You can emphasize that in your resume using words like "negotiated" and "performed." For instance, you could say you "performed market analysis for 138 new clients."

Emphasize the numbers

Important business decisions require quite a bit of data. You can impress hiring managers using numerical examples, such as how your new scheduling system boosted efficiency by 77 percent.
Should associate project managers include an objective?
Those who are new to project management will benefit from including a resume objective. For example, a few sentences about how you're a motivated professional with two years of experience in budgeting and analyzing financial ledgers would work well.
What if I'm having trouble fitting everything on one page?
Think about ways you can narrow in on the position's core responsibilities. For instance, if you're applying for a project management position in the construction industry, focusing on your skills in job site safety and design blueprints would be best.
Should I list my education?
If you have a bachelor's degree in business management or a related field, you should list it. Associate project managers use a range of skills, so your education will show your well-rounded knowledge of core business practices like analyzing KPIs and financial planning.