You provide campus resources, class scheduling guidance, and course-based recommendations, all for the sake of helping students find the best way to meet their academic and career goals. You're also available to take calls and help solve scheduling conflicts.
Yet, you might need some advice of your own when it comes to your resume! You need clarification about which skills and accomplishments to include.
We're here to help! Check out our three academic advisor resume examples and valuable tips to help you achieve your goals.
---
Academic Advisor Resume
---
Modern Academic Advisor Resume
---
Professional Academic Advisor Resume
Related resume examples
---
What Matters Most: Your Skills & Professional Experience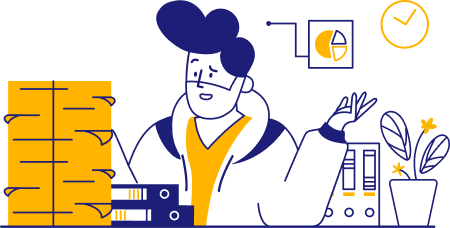 Recruiters want to see what sets you apart as an academic advisor, rather than just checking off "basic requirement" boxes! Always list skills that are profession-specific, bolstering qualifications like your ability to interpret campus rules and regulations.
Don't just say you're good with "communication" when you can put your best foot forward with skills like "student guidance" or "student engagement".
If you're a pro with programs like MS Outlook or Google Calendar, list them by name instead of generalizing with terms like "scheduling software".
9 most popular academic advisor skills
Student Advisement
Public Speaking
Student Orientations
Course Planning
Class Scheduling
MS Outlook
SAGE
Student Success Plans
Degree Adjustments
Sample academic advisor work experience bullet points
Your impressive skills section is perfect for setting off how you've used your abilities in action to help foster greater student success and boost graduation rates.
And those graduation rates or positive student survey ratings you attained are perfect examples of metrics: The perfect quantifiable data you need to measure your success and sound more credible.
Recruiters need those figures to get an idea of what type of impact you've had as an academic advisor. How have your actions upheld and improved the caliber and reputation of your institution?
Here are some samples:
Led yearly student orientations, prepared student records, and designed administration goals to increase student satisfaction by 24%
Contributed to a 23% increase in GPA scores via initiation of 3 AP programs, including English
Created monthly academic-related activities to increase student engagement, earning an overall rating of 4.7/5.0 stars
Ensured application of university policies and procedures, reducing discipline issues by 34%
Advised students on academic programs based on interests, increasing graduation rate to 87%
Top 5 Tips for Your Academic Advisor Resume
Organize clearly

Think of your resume almost like a course navigation plan: Your goal is to guide the recruiter through your professional progression, just like you'd guide students through each semester. Make sure your reverse-chronological order is tidy and sensible.

Show off your versatility

Cite a variety of examples to demonstrate your ability to assist students and faculty with a menagerie of tasks, from degree adjustment to student workshops. Recruiters want to know how well you adapt to different academic environments.

Leverage context . . .

Mentioning that you've worked on academic policies or campus regulation interpretation can make your achievements and metrics much more engaging! A little contextual storytelling goes a long way.

. . . But leave some good cover letter points!

Keep that resume context concise! That way, you'll have some goodies left over for an intriguing cover letter. Some stories of how you boosted grad rates or developed e-learning strategies will make a better impression with room to expand.

Make it simple

Creative colors and fonts can be fun, but you want your resume to say more "Student document" than "funky event flyer". It's just for professionalism and readability's sake since recruiters don't have much time—you can show your personality through writing tone!
What writing style should I use?
Circle back to the job description for this one and mirror back the same writing tone that each institution uses. Don't sound overly casual if their focus is on professional academia, and don't sound too austere if you're applying to a laid-back community college.
Should I include references?
Go for it! Your impact on student satisfaction and engagement rates will sound way more credible if you have a couple of former peers or superiors to vouch for you.
What template is right for me?
We recommend using a resume template that places your biggest academic advisement strengths front and center. If your examples of student orientation feedback and academic program advisement are the most impressive, emphasize them front and center!