Scrum Masters like you know how to guide teammates through any sprint and regroup when necessary to learn how to improve and adapt to obstacles or shifts that pop up within the project. You use other Agile frameworks to define the scope, milestones, and success maps for various projects—from software development to engineering—all while unifying your team and delegating tasks with exemplary communication to meet each objective with flying colors.
We get it: Like most, you want to dive into your next challenge—not write your Scrum Master resume and cover letter. But, while cover letters are nobody's favorite thing, polishing up a final draft that showcases your talents is integral to getting your desired role. Luckily, from resume examples to the following three Scrum Master cover letter examples, we'll make things a little easier for you, even giving you valuable tips and an outline to get on your way!
Scrum Master Cover Letter Example
Download and edit in Microsoft Word.
Edit in Google Docs (choose "File" and "Make a copy").
Edit in block business letter format (choose "File" and "Make a copy").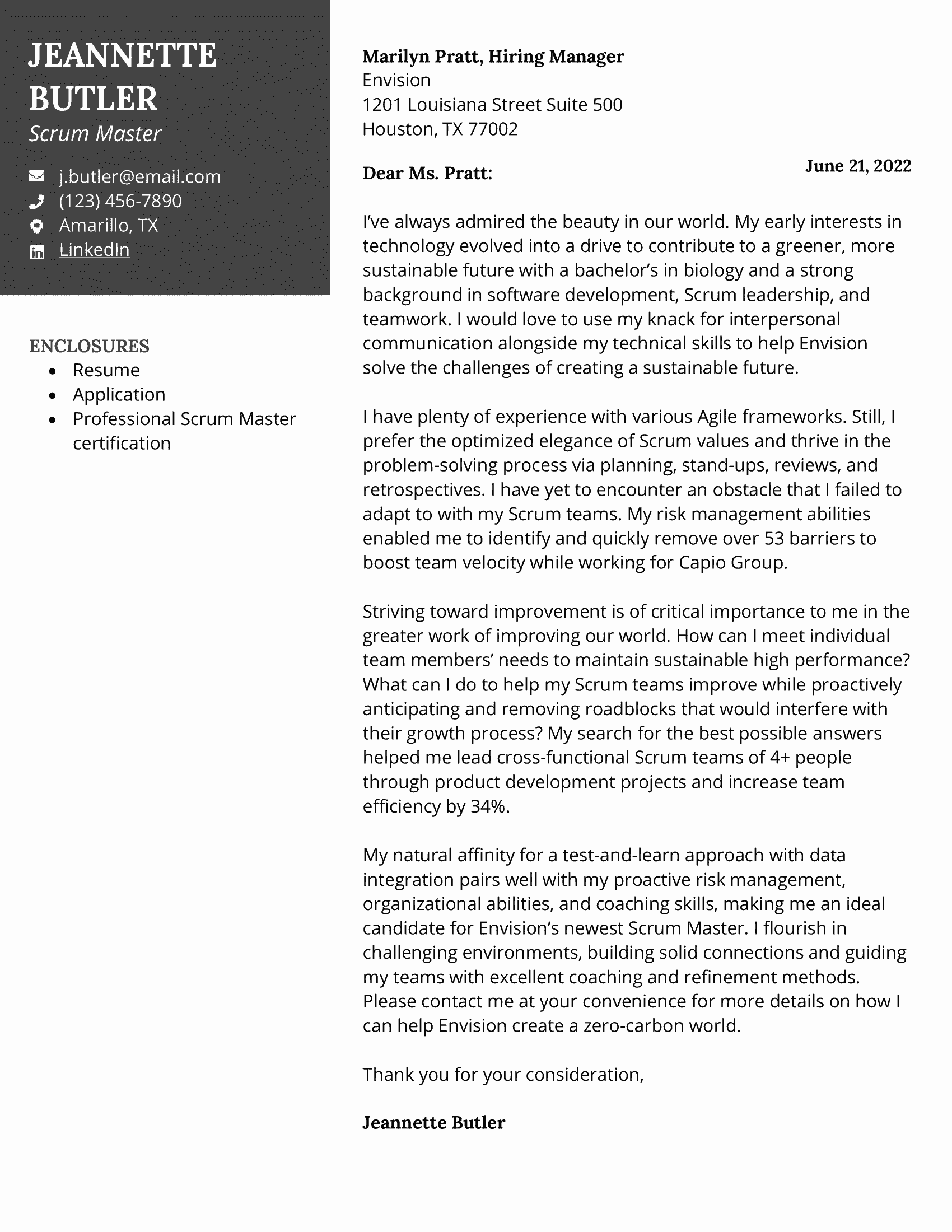 Why this cover letter works
Jeanette immediately connects with the company's objective of going green before shifting to her educational background and skills. She also directly references their mission statement of sustainable energy.


When a company presents a more corporate company culture, keeping demonstrations of personality concise and relevant to the job role is wise. The personal connection remains, but the values and tone match those of the company site.

Jeanette has also clearly studied the job listing. Since the job ad emphasizes the importance of team relationships, she follows suit and focuses on interpersonal skills, providing metrics that back up her teamwork and leadership abilities.
Senior Scrum Master Cover Letter Example
Download and edit in Microsoft Word.
Edit in Google Docs (choose "File" and "Make a copy").
Edit in block business letter format (choose "File" and "Make a copy").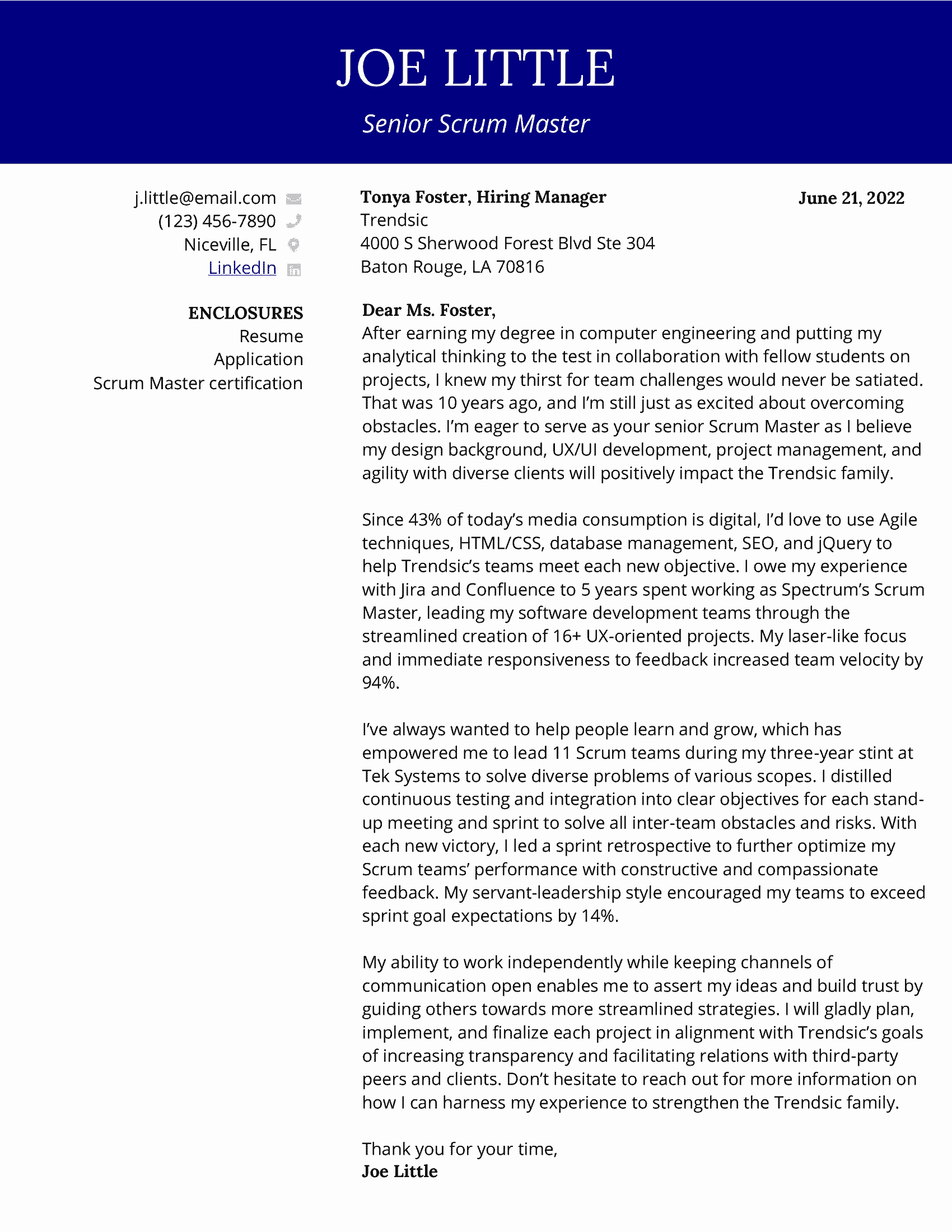 Why this cover letter works
Trendsic states that they view their company as a family, so Joe acknowledges this at the beginning and end of his senior Scrum Master cover letter. He also highlights his adaptability and diverse experience, which are crucial for this senior role.


Personally connecting with the company is a strong start, and referencing or using similar language to the company's site and job description like Joe does always helps.

Joe has a lot of information to pack into his cover letter since he's applying for a senior role, so he efficiently demonstrates career growth with solid metrics and a company-appropriate tone.

Research the company to find objectives that tie in with your

career skills

. You can further strengthen your senior Scrum Master cover letter by highlighting dynamic areas of your career and quantifying them. Always note what the job description calls for—and answer that call!
Agile Scrum Master Cover Letter Example
Download and edit in Microsoft Word.
Edit in Google Docs (choose "File" and "Make a copy").
Edit in block business letter format (choose "File" and "Make a copy").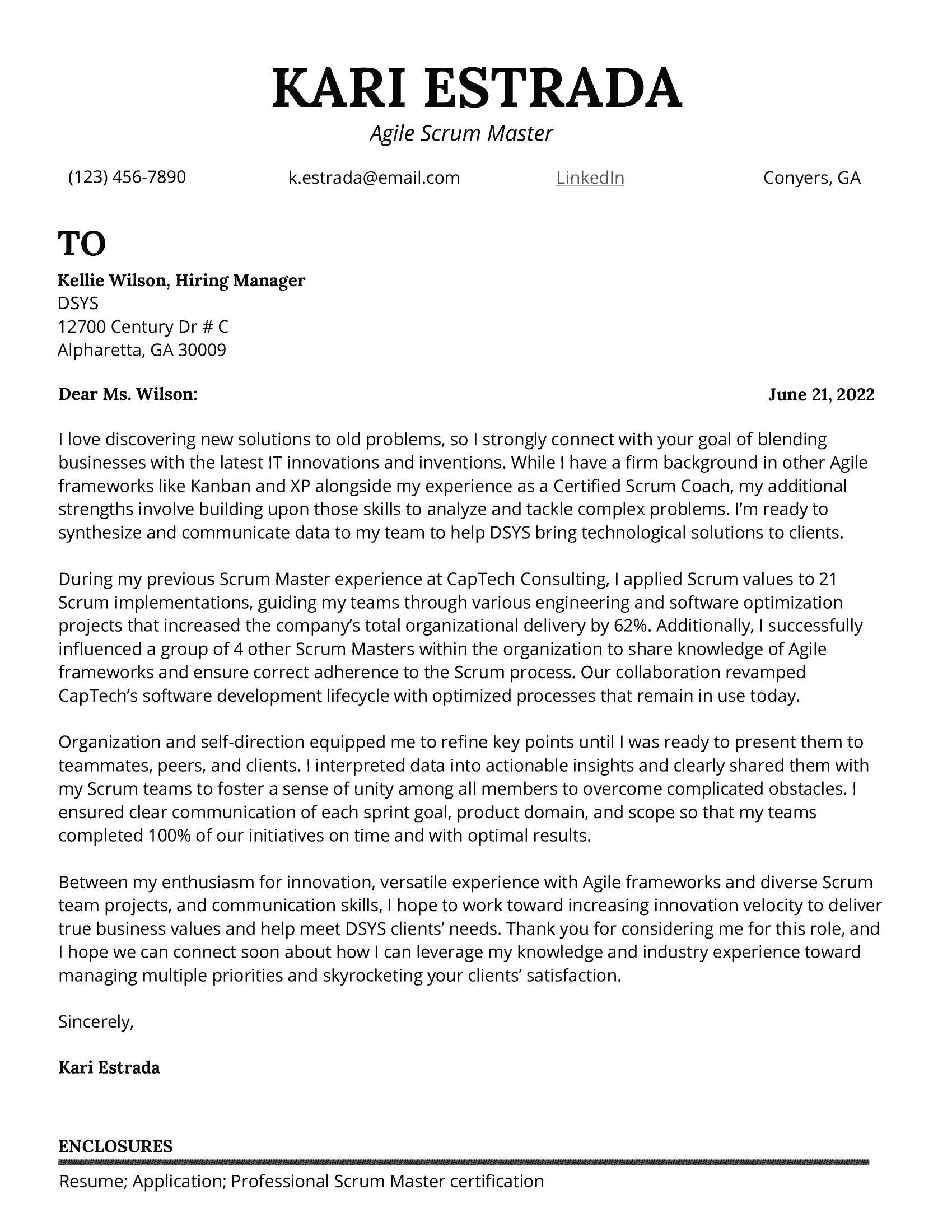 Why this cover letter works
Kari connects with DSYS by aligning personal values with the company's current goals of bringing technical solutions to potential clients. She follows up with relevant technical skills listed in the job description and pulls phrasing from the company mission statement, like "blending businesses with the latest in IT innovations and inventions," as stated on their about page.
While DSYS' website focuses on revenue and cost efficiency, the job description emphasizes problem-solving and collaboration skills much more—and both cite increasing innovation velocity.


Referencing any overlap between company values and the job description in your Agile Scrum Master cover letter is smart.

An Agile Scrum Master works across the company instead of focusing on single projects, so mentioning a history of working with other Scrum Masters is advisable. So is Kari's emphasis on coordination and understanding of complex projects.


Here's another example of why you should pay attention to not only the company website's tone but the specifics of the job role itself. You can't just align with the company—you need to show that you can do the job well.
Complete Your Scrum Master Resume Next
In just a bit, we'll outline just what to do in each section of your cover letter, but we'd be remiss if we failed to mention the importance of your Scrum Master resume. Starting from a resume outline may be a good way to ease into the process. From there, try picking one of our fresh Google Docs resume templates or start editing a modern template like this one here in our resume builder.
Writing Tips for Your Scrum Master Cover Letter
While writing your Scrum Master cover letter, there are a few essential tips to keep in mind to streamline the process. Make sure you tailor your cover letter around the company and job role, provide added value not already listed on your resume, and refine your message and writing tone.
Tip 1: Customize your cover letter
So many cover letters are generic and boring! Most blur together in the recruiter's mind once they've read a few—but, of course, you want yours to grab their attention instead. One of the best ways to stand out to a potential employer is to show that you care enough to have learned more about their company and what they're looking for in a Scrum Master.
Read back over the Scrum Master job listing, searching for keywords that apply to your own experience. Do they mention any particular skills that happen to be some of your best traits, such as prioritization or servant-leadership? How about a specific company challenge similar to something you've already done? Maybe the organization has a mission statement you feel passionate about—seek helpful tidbits like these to take your cover letter to the top.
Tip 2: Go beyond your resume job descriptions
Your Scrum Master resume is bound to cover some crucial qualification points—but your cover letter shouldn't just repeat them. Instead, a great Scrum Master cover letter will laser in on just a couple of key accomplishments, going beyond the scope of a simple bullet point to leave a lasting impact that demonstrates the value you provide.
Consider questions like these to help you get started:
How many Scrum teams have you led, and what was your success rate in terms of completing a product lifecycle objective on time?

What standout projects did you guide your Scrum teams to complete, and how did they benefit the company?
Scrum values can be applied to a vast array of project types, after all, so now's a great chance to offer something specific. Showing the unique impact you've had as a Scrum Master will increase the chances of your cover letter making it into the "to interview" pile.
Tip 3: Consider your tone and message
While customizing your cover letter and providing examples beyond your resume bullet points are both crucial, your message as a Scrum Master should convey even more. Make it easy for potential employers to read between the lines by skillfully choosing buzzwords and bits of phrasing from the company's website to show that you can already see yourself there.
Keep your Scrum Master cover letter at or under a page; this means you have limited space to deliver the message that you genuinely care about the company and are ideal for the job. Just a heads up: This may take several rounds of editing! However, your time on this part of your application process is worth it. And if you leave any proofreading errors behind, they could result in a quick dismissal before the reader even gets to see how great of a candidate you are.
Additionally, you should mold your tone directly around the company's culture. Are you applying somewhere highly technical and more corporate? If so, minimize personal anecdotes and take a more no-frills approach. But if the company is more artsy or laid-back, let your personality shine a bit more!
The Framework for Your Scrum Master Cover Letter
Scrum Masters must exhibit superior attention to detail, so the little things in your cover letter can make a big difference. Now that you've read three prime examples of Scrum Master cover letters, it's time to break things down into more detail so you can start writing your own!
Your contact info: Include your name, address, phone number, and email address if you use a cover letter template. You can also include your LinkedIn or other professional social media.
Formatting: Leave your name out of your address if you use a block format.
Example:
7241 Fable Heights
Amarillo, TX 79106
(123) 456-7890
Date: Write out the date, and make sure what you write reflects the date you submit your application documents.
Inside address: The inside address is the address of the person you're sending your cover letter to. Include their name, company role, and address.
Example:
Marilyn Pratt, Hiring Manager
Envision
1201 Louisiana Street Suite 500
Houston, TX 77002
Formatting: Write each part of the address on its own line—double-space between the inside address and greeting for clarity.
Greeting: Also known as the salutation, this is where you'll make a crucial first impression. Do whatever homework it takes to find the right name for the employer or hiring manager—never use general phrases like "To Whom It May Concern."
Formatting: Using a colon after the greeting in your Scrum Master cover letter should be the default since it's more formal—especially if you're applying to a more corporate company. But a comma may work fine if the company culture is more casual.
Body: The body of your Scrum Master cover letter should be three or four paragraphs that show your interest, credentials, and genuine enthusiasm for future discussion of the job role.
Opening paragraph: Remember your whole goal is to stand out from other Scrum Masters by shunning all things generic, vague, and boring! Check out the following examples for reference.
Bad: Who doesn't love green energy these days? I have plenty of Scrum Master experience, so that I can help with this.
Why It's Bad: This opening just doesn't tell us anything at all. The first sentence sounds borderline sarcastic, and the second offers zero credibility in the form of specific skills or values.
Good: I've always admired the beauty in our world. My early interests in technology evolved into a drive to contribute to a greener, more sustainable future with a bachelor's in biology and a strong background in software development, Scrum leadership, and teamwork. I would love to use my knack for interpersonal communication alongside my technical skills to help Envision solve the challenges of creating a sustainable future.
Why It's Good: The personal and long-lived connection with the company values is a primary point in this candidate's favor—and so is how they blend references to the company's mission statement with their qualifying skills.
Paragraphs 2-3: These paragraphs should back up your claims from the opening paragraph. Stay organized and concise, just as you would within your actual role as a Scrum Master: You don't have room to ramble, so keep each paragraph to only one achievement, like an outstanding Scrum team project or velocity improvement strategy, and include only the most relevant metrics.
Example:
Since 43% of today's media consumption is digital, I'd love to use my proficiency in Agile techniques, HTML/CSS, database management, SEO, and jQuery to help Trendsic's teams meet each fresh, new objective. I owe my previous experience with Jira and Confluence to 5 years spent working as Spectrum's Scrum Master, leading my software development teams through the streamlined creation of 16+ UX-oriented projects. My laser-like focus and immediate responsiveness to feedback increased team velocity by 94%.
Why It's Good: The media consumption percentage is a direct reference to a claim made on the company's website, and the candidate immediately dives into the skills that apply to that focal point. They describe one specific, relevant accomplishment next and quantify it directly.
Closing paragraph: Complete your cover letter with a strong summary of how you're already aligned with the company's needs. Finally, provide a compelling call to action that shows a heartfelt interest in connecting to discuss the job role in the future further.
Bad: I'd love to work for this company, and I'm plenty qualified. Let me know if you need to know more.
Why It's Bad: If anything comes off as disingenuous, it's this. Keep your closing paragraph promising and enthusiastic.
Good: My natural affinity for a test-and-learn approach with data integration pairs well with my proactive risk management, organizational abilities, and coaching skills, making me an ideal candidate for Envision's newest Scrum Master. I flourish in challenging environments, building solid connections and guiding my teams with excellent coaching and refinement methods. Please contact me at your convenience for more details on how I can help Envision create a zero-carbon world.
Why It's Good: This closing paragraph offers specific abilities from the job description and company's mission statement, solidly demonstrating this candidate's ability to work in a challenging environment and help others thrive. The call to action also connects with the company's mission statement.
Formatting: Single-space your body text but double-space between paragraphs for legibility.
Signature: Say "thank you" to the reader if you didn't do so in your closing paragraph. Always use a professional close and your real name.
Example:
Thank you for your time,
Joe Little
Formatting: If you're presenting hard copies of your Scrum Master cover letter, quadruple space to create room for your John Hancock in blue/black ink.
Enclosure(s): This vital part of your complete application package signals that there's more valuable information to review. For instance, Scrum Masters should include their polished resume, application, and, most likely, certifications that attest to their knowledge and professional merits.
Example:
Enclosures:
Resume
Application
Scrum Master certification
Formatting: Use the singular or plural form of "enclosure" correctly, depending on how many items you're enclosing!
Is Your Scrum Master Resume Set to Impress?
While your new Scrum Master cover letter will indeed look stunning, your cover letter isn't the only thing you'll need. Now's the perfect time to ensure your Scrum Master resume is in peak condition, so all your application materials are cohesive.
In fact, it's actually far easier to write your cover letter after writing your resume. Check your resume for active voice, metrics, and more, or choose from our selection of resume templates, like this one here, that you can start editing now.
Take your time, explore our resume tips, and compare your doc against our resume examples to find any areas that could use some polish. Between your eye-catching cover letter and an equally stellar resume, you'll be on the path to Scrum Master success in no time!