Every business needs someone to run the numbers and keep all the finances in order. Your excellent ability to organize financial statements and handle tax implications makes you an asset to any organization.
Have you run the numbers on your resume to ensure it'll be effective in helping you land your next job?
Businesses are careful when handling their money, so demonstrating you have the right skills is essential. You can use our full charge bookkeeper resume examples that have helped many financial professionals land their ideal job to get started on the right track.  
---
Full Charge Bookkeeper Resume
---
Clean Full Charge Bookkeeper Resume
---
Modern Full Charge Bookkeeper Resume
Related resume examples
---
What Matters Most: Your Full Charge Bookkeeper Skills & Work Experience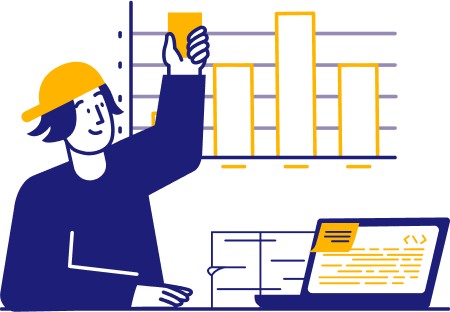 Bookkeeping is a profession full of technical skills and systematic processes you must know to succeed. 
When choosing skills for your resume, it's a good idea to use a mix of leading financial industry skills and what the company is seeking in the job description. For instance, if you notice the company needs a lot of assistance with tax prep work, including knowledge of sales and payroll taxes would be essential. 
Here are some of the best full charge bookkeeper resume skills.
9 best full charge bookkeeper skills
Bank Reconciliation
Accounts Payable
Accounts Receivable
Quickbooks
Microsoft Excel
Payroll
Sales Tax
Journal Entry
Financial Statements
Sample full charge bookkeeper work experience bullet points
Your ability to review financial statements and manage payroll easily will have caught the hiring manager's attention. Let's bring things full circle with some compelling examples from previous work experience.
You're a wiz with numbers, so this part should be easy. The key for bookkeepers to stand out is using quantifiable examples from past work achievements—for instance, costs saved or percentage of on-time payments.
Keeping these examples short will help them be remain prominent while hiring managers are making quick decisions. A succinct sentence on how you use Quickbooks to manage accounts payable can go a long way.
Here are a few samples:
Completed an in-depth analysis of yearly company costs in Quickbooks to identify 47 opportunities for cost reductions, saving $257,000 annually.
Implemented a new invoicing system using FreshBooks to save 7 hours weekly when calculating transactions and reducing error rates by 46%.
Oversaw 3 junior bookkeepers and created an organized Excel spreadsheet system with weekly tasks to allow the team to operate 58% more efficiently.
Compiled all sales, payroll, and income tax records throughout the year to finish income tax filing 2 weeks ahead of schedule.
Top 5 Tips for Your Full Charge Bookkeeper Resume
Organize the information

Think of your resume in the same way you would with creating financial records. Everything should be organized and have its place with clear headings, important bullet points with data, and easily readable 12-14 point font.

Focus on technical ability

As one of the key financial professionals in a business, your technical ability will be paramount when hiring managers review your resume. Any relevant examples you can include in technical aspects like sales tax and bank reconciliation will help you stand out.

Limit your resume to one page

A one-page resume keeps all your information streamlined and relevant. If you're struggling to narrow it down, focus on the company's primary needs. If they need assistance with accounts receivables, then your ability to manage credit payments and cash receipts would be ideal to emphasize.              

Use reverse chronological formatting

Financial implications in business are always changing with new government regulations and evolving business practices. Therefore, list your most recent experiences first, which will be the most relevant to current sales tax management and financial statements.

Proofread before submitting

Bookkeepers must always be accurate since even small mistakes can cost a business a lot. Start things off right in the hiring process by reviewing your resume for grammar and accuracy before submitting it.
Should I use a resume summary?
Many full charge bookkeepers have built up a lot of experience where they would benefit from a resume summary. You could include a few sentences about how you've managed an average of $860,000 in yearly cash receipts with no major filing errors over your 13-year career.  
What should I put in my full charge bookkeeping cover letter?
Use your cover letter to get more personal or fill in additional information about your financial knowledge that didn't fit on your resume. You could talk about your passion for the industry the company is in or how you run through checks and balances to ensure accuracy. 
Do full charge bookkeepers need to list education?
Some bookkeepers can get into the profession without higher education. However, if you possess an associate's or bachelor's degree in accounting or other related fields, you should include it. Your education may help you stand out from other candidates.