As a property management bookkeeper, you've mastered staying on top of all the accounting, finance, and legal obligations of properties. You effortlessly navigate the dynamic currents of income and expenses, making sure your properties are in tip-top financial health.
It's safe to say that you're an expert at property accounting, but how do you convince hiring managers that you're the one to pick? Step one: prepare an outstanding resume.
That's where we come in! Our property management bookkeeper resume templates and tips have been proven to work. Here's how you can propel your career forward.
---
Property Management Bookkeeper Resume
---
Clean Property Management Bookkeeper Resume
---
Modern Property Management Bookkeeper Resume
Related resume examples
---
What Matters Most: Your Bookkeeping Skills & Property Management Experience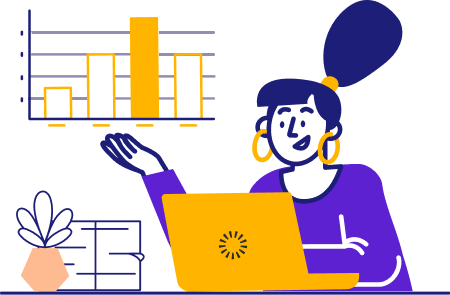 You've got a long list of things you're well-versed in, be it accounting principles or property management regulations. To top it all off, you're juggling all kinds of software, such as Yardi or Rent Manager.
Dealing with tenants, managers, and officials on a daily basis, you've also refined a formidable set of soft skills.
While it's best to focus on the technical side of things in this section, you can also mention your interpersonal skills, but be specific. "Tenant communication" or "crisis management" sound better than a simple "positive attitude."
The same rule goes for your technical abilities. Throw in the names of your favorite software, especially if they align with what's in the job description. In addition, mention the key bookkeeping tasks you're well-versed in.
9 best property management bookkeeper skills
Financial Accounting
QuickBooks
AppFolio
Payroll Processing
Vendor Management
Regulatory Compliance
Bank Reconciliation
Tax Preparation
Budget Planning
Sample property management bookkeeper work experience bullet points
You record rent payments, reconcile bank statements, and liaise with tenants about financial issues on a daily basis. The best way to show a recruiter that you can handle these demands with ease is through your work experience.
Tie your resume together by connecting your skills with quantifiable metrics. Including concrete stats, be it numbers, percentages, or financial figures, makes your accomplishments a lot more tangible.
For instance, if you listed Yardi as one of your skills, reinforce it with a bullet point that shows you using it to make an impact, such as, "Leveraged Yardi and QuickBooks to manage a 20-property portfolio, accurately recording and processing 300+ transactions per month."
Here are a few sample work experience bullet points:
Implemented an invoice processing system, improving efficiency by 18% and cutting 5 hours of administrative time per week
Used QuickBooks to prepare and present monthly financial reports to property owners, maintaining 99% accuracy and contributing to improved decision-making
Led the annual budget preparation team, identifying cost-saving measures that resulted in an 11% reduction in operating expenses
Facilitated a smooth year-end tax process by maintaining comprehensive financial reports and coordinating with tax professionals, resulting in a 7% reduction in professional tax fees
Top 5 Tips for Your Property Management Bookkeeper Resume
How can I tailor my resume for each application?
Read each job description carefully, and fine-tune your resume to each role by emphasizing the skills and software proficiencies it requires. For example, if the job has a strong focus on tax management, mention your experience in handling the year-end tax process with the help of your meticulous reports.
How can I make my resume stand out?
Numbers speak louder than words, so quantify your achievements to emphasize their impact. These metrics could range from the number of properties in a portfolio you managed to the way your effective use of Excel macros resulted in a 12% increase in reporting efficiency. 
How can I highlight my problem-solving skills?
Any good bookkeeper needs to creatively and effectively solve issues as and when they arise. Show recruiters examples where you saved the day, such as spotting discrepancies in financial reports or solving tenant deposit disputes.