It might seem ironic for you to write a cover letter since recruiters often read everyone else's! But this time, you'll have to show how you're qualified to find top talent.
Recruiters like you are essential to the success of any company, serving as the gatekeepers who develop an eye for only the greatest and best additions to the company team. Recruiters also do their fair share of drafting paperwork like contracts, non-disclosure agreements, and other documents for the employment process.
We know no one likes to spend time writing a recruiter resume or cover letter, but a recruiter needs to demonstrate their job skills ahead of time by writing great career docs! Luckily, we've assembled three example recruiter cover letters for you so that you can gain some inspiration. Finally, don't miss our tips and an outline that you can use to start your own.
Recruiter Cover Letter Example
Download and edit in Microsoft Word.
Edit in Google Docs (choose "File" and "Make a copy").
Edit in block business letter format (choose "File" and "Make a copy").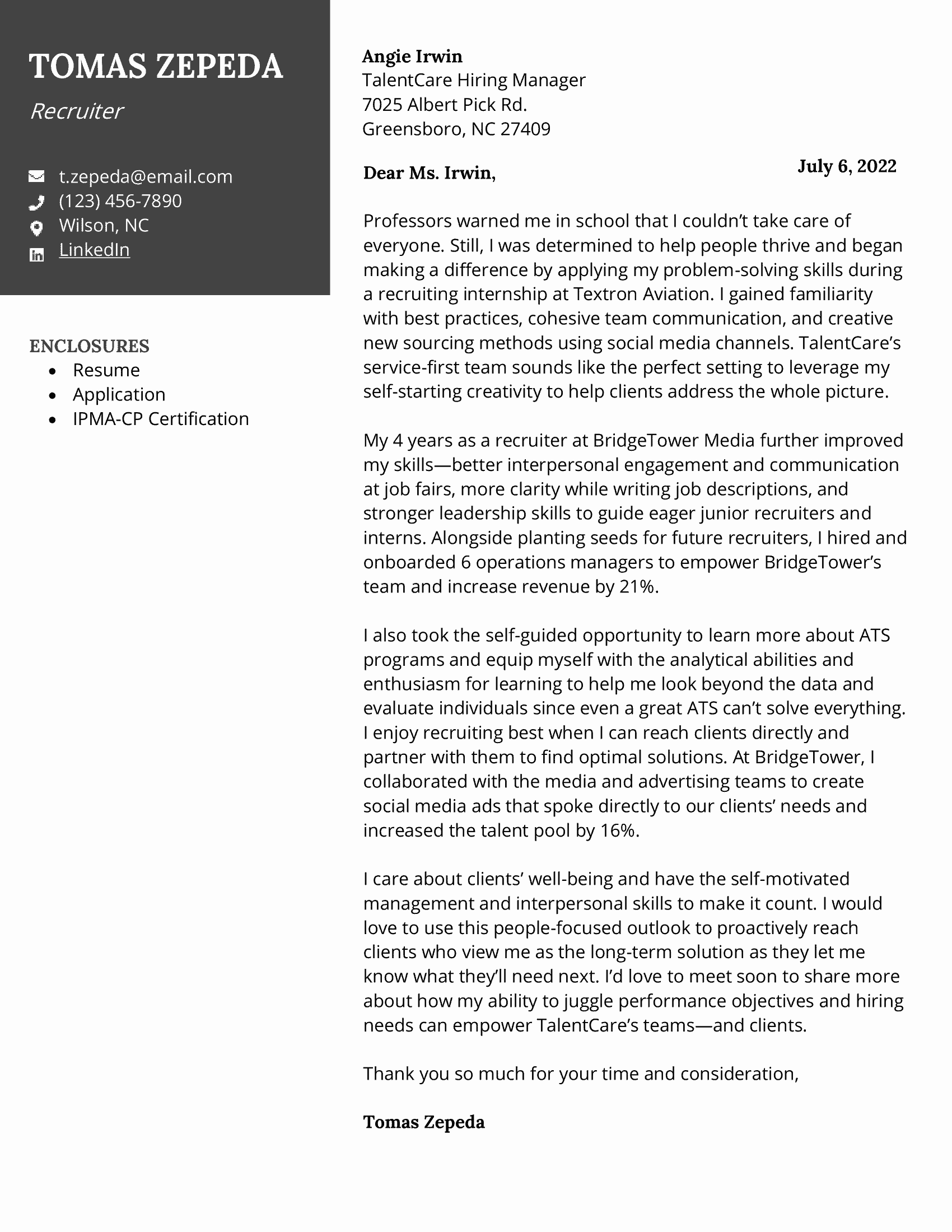 Why this cover letter works
Tomas personally connects with the friendly workplace culture and people-oriented company values by tying his compassionate nature in with language from the job description and listing skills, like interpersonal engagement and self-motivated management, that will benefit TalentCare.

Anytime you can show you already embody the qualities listed in the job description, do so! Then, quantify them with examples and metrics to provide credibility in your recruiter cover letter.

Dig through the recruiter job description and company website for flecks of gold that align with your own experiences, such as a program you're great with, a soft skill you naturally exemplify, or a goal similar to one you've previously met.
Technical Recruiter Cover Letter Example
Download and edit in Microsoft Word.
Edit in Google Docs (choose "File" and "Make a copy").
Edit in block business letter format (choose "File" and "Make a copy").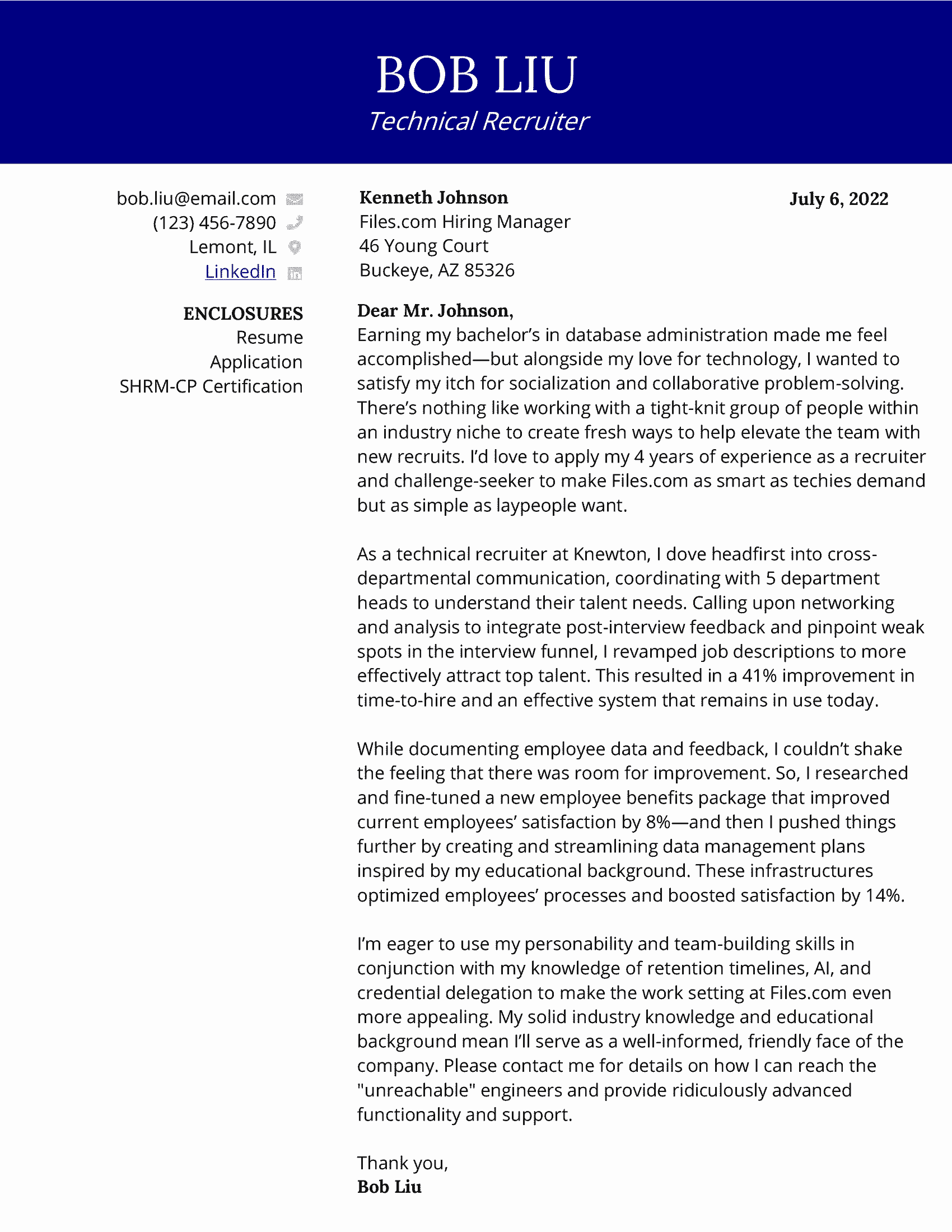 Why this cover letter works
Bob starts strong by mentioning his degree and social nature, specifically requested in the job description. He also connects his personality with the fun, social company culture and pulls in one of their catchphrases!

Customization is essential, and Bob injects relevant aspects of his personality throughout the body paragraphs showing his accomplishments. He also focuses on technical metrics and industry familiarity since this is a technical recruiter cover letter.

If you're applying as a technical recruiter, then researching the company and scrutinizing the job description is more imperative than ever! Your selling points here lie in your alignment with industry specifics.
Senior Recruiter Cover Letter Example
Download and edit in Microsoft Word.
Edit in Google Docs (choose "File" and "Make a copy").
Edit in block business letter format (choose "File" and "Make a copy").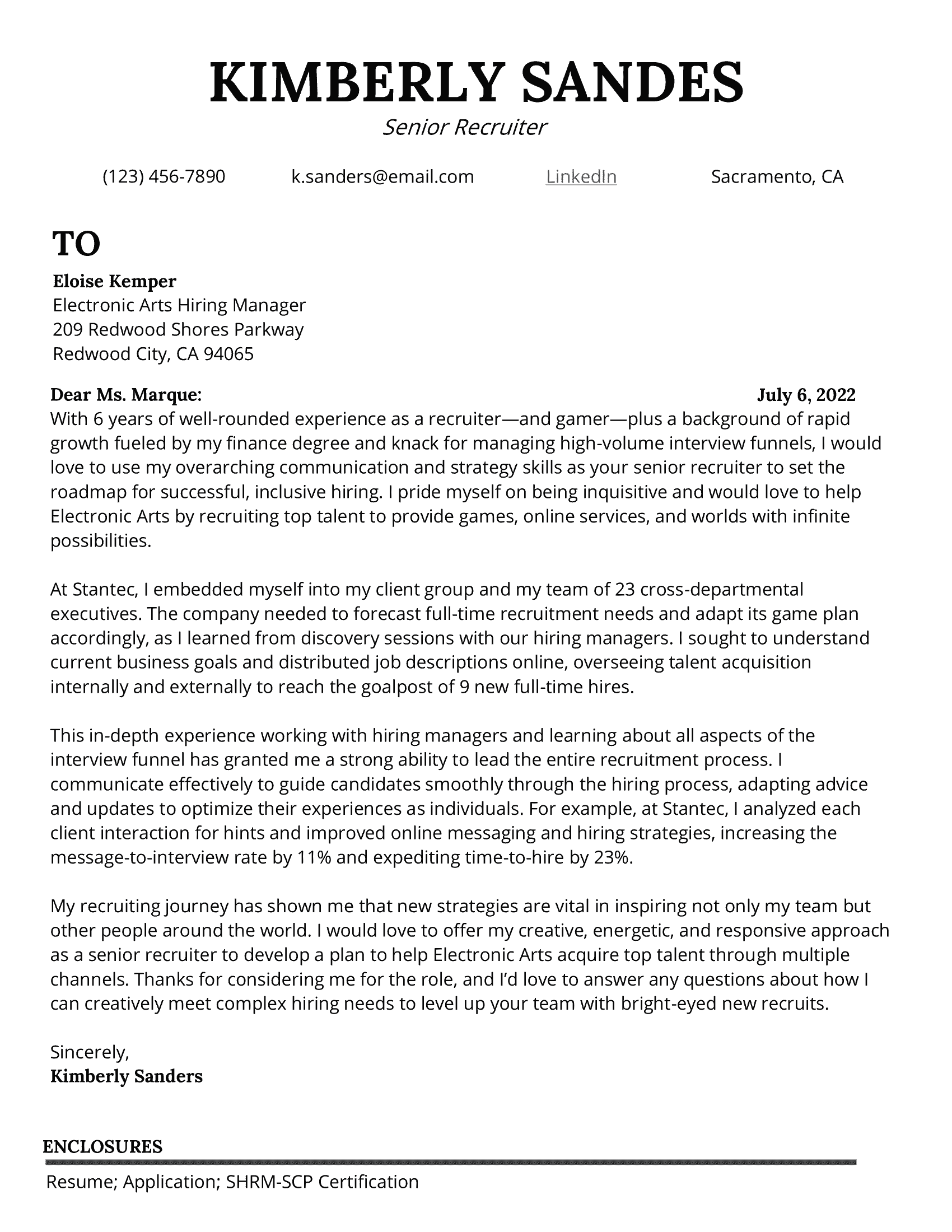 Why this cover letter works

EA is among the best-known gaming and esports companies, so Kimberly mentions her gaming background while focusing primarily on her senior recruiter qualifications. She also mirrors their phrasing to strengthen the personal connection efficiently.

The language and skills detailed in the job description continue to pepper Kimberly's cover letter, adding credibility to her claims that she'd excel at the job. She also focuses specifically on experience that demonstrates growth and versatility.

Picking which details to include in your senior recruiter cover letter can be intimidating since your professional history is undoubtedly extensive. The key is to research the company and examine the job description for specific needs you can fulfill!
Is Your Recruiter Resume Ready to Wow?
As a recruiter, you know your resume is the most important document in your job application. Follow our resume tips and start building yours now with this easy, breezy interactive resume that you can edit.
Beat the Competition with Your Recruiter Cover Letter
Now that you've looked at three recruiter cover letter samples, let's get into some of the broader themes that make them great: Customize your cover letter to the particular job and company, go in-depth with your biggest couple of achievements, and polish up your writing tone.
Step 1: Knowledge is power
Oh, how many generic letters get tossed aside with a sigh. But you want yours to dazzle instead, and the quickest means to that end is tailoring your cover letter to the recruiter job listing. Your cover letter shouldn't read like it could apply to just any recruiter position: You want the company to know that you want to work for them.
A great start is taking some notes while combing through the job description. Jot down anything you find that makes you think, "That's me!" so that you'll have a handy list to refer to once you start writing your first draft. Look for specific needs you can fill. Also, research the company—especially its mission statement—so you can show you're a great fit in that area.
Step 2: Leverage your success
Many people jump into writing their cover letters, only to wind up repeating what they've written in their resume—but your potential employer has already skimmed it in bullet-point form. Instead of repeating your resume's bullet points, go beyond them to explain why they matter. For good measure, revisit Step 1 to pick the accomplishments most relevant to where you're applying.
Your recruiter cover letter should explain how one or two accomplishments benefitted your previous company.
Your resume might mention that you onboarded 5 employees—but how did that increase revenue?

Did your work impact retention rates, showing that you improved the work environment?

Did you lead an impressive workplace strategy overhaul that left employees quantifiably happier in their positions?
Make sure you shine a spotlight on these sorts of accomplishments!
Step 3: Presentation is key
Imagine you're conducting an interview with someone to help place them in a job role, and they have good experience and qualifications—but when they talk about themselves, they sound like they don't even care to be there. In other words: What you say is important, but so is how you say it. The tone and overall message of your recruiter cover letter are well worth the time it takes to refine them.
Not to sound like a broken record—but, once again, referring to the company website and job description will help you. Does the company come across as corporate and formal? Or is it more laid-back, emphasizing employee familiarity and a creative work environment? Company culture is your key to nailing the right tone.
Ensure your overall message is ideal, too—even if that means switching out an accomplishment that isn't as relevant as you first thought. Your letter should be no more than a page and should send the message that you already know the company's job role and exactly how you'll fit in. Don't skimp on proofreading, editing, revising, and rewriting to get this right.
A Simple Outline for Your Recruiter Cover Letter
It's just about time for you to take a crack at writing your recruiter cover letter, so keep those last three tips in mind as you think about each section of this important document. You may or may not have found a resume outline helpful, but chances are, a cover letter outline will really help yours take shape.
Your contact info: Include your name, address, phone number, and email address (along with your LinkedIn or other professional social media) if you're using a cover letter template.
Formatting: Leave your name out of your address if you're using a block format.
Example:
190 Fictional Court
Wilson, NC 27893
(123) 456-7890
Date: The date should reflect the submission date of your application materials.
Formatting: Write out the whole date instead of shortening it.
Inside address: The inside address is just the address where you're sending your cover letter! Make sure you research and use the person's real name and company role, shunning generic phrases like "Dear Sir or Madam."
Example:
Eloise Kemper
Electronic Arts Hiring Manager
209 Redwood Shores Parkway
Redwood City, CA 94065
Formatting: Each part of the address should be on a fresh line. Double-space between the inside address and greeting—it looks much nicer!
Greeting: Your greeting, or salutation, is crucial in making the right first impression. Always do your homework and find out the name of the person you're writing to (hint: LinkedIn will help ya!).
Example:
Dear Ms. Irwin,
Dear Ms. Kemper:
Formatting: Colons are more formal, so you'll usually default to these. However, if the company culture is more friendly and casual, you can use a comma to reflect that.
Body: Your cover letter's body should include 3-4 paragraphs that show your interest in the recruiter position, your credentials that make you the ideal hire, and your excitement for future contact.
Opening paragraph: So many cover letters run together with nothing that makes them stand out. Make sure yours isn't one of them by putting in the effort to make it unique to the job position and company!
Bad: I love video games. Especially arena games. And I've worked as a recruiter for other companies before, so I'd fit in well with you guys.
Why It's Bad: While leading with a personal connection is good, this applicant over-stresses the gamer aspect at the expense of their qualifications—where are those? Also, the company culture is laid-back, but this tone takes informality too far.
Good: With 6 years of well-rounded experience as a recruiter—and gamer—plus a background of rapid growth fueled by my finance degree and knack for managing high-volume interview funnels, I would love to use my overarching communication and strategy skills as your senior recruiter to set the roadmap for successful, inclusive hiring. I pride myself on being inquisitive and would love to help Electronic Arts by recruiting top talent to provide games, online services, and worlds with infinite possibilities.
Why It's Good: This applicant has a lot of information to cover in a limited space for a senior role! Fortunately, they make a quick mention of their gaming connection and then briskly move on to the skills that qualify them for the job, wrapping up with a direct reference to the company's mission statement. Perfect!
Paragraphs 2-3: Now's the time to show that your opening paragraph wasn't full of empty claims! Use this space to provide examples of your best accomplishments, keeping each section focused on a single achievement. You don't have much room, so stick to that one time you drastically improved time-to-hire or that prestigious strategy overhaul you led multiple departments through.
Example:
While documenting employee data and feedback, I couldn't shake the feeling that there was room for improvement. So, I researched and fine-tuned a new employee benefits package that improved current employees' satisfaction by 8%—and then I pushed things further by creating and streamlining data management plans inspired by my educational background. These infrastructures optimized employees' processes and boosted satisfaction rates by 14%.
Why It's Good: Taking the opportunity to demonstrate growth within your career is smart! This one's a winner for highlighting various skills and two metrics that come together to further the same core goal, maintaining the paragraph's focus while demonstrating ambition and versatility.
Closing paragraph: It's time for your grand finale! Summarize how your qualifications and values align with the needs specified in the job description and the company's vision statement. Finally, provide a call to action that blends seamlessly with the rest of your paragraph and eagerly invites further communication.
Bad: Can't wait to work for your company. Helping people find their ideal jobs sounds good, and I'm qualified to help them navigate. Contact me for more info if needed.
Why It's Bad: The choppy sentence structure is better suited to a resume than a cover letter—here, it sounds informal, abrupt, and disinterested. We also see a lack of detail and an indifferent call to action.
Good: I care about clients' well-being and have the self-motivated management and interpersonal skills to make it count. I would love to use this people-focused outlook to proactively reach clients who view me as the long-term solution as they let me know what they'll need next. I'd love to meet soon to share more about how my ability to juggle performance objectives and hiring needs can empower TalentCare's teams—and clients.
Why It's Good: The enthusiasm here is genuine! This applicant feels passionate about the recruiter job role and is eager to use their position to help others, which the company values. Additionally, the references to the job description's wording and the warm call to action reinforce compatibility.
Formatting: Keep text single-spaced within body text but double-spaced between paragraphs.
Signature: If you didn't thank the reader for their time in your closing paragraph, then there's no time like the present! Once you say "thank you," sign off with your real name.
Example:
Thank you so much for your time and consideration,
Tomas Zepeda
Formatting: If you're presenting hard copies of your recruiter cover letter, quadruple space in order to sign your name by hand in blue/black ink.
Enclosure(s): This part of your cover letter is important since it signals that there's more to your application package! For example, a recruiter would include their job resume and any needed certifications.
Example:
Enclosures:
Resume
Application
IPMA-CP certificate
Formatting: Make sure you use the proper singular or plural form of "enclosure," depending on how many items you're enclosing.
Secure Your Next Recruiter Role with a Resume That Wins
You're so close—congratulations on investing in your cover letter! But before you call it a day, it's essential to take this opportunity to write or review your resume and cover letter to ensure that your entire application package is thoughtfully put together, polished, and impressive.
Pro tip: It's actually easier to write your cover letter once you've completed (or at least drafted) your resume! When you build your resume, you get to see all your bullet-point accomplishments laid out in one place so that you can pick out the finest achievements to address in more depth.
And don't worry if you're not sure where to start. We have a treasure trove of versatile resume templates you can use to start writing your own, including this editable one here.
We want to make it as easy as possible for you to get your next recruiting role as you use our resources and tools. Know we're rooting for you every step of the way, so you can make a difference in finding and retaining the best talent at your next company.