Big data, or large data sets, are the name of your game: You handle development, testing, analysis, and maintenance for your company's key data. You're the go-to for complex stuff like machine learning, DevOps, and data pipelines within the context of improving company strategies.
But you might still be wondering about your resume. How do you round up your skills nicely? How long should your resume be?
Luckily, we've helped plenty of big data engineers with resume-related struggles! Take a look at these three resume examples and seasoned advice for inspiration.
---
Big Data Engineer Resume
---
Modern Big Data Engineer Resume
---
Professional Big Data Engineer Resume
Related resume examples
---
What Matters Most: Your Skills & Professional Experience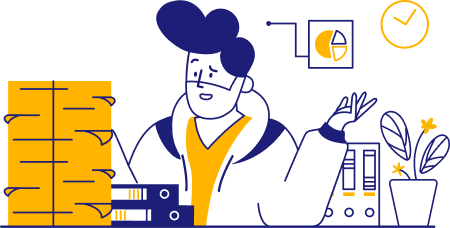 We know you're probably an awesome communicator within your field, and some level of collaborative ability is necessary in any role that spans as broadly throughout the company as yours does. But for your skills section, you'll want to keep your skills list highly technical!
Even your interpersonal skills should be phrased in a way that shows how they relate to big data engineering in particular: Think about things like data analytics and strategy presentation.
Make sure you get as specific as you can with your skills list, too. List programs by name and group similar types of software together in your list instead of consolidating them.
Here's what we mean:
9 most popular big data engineer skills
Athena
Lambda
S3
Spark
Kafka
Airflow
Redshift
MySQL
NoSQL
Sample big data engineer work experience bullet points
Those are some awesome skills to have, but recruiters also want to see how you've used your analytical way of thinking to better previous companies with your abilities. How did you reduce error rates or manual labor hours with your tech-savvy creativity?
Oh, and that's a key point: You'll need to measure things like improvement rates, labor reduction, and budget savings with quantifiable data. We know you're no stranger to this concept, but it's worth reiterating!
Think in percentages, dollar amounts, and other numerical ways of measuring the improvements you made with your expertise. Including these will boost your credibility like nothing else can.
Here are some nice examples:
Automated ETL processes across billions of rows of data to save 46 hours of manual labor per month
Built tools to provide real-time data around international currency exchange, reducing latency by 16%
Created Python library to parse and reformat data from external vendors, reducing error rate in the data pipeline by 12%
Oversaw company migration from Oracle to Redshift, saving $76.1K and increasing performance by 14%
Integrated data from multiple third party APIs that provided data around local language preferences, leading to a customized landing page that improved paid conversion rates by 6%
Top 5 Tips for Your Big Data Engineer Resume
Don't dilute your tech talk

Any recruiter seeking a big data engineer is already familiar with basic terms related to the job role, so don't feel like you have to water down your experience section. Use trade-specific language and reference key programs that show your advanced knowledge.

Soft vs. hard skills

Your skills section should be reserved almost exclusively for your hard skills, like software tools. Use your experience section to round things off with softer stuff like communication and presentation abilities. Work these skills into your experience examples.

Context counts

Use your examples and interpersonal experiences from previous job roles to give context to your accomplishments. Recruiters will be even more impressed by what you did and how you did it, if you also share why you did it and how it helped.

Stay concise

Your job is all about keeping data clean and optimized, so make sure you exemplify this ability through your experience points. Keep to just one or two lines of text, and make sure you get right to the key info without dragging on.

Customize your resume each time

Yep, we mean every time! But it isn't as daunting as some people think: Just circle back to the job description, pull some keywords and noticeably emphasized company objectives, and reflect those in each individual resume. They'll notice!
How should I style my resume?
Prioritize readability in all things! Use sleek, minimalistic fonts that are extremely legible. Only use a small pop of color to enhance key information blocks, and don't use any colors that interfere with contrast or distract from your info.
How long can my resume be?
Only one page! Even less than one page works, as long as you have a variety of high-quality skills and experience points that speak to your credibility.
Do I need references?
They aren't absolutely necessary, but they can certainly help. If you have a professional letter or two of recommendation, then feel free to include these alongside your resume and cover letter.