Whether you're here because your company website loads at a glacial speed, or because you want to promote your new business with style, you need a web developer to build an amazing new website for your company!
Web developers can elevate any business' online presence to greatness. Using their outstanding coding abilities, they can make your company website efficient and engaging.
These skilled developers use front-end and/or back-end coding to create responsive web and mobile applications that seamlessly keep your customers' attention on any device. Web developers may also maintain your website to ensure that it stays as dazzling as the day it was launched.
Finding the ideal web developer to bring your brand to life can be tricky: many web developer pros utilize unique methods, so it's crucial to find the right fit for your company. Before you start sifting through web developer resumes, edit our job description templates and check out the tips in our writing guide. Use these examples and advice to help you craft your own job description so you can attract the perfect hire for your business!
Web Developer Job Description Template
Download and edit in Microsoft Word.
Edit in Google Docs (choose "File" and "Make a copy").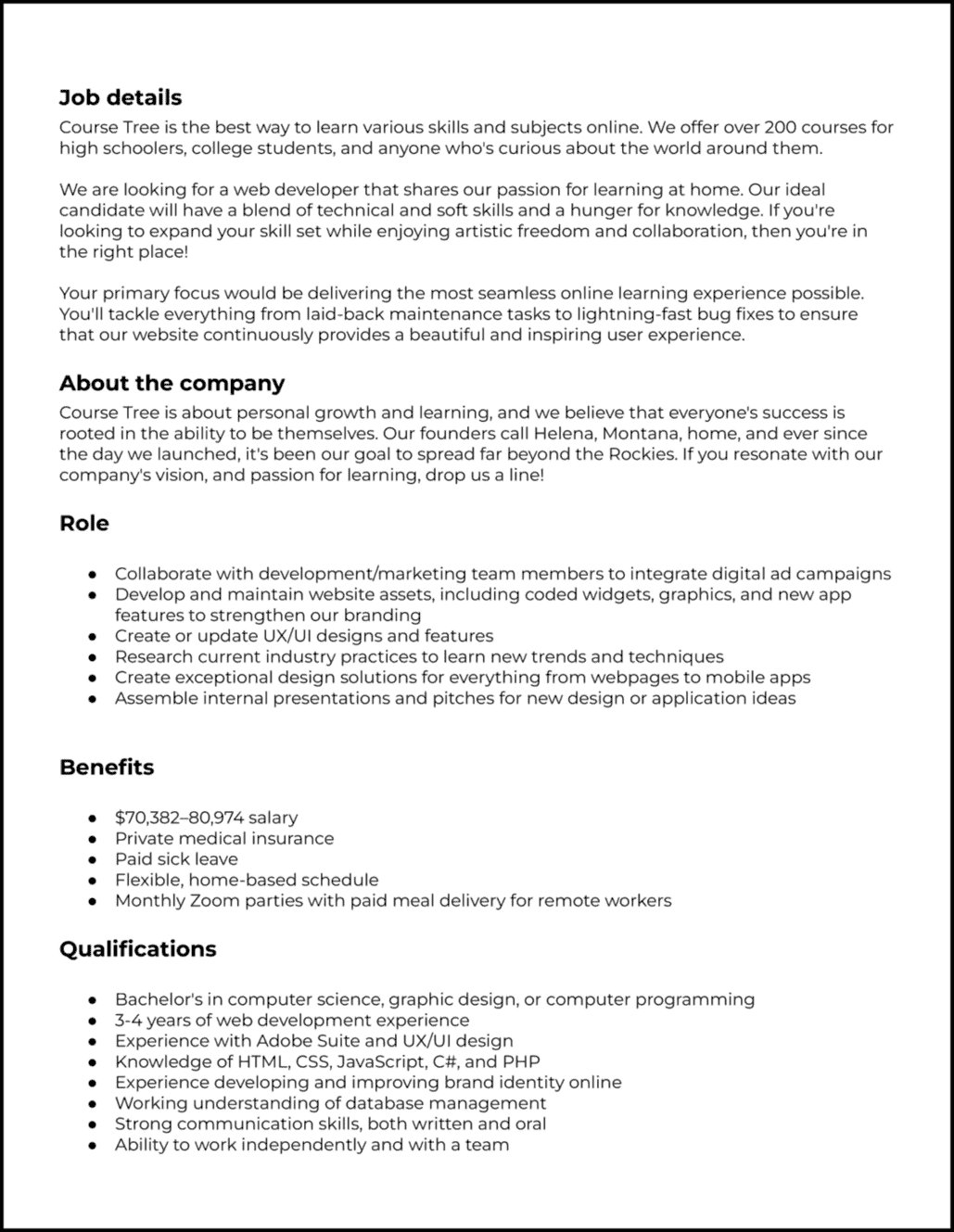 Front-End Web Developer Job Description Template
Download and edit in Microsoft Word.
Edit in Google Docs (choose "File" and "Make a copy").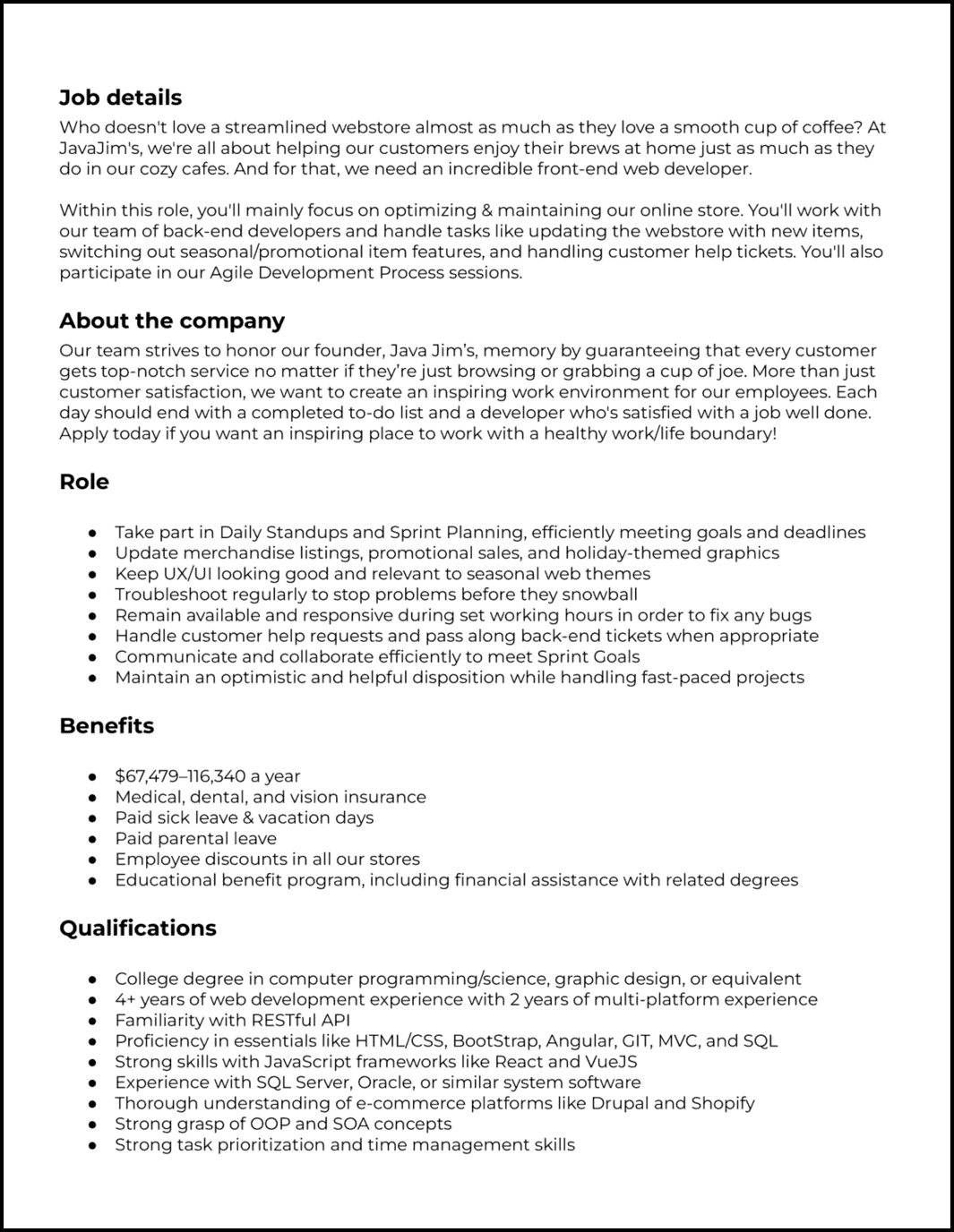 Senior Web Developer Job Description Template
Download and edit in Microsoft Word.
Edit in Google Docs (choose "File" and "Make a copy").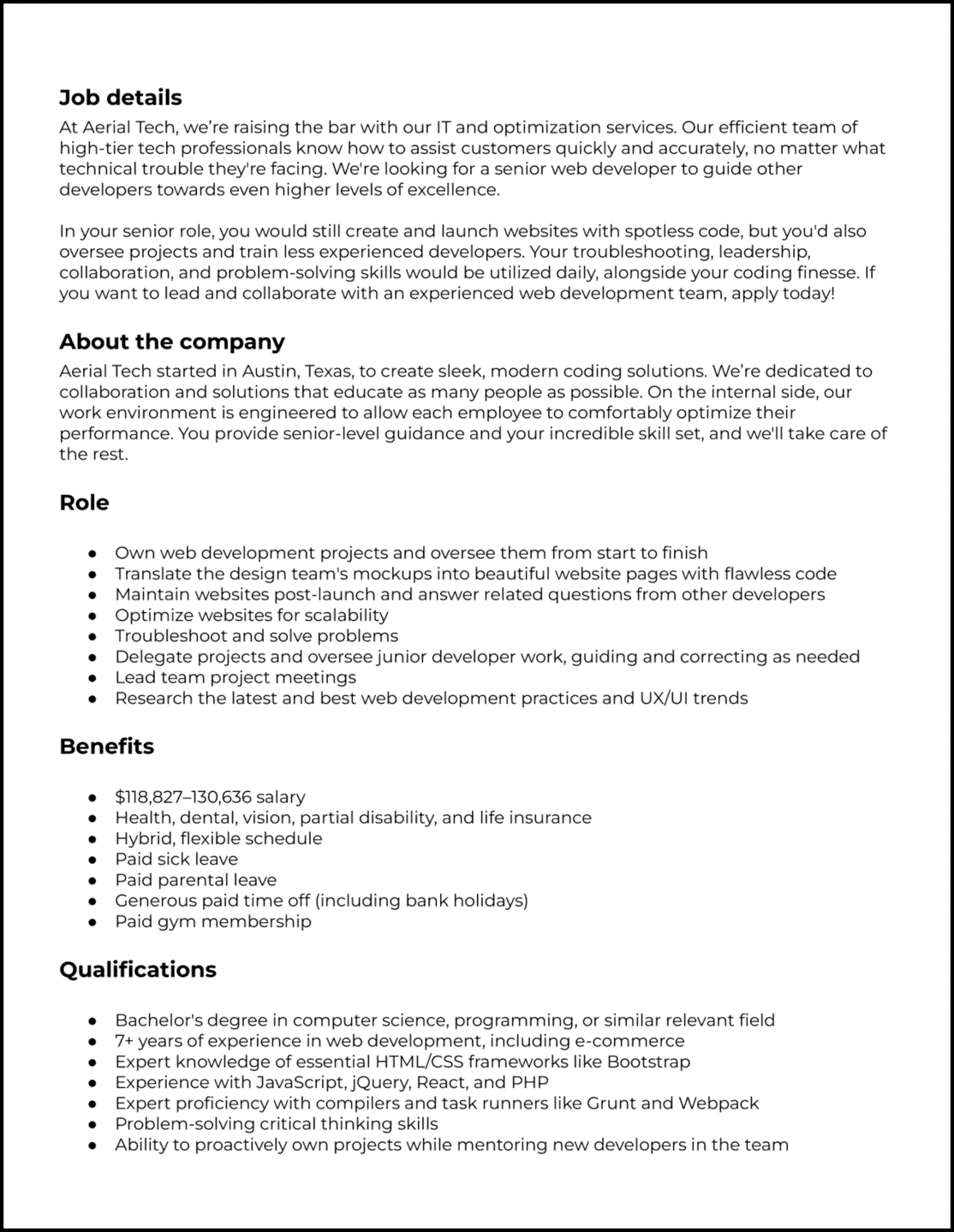 Write a Web Developer Job Description to Draw Applicants
It's a sad truth that many job descriptions flop. Not only are they dull as a letter opener, but they're also infuriatingly vague and uninformative. These kinds of job descriptions are bad for both you and the applicant.
Readers shouldn't be left wondering what the company is like, what they'll be expected to do, or what types of teams they'll work with. You shouldn't risk losing ideal applicants by not spending time on your job descriptions. All in all, it's in your best interest to write a good job description.
Reading time is a big factor to consider—the most ideal applicants are bound to send out tons of applications, so you want your job description to grab their attention. Keep it concise but informative, and focus on the specifics that make your company's web development role special.
And if we can stress one thing above all: proofread your job description so applicants take the company and the role seriously.
Decide exactly why you need a web developer
This might seem like a no-brainer, but when you sit down to write your job description, consider the exact reasons why you're looking to hire a web developer in the first place.
Does your development team have some gaps—or are you just getting started? Are you migrating your website? Does your website look so outdated it's painful? Or do you simply need someone who can keep things looking fresh with good website maintenance?
Check out these concrete ways you can write a stellar job description that will attract candidates who align with your values:
After brainstorming and organizing your thoughts, you've undoubtedly pinpointed some must-haves for your ideal web developer. Naturally, you'll want an excellent communicator with a proactive disposition and an eye for detail, but how can you use your job description to emphasize your top priorities?

Any web developer you hire should have a great repertoire of coding languages at the ready, but does your job description list the ones you'll need most?
A senior web developer undoubtedly needs to demonstrate their ability to prioritize and juggle multiple projects, but is your job description organized just as thoughtfully and efficiently?
You may desperately need a web developer with an eye for detail who can fix those bugs that have been costing you, but have you left typos or formatting errors unfixed?
Revise for a perfectly developed job description
When it comes to writing the ideal job description, revision is your superpower! Great web developers want a dependable company, so it's crucial to provide an accurate and polished picture of the job role and your vision.
Take your time perfecting your job description. Go ahead and jot down everything you can possibly think of to include—but don't post it. Once you've written everything you think you need, take a minute to appreciate it before you narrow it down.
You may be hesitant to cut anything, but consider what you can combine first. Can you group a set of coding languages into a single bullet point instead of listing them individually? Can you combine several keywords into an amazing tagline for your company that's short and sweet? Revise, edit, and proofread carefully before releasing your job description into the wild!
A Web Developer Job Description Outline for a Start
Now that you've had the chance to view examples of three different web developer positions, check out this outline that will help you nail down your own ideal job description to share with the world!
Job details: Since web developers often boast broad skill sets, you'll need to specify what kind of niche you're looking to fill. Your job listing needs to get specific about what you really need in a web developer, so don't leave out key details about your unique position.
It's also smart to prioritize uncommon details. For example, you should still mention common denominators like communication and basic HTML skills, but keep the details to a minimum—hopefully, you're hiring someone who already understands them!
What you'll be doing/Roles/Responsibilities/Requirements: This is where you'll talk about what your future web developer will be doing every day. Be specific, but keep it short. Lengthy lists are overwhelming, so focus on their most important tasks.
Examples:
Troubleshoot regularly to stop problems before they snowball

Research current industry practices to learn new trends and techniques

Keep UX/UI looking good and relevant to seasonal web themes
Qualifications: Many employers looking to hire an awesome web developer tend to gravitate toward more complex requirements, but don't forget to include the minimum requirements as well! If a particular certification, degree, or experience level will make or break your hiring decision, make sure you put those qualifications at the top of your list.
Also consider, is the position you're advertising more front-end or back-end? How's the balance between self-guided projects vs. teamwork sessions?
Some requirements require expert-level knowledge, but some skills are easy to learn on the job. For example, if they're able to write HTML or CSS code in their sleep, they can easily pick up using JavaScript if they are familiar with it.
Listing some soft skills will also help candidates know where you stand on things like communication, organization, and time management.
Examples:
Thorough understanding of e-commerce platforms like Drupal and Shopify

Strong grasp of OOP and SOA concepts

Ability to work independently and with a team
Benefits: Everyone needs web developers, so use your benefits section to show readers why they'd like to work for your company specifically. Do you offer paid time off, unlimited sick days, insurance, or retirement packages? If you do, then make sure you list these perks.
And don't be afraid to think outside the box! Do you have a particular office setup where your web development team can get together and brainstorm over coffee? Does your facility offer free yoga sessions or a paid gym membership? Tell all about it!
About the company: When most people go job hunting, they want who they're working for just as much as their future role. It's crucial to make your business values clear.
Share your mission statement and use your writing style to demonstrate what your company culture is like. Are you more corporate and straight-laced, with one developer for each cubicle? Or does your company prefer creativity and group brainstorming sessions? Be upfront so developers know exactly what to expect.
What are web developers responsible for anyway?
Web developers are well-rounded professionals who tackle roles that you might not expect. So it's good to have a similarly well-rounded understanding of what you're dealing with before you sit down to write your job description.
One person might not do all these things, but these examples should give you some ideas on how to articulate what exactly you need.
Function/role: The Troubleshooter
No matter how clean the code is, something will eventually throw a wrench in the gears! Bugs happen, and you may want to hire a web developer specifically to troubleshoot and keep everything updated so that you can avoid hiccups.

Troubleshoot regularly and either solve problems personally or delegate and oversee bug fixes immediately
Technical skills required to fill this role include an excellent understanding of HTML/CSS, JavaScript, responsive design proficiency, and a solid ability to problem-solve and collaborate with other developers.
Function/role: UX/UI Specialist
Oh no—does your website look great on a computer screen but disorienting and clunky on mobile devices? Do you consistently get complaints about difficulties using certain features or finding key site buttons? If so, it sounds like you're looking for a web developer who can smooth out the user interface and experience.

Must be able to keep up with the latest and best web development and UX/UI practices
This area of web development requires understanding the user's needs and habits, along with a knack for design that drives action.
Function/role: Graphics Ninja
If you have a website that looks like it was thrown together last week or—even worse—coded back in the 90s, then you need an excellent graphics-oriented web developer. Your new hire should be able to whip things into shape so that your website is flawlessly on-brand.

Must have experience editing/making graphics and designing a responsive website, and must be able to assess existing web pages and make key improvements while staying aligned with the company brand

Technical skills required for this role include Adobe Suite, responsive coding abilities, and familiarity with UX/UI.
Function/role: The Mentor
Do you have a strong desire to help skilled-but-green web developers grow, all while furthering your brand's reach and company vision? If so, you'll want to seek out a senior web developer who can share their wealth of experience and knowledge.

Must be able to mentor junior developers and guide them through problem-solving processes so they can confidently excel and advance within their roles
This role requires extensive experience with everything from programming languages to database management and proactive, friendly communication skills.
Function/role: Client Assistance/Support
Function/role: The Trendsetter
Staying on top of trends may feel like more of a marketing requirement, but web developers need to know what customers value and experience day-by-day. Graphic design, UX/UI, and clean code are all important, but an understanding of the current online world is vital.

Need a driven web developer to keep up with UX and design trends to boost brand relevance and customer reliability
Must have an analytical mindset alongside a basic grasp of style and users' needs—creativity and an eye for design are essential.
Function/role: Project Leader