Sales are the lifeblood of any growing company or organization.
Without sales, most companies are stagnant. Or worse, they're failing.
As a successful salesperson, you know how to generate and communicate with potential leads.
You shouldn't also have to know how to create an effective resume.
We analyzed tons of professional resumes and have selected the top eleven sales resume examples that have helped salespeople get hired by companies like Google and Facebook. We also teased out what works and what doesn't to help you land your next sales job in 2022.
Sales Resume Example
Why this resume works
As a sales expert, numbers are king. If you can, you should highlight your numeric sales performance in your sales resume.

Whether your biggest impact was in total sales, conversion rate, retention rate, or lead generation performance, it doesn't matter. Numbers speak louder than words.

Your resume objective is a tricky proposition. To help you out, we compiled over 100 resume objective examples to help you land your next job.
Sales Manager Resume Example
Why this resume works
When you're a manager, you must demonstrate increased responsibility throughout your working career. The greater quantitative your impact, the more likely you will get an interview.

How did you perform as a sales associate?
How many people have you managed?
How has your team performed?

As a manager, you should be demonstrating ownership in your actions. One great way to do that is through the use of action verbs like "built," "developed," and "led" in your sales manager resume work experience bullet points.
Sales Associate Resume Example
Why this resume works
For a person who doesn't have a lot of background in sales, hiring managers are looking more for potential than for a proven track record.
When looking for a sales associate role, you must demonstrate that you can work with high-maintenance customers.

Ninety-five percent of customers will be easy to deal with, but you're getting paid to deal with the troublesome five percent as a sales associate.

The skills for your resume should be extensive but not exhaustive. That is to say, you should only include skills on your sales associate resume that you'd be comfortable citing demonstrative examples of in an interview.
Retail Sales Associate Resume Example
Why this resume works
Retail hiring managers want to know two things before they invite someone for an interview:

Have you worked in retail in any capacity?
Have you worked in retail sales?

A "yes" answer to either of those questions will most likely get you an interview, but you're almost guaranteed an interview if you can answer "yes" to both!
Outside of these two questions, they also want to know if you were a successful retail sales associate. Look for ways to demonstrate this in your retail sales associate resume.

Quantify your impact.
Use active verbs.
Focus on your achievements as a result of your responsibilities.
Entry-Level Sales Resume Example
Why this resume works
You're entry-level, and you're looking for your first sales role. I've been there. What I can tell you is that it's a lucrative career. To get your first role as an entry-level sales rep, you need to convince the hiring manager that you have charisma first and foremost.

Sales is a people management game. If you have charisma and patience, that's much more valuable in the eyes of the hiring manager than an impressive educational background.

You have to play to your strengths on your resume. If that's your education, that's okay. If it's your work experience or projects, make those the focus of your entry-level sales resume!
Digital Sales Representative Resume
Why this resume works
There's a lot you can include on your digital sales representative resume. The nature of this job means you shouldn't be short on finding quantitative metrics to demonstrate your value in your job description bullet points.

If you're stumped on what numbers to include, consult this list: response time, the number of active accounts, size of the average account, churn dollars, team size, ROI, social media post engagement, the number of products of which you possess knowledge, awards, and conferences attended.

While you should be honest, remember that your resume is not the place to be shy or timid. You've worked hard to exceed sales targets, build a strong client base, and earn a name for yourself. Own those accomplishments.
Sales Representative Resume
Why this resume works
As a sales representative, you know that first impressions count.

Make sure every section of your sales representative resume is flawless. That means there shouldn't be any typos or grammatical errors, the word count should be sufficient without becoming overwhelming, and sections should be laid out in an eye-pleasing way.

Hiring managers typically receive many applications upon submitting a sales rep job ad. Unfortunately, they don't have time to carefully read every job applicant's documents.

Just as you must quickly capture the attention of prospective clients, you'll need to use those same skills now to catch the attention of employers.
Sales Strategist Resume
Why this resume works
Maybe you have over a decade of experience as a data analyst or something similar, and you're shifting gears to jump into sales strategy.

While it may be a shift, it's not a leap, so you should use your career objective to point out how you will leverage experience to benefit a sales strategist role.

In sales strategy, numbers are foundational, so quantitative metrics are your best friend for your sales strategist resume.

Including numbers will enable you to fit more valuable information in less space.
Numbers do a better job at demonstrating your qualifications to hiring managers than words alone.
And numbers draw the eye in and encourage hiring managers to slow down while reading your resume.
Sales Consultant Resume
Why this resume works
Your resume should incorporate the skills listed in the skills section throughout your job descriptions.

It's not enough to say that you're good at establishing customer rapport in your skills section. You need to be able to back it up and prove that you're good at establishing customer rapport in your work experience.

For example, you can talk about unveiling events for clients, creating working relationships, and building up networks. These details demonstrate that strong customer rapport is, in fact, a skill you possess.

A good sales consultant resume should always include a LinkedIn address.

If you build a strong network on LinkedIn, a hiring manager will likely take notice. It indicates to a recruiter that you're good at building professional relationships, which is an essential element of sales.
Sales Engineer Resume
Why this resume works
Your sales engineer resume should be highly specific to every job for which you apply.

For example, if the job you're applying to emphasizes the importance of using CRM software or building long-lasting relations with customers, emphasize these skills in your skills section.

Focus on including hard skills similar to the ones used on every job posting to which you apply.

If you decide to include a resume objective on your resume, make sure to include the company name, specific skills, and a specific job title for every job to which you apply.

Not sure if you should include a resume objective?
Senior Sales Analyst Resume
Why this resume works
It might feel weird to write about yourself, especially in writing about why someone should hire you, but your senior sales analyst resume isn't the place to be shy.

Include a resume summary if you can boast 10+ years of field experience. Make it a concise, customized snapshot of yourself by including your specializations, defining expertise, and mentioning the target business by name.

Focus on using strong action verbs to start each bullet point, like "spearheaded," "calculated," "collaborated," and "established."

Rely on numbers to do the heavy lifting:

Try adding metrics about the number of employees you manage or mentor, the rate at which you've increased revenue, the rate at which employees have hit sales targets during your tenure, the number of departments you collaborate with, the number of monthly presentations you give, and any other metrics that present ways you've improved company performance.
Format Your Sales Resume for Success
We'd be remiss if we didn't quickly address correctly formatting your sales resume. Proper formatting ensures your resume is readable, logical, and complete. If you neglect the formatting, you risk potential employers not taking your application seriously or not even seeing your resume at all. When it comes to formatting, remember the following:
Overall resume format options

Draw attention to your resume header

Make your sales resume accessible for the ATS and employers
Overall resume format options
Hiring managers' preferences for resume formatting tend to change over time. For 2022, it's clear that three resume formats stand apart from the crowd as the most popular:
Reverse-chronological format:

When using this format, emphasize your most recent experience by placing it toward the top of your resume. By ordering your experience in reverse-chronological order, you'll highlight career growth.

Functional format:

Functional formatting stresses skills over work experience. This type of format may be appealing if you have little work experience or if there are gaps in your employment.

Combination/hybrid format:

This format combines reverse-chronological and functional formatting. It places equal weight on job history and skills.
Though all three types are popular, hiring managers prefer sales professionals who use the reverse-chronological format. It's most popular among sales applicants because it's easy to read, looks honest regarding your job experience, and underscores career growth.

Draw attention to your resume header
Presenting your contact information may seem unimportant. But, it's your job to make a good first impression—helping hiring managers find your contact info. easily is a great start to that end.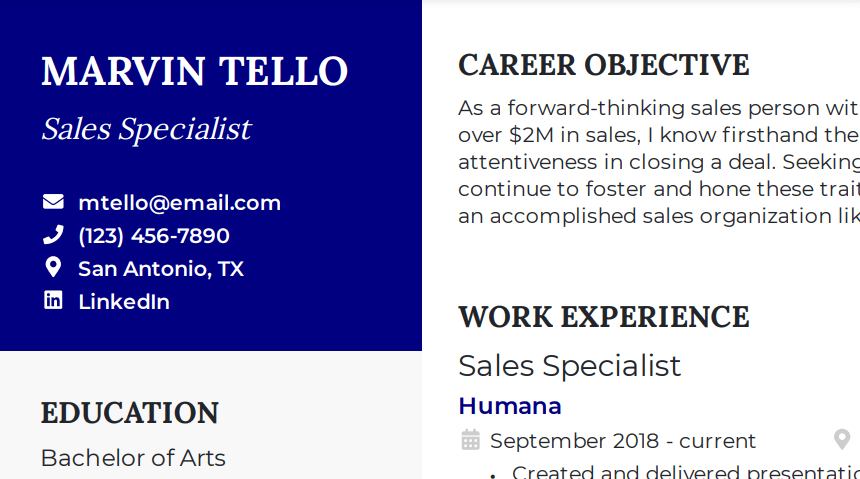 Place your name at the top of your sales resume in a large font size. It can be left (like in the image above) or centered. You should include your job title in a slightly smaller font below your name. You can tastefully add some color in this section to show your personality or stand apart from the crowd.
Your contact information should also be prominently featured. Keep the text the same font size as the body of your resume, but position it at the top left or right of the page to make it stand out. You can consider including a border (with or without color) for your contact information to make it pop. This section should include:
Your email—make sure it's professional! You probably don't want to use your junior high "

puppiesarecool@aol.c

om" account.

Phone number

City/State (optional)

Professional links to portfolios or sites like LinkedIn (optional)
Get inspired to create your resume header and contact information by checking out our resume examples. You might be surprised that you can showcase some of your personality on your resume!
Make your sales resume accessible to the ATS and employers
Once you upload your resume to an online job application, it won't go straight to a desk. The ATS will determine your resume's future. Applicant Tracking System software, or ATS, uses keywords found in your resume to determine your likelihood of being a good fit for a particular sales job.
To get past the software and reach human eyes, pay attention to:
Margins:

Use standard 0.5-1.0 inch margins all around.

Fonts:

Use professional, easy-to-read fonts like Times New Roman, Arial, or similar fonts.

Font sizes:

The body of your resume should be around 12-point font (slightly smaller is okay, too), your job title should be around 20-point font, and your name should be approximately 24-point font.

Header names:

Instead of adjusting font size for section headers, try bolding them or using all caps.

Skills:

Make sure your skills section is highly specific to the particular sales job you're seeking.

Logical order:

As we suggested earlier, we recommend a reverse-chronological format since it's the standard used by ATS.

One page:

You must fill one page

exactly

. To hit this target, you can slightly adjust fonts, font sizes, vertical spacing, and margins.
Those are a lot of moving pieces to juggle, so forget the hassle of figuring the nuances of formatting out for yourself. Our resume builder ensures your sales resume is correctly formatted from the start.
Write Your Sales Resume for Success
We know that writing an effective resume is daunting and overwhelming, especially when you're staring at a blank document. But, you're in sales, which means you have the skills to overcome this mentality by working one section at a time. If saving time and frustration is paramount to you, you'll find our resume builder intuitive and seamless.
Committed to doing it yourself? Cool. Let's jump into the deep end of resume writing by addressing the following:
Objectives and summaries

The job experience section

The mysterious skills section

Education, certs, interests, and hobbies

Customizing your resume

Editing and polishing your work
Do you really need an objective or summary?
Contrary to confusing sources floating around the internet, there is a difference between a resume objective and a summary. Both are short paragraphs specifically written for every application you submit, but there are a few key differences between them.
Briefly, an objective is a place for you to identify why you'd like to work for the company under the specific job title for which you're applying. A resume summary highlights the skills you possess and how these skills have been assets for past employers.
Your sales resume doesn't require a resume objective or summary statement, but there are a few instances where adding one would help hiring managers by giving them a better impression of you. Consider including an objective if you're seeking an entry-level role or are transitioning careers. On the other hand, resume summaries are best suited if you've got years of sales experience.
You'll get a better idea of each with a few examples, and we'll identify what works (and what doesn't) in each:
Poor resume objective: Talented employee looking for jobs in sales to continue building up my career.
Customized resume objective: Seasoned floor salesperson with 4+ years of experience hitting sales 7% or more above targets. Seeking a position with Neiman Marcus, where my specialization in high-end retail will continue the tradition of upholding the highest standard of luxury retail experiences for clientele.
How fast can we hire this person?! This objective is specific to the job and includes a customized job title, quantified metrics, specific skill sets, and the company name. It adds real value to the resume.
Poor Summary Statement: Applicant with experience in sales and marketing.
This statement is anything but specific. It doesn't add value (like any

), and it would be used on a wide range of job applications, not just a particular sales job.
Customized Summary Statement: Results-driven sales associate with 13+ years of experience developing rapid rapport and good relations with customers. Leveraged top marketing strategies to yield results, performing in the top 5% of sales associates at all workplaces for over a decade. From greeting customers and informing purchases to designing trending storefront decor, I am confident that my proven excellence in results-driven sales strategies would positively impact the movement of products at Decor 101.
Know what to include in your job experience section
When writing your sales resume, you may be tempted to include every job you've had since you were 16. Though this may be an appropriate choice if you have limited job experience, we recommend including only the most relevant two to four jobs on your sales resume as you progress in your career.
Write your job description bullet points purposefully
When you write your sales job description, bullet points will break up the chunks of text. Start each bullet point with an action verb, such as "oversaw" or "championed," to drive your descriptions forward.
Using action verbs will also lay the foundation for using active (rather than passive) voice. For example, a passively worded sentence like "The store was closed by the sales team" sounds weak and boring. We can use active voice to rephrase and shorten the statement: "The sales team closed the store."
When writing about your experience, avoid personal pronouns, such as "I" or "we." You can decide whether or not to include punctuation at the end of each bullet point; just be consistent. Finally, keep verb tenses consistent. For any past work experience, you need to use the past tense. But, for your current job title, you can choose to use either past or present tense.
Good bullet points, like the ones included here, will incorporate all of the above tips:
Executed an outbound calling strategy to warm leads, leading to a close rate of 16%, which exceeded targets by 50%

Implemented and expanded the use of Salesforce, which saved over 18 hours of manual reporting time by sales staff each week

Led initiatives for prospective home buyers to improve brand awareness and increase inbound customer interest, resulting in $275,000+ in incremental revenue
These bullet points are successful because they start with action words, maintain an active voice, avoid personal pronouns, and are consistent with punctuation and tenses.
We know it's a lot to think about, but you can return to this guide anytime in the process. Additionally, our free resume checker will offer AI-powered tips that address all the above.
Use numbers to your advantage
You may have noticed that all of the bullet point examples we included in the last section contain numbers. Metrics are incredibly important to include on any resume but especially your sales resume. What better way to demonstrate your success in sales? Words tell hiring managers you're good at your job, but numbers show undeniable value. Aim to include quantified metrics on at least 50 percent of your bullet points.
Here's how:
Performance relative to targets:

One of the most important metrics to include on your resume is how you stack up against job expectations. Did you ever, or do you always outperform sales targets? By what percentage do you exceed targets, on average?

Improvements per customer:

Do your customers have higher purchase totals? Are they making more repeat purchases than customers helped by other sales associates? What's your close rate?

Efficiency standards:

How many customers do you help, on average, per hour, day, or week? How long does it typically take you to make a sale? How many seconds does it take you to greet customers upon store entry?

Customer relations:

Consider mentioning the percentage of customers who reviewed you positively on customer surveys. Have any customers specifically mentioned you by name in positive reviews for the business?
Again, we know it helps to see these ideas in practice:
Improved the shopper-to-customer conversion rate of the store by 6% by prioritizing immediate customer service of inbound customers

Responded to customer questions with a detailed understanding of products, resulting in a customer satisfaction rating of 96%

Recognized as a Top 5% Salesperson in the most heavily trafficked Kay's store in Maine

Exceeded annual membership targets by 23% by encouraging a compassionate, customer-centered approach
Select appropriate sales skills for your resume
It's one of the shortest sections and one of the most mysterious. Unfortunately, your resume skills section battles the ATS, which scans your resume for pre-selected keywords. Not enough keywords? Not the right keywords? ATS leads, 1 to 0.
We're here to shed light on this mystery. It's a simple but effective trick. When writing your skills, choose those specific to the sales job description. Include 6–10 skills on your sales resume, including a mix of both hard and soft. Hard skills are easier to measure, including job-specific skills like "Salesforce" or "expense reports," so we recommend listing mostly hard skills. However, soft skills, such as "organization" and "customer service," can also be critical skills that deserve highlighting.
You can follow along as we put this into practice. Here's an excerpt from a sales job description:
Seeking qualified sales associates! The ideal candidate thrives in a fast-paced work environment and can maintain a positive, upbeat attitude with co-workers and customers under stressful situations. Must utilize common software to track and follow up with leads. Should be charismatic, comfortable with public speaking, and have an extremely strong ability to memorize the particulars of our merchandise and answer customer questions. We serve a predominantly Hispanic population, so Spanish speakers, please apply!
From this job description, we can create a list of skills that would be particularly appropriate for this job position:
Salesforce and HubSpot CRM

Bilingual (Native English, Fluent Spanish)

Presentations (PowerPoint, Google Slides)

Customer relations

Strong communication skills

Detailed product knowledge

Sales demos and pitches

Time management
No matter the job you're applying for, you're likely to see some of these skills emphasized:
Cold-prospecting

Negotiations

Managing multiple work streams

CRM

Trend forecasting

SQL

Traditional lead-generation

Tableau

Presentations
Education, certs, interests, and hobbies
In sales, employers require that applicants just hold a high school diploma or equivalent. However, in such a large field, you'll find that the specific educational requirements will vary widely. Some employers will seek applicants with a bachelor's degree in business or even an MBA.
List your highest level of education on your sales resume, but emphasizing your years of experience is most important. Specialized certificates/training, such as software certification for a particular type of CRM, Challenger Sales, or Sandler Training, may be helpful but often aren't required.
Typically, sales professionals don't include interests and hobbies on their resumes, but there are a few circumstances where it may be appropriate to have them:
Use interests or hobbies if you have a particularly interesting or relevant tidbit to share.

Consider adding hobbies if the job you're applying to is known for valuing employee individuality.

Hobbies and interests can demonstrate that you're the type of person a potential customer might enjoy chatting with, which is a great bonus for employers.

Use projects, like volunteering or academic extracurriculars, in place of work experience if you're light on jobs.
Here's an example of what projects could look like on your sales resume: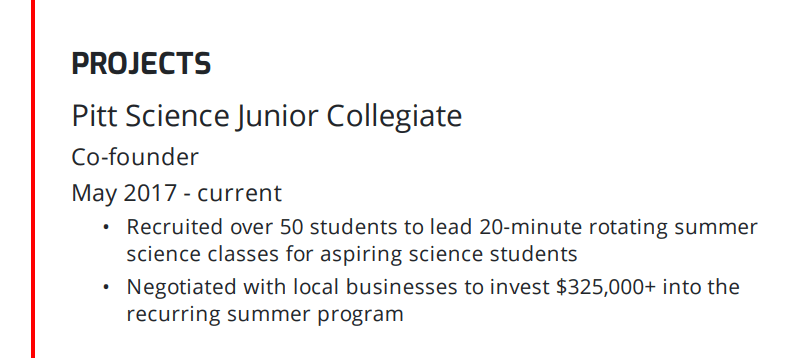 Tailor your sales resume to the job description
Remember to review your resume each time you apply for a job. Rework your resume objective or summary statement (if used), adjust your skills section to highlight skills relevant to the role, and tailor your job description bullet points.
For instance, if a job description is very clear they're looking for someone to join their sales team who can begin giving presentations on day one, then emphasize your comfort in public speaking roles. Highlight your previous presentation experience, and perhaps de-emphasize the data analysis skillset that is less relevant to this job.
Pro tip: You can keep a master list of bullet points for each job title in a separate document. Write down as many as you can for every job title you've held, and organize them based on their emphasis (time management, customer relations, data analysis, etc.). Then, pull from this document to create fully-customized resumes quickly.
Edit and polish your sales resume
When finished writing your resume, it's tempting to submit it immediately. But, you'll thank us later by taking a step away. Give your eyes and mind a rest for a day, and let someone else give you some feedback. Send your resume to trusted family and friends for review. Don't forget to take advantage of our free resume checker, where you can instantly receive tips to improve the little details you may have inadvertently overlooked.
Ready for the Next Step?
The first step to having an interview-ready, professional sales resume is to take the time to research and prepare for it. Congratulations on helping out your future self by using our guide!
Haven't started your resume yet, or want to start from scratch? Our easy-to-use resume builder will allow you to build your resume from the ground up with perfect formatting and AI-powered tips built in, so you can save serious time and focus on your next sales job. If you're ready to find out how well your resume stacks up, use our resume checker to give you AI-powered tips and suggestions for improvements.