Format Your Sales Resume for Success
Proper formatting ensures your resume is readable, logical, and complete. If you neglect the formatting, you risk potential employers not taking your application seriously (or not even seeing your resume). When it comes to formatting, remember the following:
Choose one of three resume format options

Draw attention to your resume header

Make your sales resume accessible for the ATS and employers
Overall resume format options
Hiring managers' preferences tend to change over time, but for 2022, it's clear that three resume formats are the most popular:
Reverse-chronological format:

This format emphasizes your most recent experience by placing work experience toward the top of your resume. Ordering your experience this way highlights career growth and development.

Functional format: A functional format

stresses skills over work experience. This type of format may be appealing if you have little work experience or if there are gaps in your employment.

Combination/hybrid format: This type combines reverse-chronological and functional formatting, placing equal weight on job history and skills, but it can be hard to read because of this.
Though all three types are popular, hiring managers prefer the reverse-chronological format. It's easy to read, underscores career growth, and looks honest regarding your job experience.

Draw attention to your resume header
Presenting your contact information may seem unimportant. However, this is the most important information in your resume; without it, how can you expect hiring managers to tell you "you're hired?" Don't make the mistake of underestimating the importance of an accurate and beautiful resume header.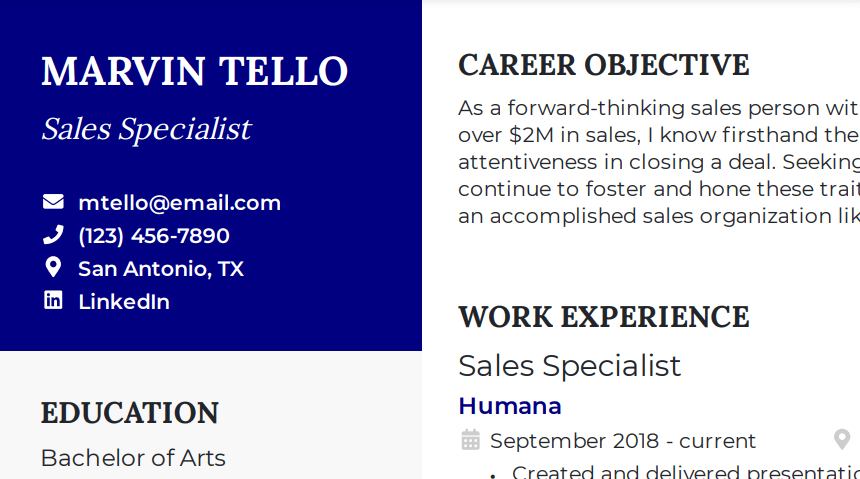 Start by aligning your header either to the left or center. Then write your name in a large font size so you can see it from far away.
Right below your name, include your job title in a slightly smaller font. Then if you like, you can tastefully add some color to show your personality. (We love cobalt blue and buttercup yellow, but we're a bit biased.)
Underneath your name and title, list your contact information. Keep the text the same font size as the body of your resume, and consider including a border (with or without color) to make it pop. This section should include:
Your email (make sure it's professional and not something like "

puppiesarecool@aol.c

om")

Phone number (with an area code)

City & State (optional but recommended)

Professional links to portfolios or sites like LinkedIn (optional but recommended)
Make your sales resume accessible to the ATS and employers
Once you upload your resume to an online job application, it won't go straight to a hiring manager's desk. Instead, it will go through the ATS, or Applicant Tracking System software.
This system uses keywords in your resume to determine your likelihood of being a good fit for a particular sales job. If you don't pass the ATS scan, it's doubtful you'll get an interview.
If you're struggling to build your resume with enough content and proper formatting, remember this: the most important thing is to ensure your resume is read. If you have to cut content to keep your formatting easy to read, do it.
Write Your Sales Resume for Success
We know that writing an effective resume is daunting and overwhelming, especially when you're staring at a blank document. Luckily, you're in sales, which means you have the skills to overcome this block!
Start by working one section at a time. We'll walk you through the most common resume sections:
Objectives and summaries

The job experience section

The mysterious skills section

Education, certs, interests, and hobbies

Customizing your resume

Editing and polishing your work
Do you really need an objective or summary?
Contrary to sources floating around the internet, there is a difference between a resume objective and a resume summary. Both are short paragraphs written explicitly for every application you submit, but there are a few key differences between them.
An objective identifies why you'd like to work for the company under the specific job title for which you're applying. A summary highlights the skills you possess and what achievements you've earned within your past positions.
Objectives and summaries are strictly optional, but there are a few instances where adding one would help.
Consider including an objective if you're seeking an entry-level role or are transitioning careers.

Consider using a summary best suited if you have 10+ years of sales experience.
We'll quickly run through what works (and what doesn't) in each:
Poor resume objective: Talented employee looking for a job in sales to continue building my career.
Short, generic, and uninformative. It doesn't provide helpful information to hiring managers and wastes valuable space.
Customized resume objective: Seasoned floor salesperson with 4+ years of experience hitting sales 7% above targets. Seeking a position with Neiman Marcus, where my specialization in high-end retail will continue the tradition of upholding the highest standard of luxury retail experiences for clientele.
This objective is specific to the job and includes a customized job title, quantified metrics, specific skill sets, and the company name. It adds real value and will impress any hiring manager.
Poor summary statement: Dedicated applicant with experience in sales and marketing looking for a sales associate role to improve customer service skills.
This statement is anything but specific,

and it could be on any number of sales resumes. More than just that, it doesn't highlight any skills or qualifications beyond dedication. Major yikes.
Customized summary statement: Results-driven sales associate with 13+ years of experience developing rapport and good customer relations. Leveraged top marketing strategies to yield results, performing in the top 5% of sales associates at all workplaces for over a decade. From informing customers about purchases to designing trending storefront decor, I am confident that my proven excellence in results-driven sales strategies would positively impact the movement of products at Decor 101.
Know what to include in your job experience section
When writing your sales resume, you may be tempted to include every job you've had since you were 16. Though this may be an appropriate choice if you have limited job experience, we recommend including two to four highly relevant jobs on your sales resume if you have more experience.
Write your work experience bullet points purposefully
When you write your work experience section, remember that space is crucial. To take up less room, use bullet points to break up chunks of text. Start each bullet point with an action verb, such as "oversaw" or "championed," to drive your value (and cut filler).
Using action verbs will also lay the foundation for using active (rather than passive) voice. For example, a passive sentence like "The store was closed by the sales team" sounds weak and boring. Active voice gives agency to the subject and shortens the statement: "The sales team closed the store."
Avoid personal pronouns when writing about your experience, such as "I" or "we." Ending punctuation is up to you—just be consistent. (Avoid having periods at the end of all your bullet points except for one, for example).
Finally, keep your verb tense in the past, and make sure it's consistent.
Good bullet points can look like any of these examples:
Executed an outbound calling strategy to warm leads, leading to a close rate of 16%, which exceeded targets by 50%

Implemented and expanded the use of Salesforce, saving over 18 hours of weekly manual reporting time by sales staff

Led initiatives for prospective home buyers to improve brand awareness and increase inbound customer interest, resulting in a $275,000+ increase in incremental revenue
These bullet points are successful because they start with action words, maintain an active voice, avoid personal pronouns, and are consistent with punctuation and tenses.
Getting these things correct is tricky, but you can return to this guide anytime to review these tips!
Use numbers to your advantage
You may have noticed that all the bullet point examples we included contain numbers. Metrics are essential for any resume, but especially your sales resume. Words tell hiring managers you're good at your job, but numbers show undeniable value. Include quantified metrics within at least 50 percent of your bullet points.
It helps to see these tips in practice, so here are some examples:
Improved the shopper-to-customer conversion rate of the store by 6% by prioritizing immediate customer service of inbound customers

Responded to customer questions with a detailed understanding of products, resulting in a customer satisfaction rating of 96%

Recognized as a Top 5% Salesperson in the most heavily trafficked Kay's store in Maine

Exceeded annual membership targets by 23% by encouraging a compassionate, customer-centered approach
Select appropriate sales skills for your resume
The skills section is one of the shortest sections on your resume and one of the most mysterious. Unfortunately, the ATS plays a big part in this section since it scans your resume for pre-selected keywords.
Not enough keywords? Not the right keywords? ATS wins, 1 to 0.
We're here to shed light on this mystery using a simple trick. When writing your skills, choose those mentioned in the sales job description. Of course, don't include every skill they list, but use the job description to guide your strengths.
Ideally, include a mix of both hard and soft skills for a total of six to 10 skills. Hard skills are easier to measure, so we recommend listing mostly hard skills. However, soft skills, such as "organization" and "customer service," are critical in a sales role, so include a few that match your abilities.
Let's put this trick into practice! Here's an excerpt from a sales job description:
Seeking qualified sales associates! Our ideal candidate thrives in a fast-paced work environment and can maintain a positive, upbeat attitude with co-workers and customers under stressful situations. Must utilize standard software to track and follow up with leads. Should be charismatic, comfortable with public speaking, and have a solid ability to memorize merchandise details and answer complex customer questions. We serve a predominantly Hispanic population, so Spanish speakers, please apply!
From this job description, we can create a list of skills that would be particularly appropriate for this job position:
Salesforce and HubSpot CRM

Bilingual (Native English, Fluent Spanish)

Customer relations

Interpersonal communication

Product knowledge

Sales demos and pitches

Time management
No matter the job you're applying for, you're likely to see some of these skills:
Education, certs, interests, and hobbies
In sales, employers typically only require a high school diploma or equivalent. However, specific educational requirements will vary widely in such a large field. Some employers will seek applicants with a bachelor's degree in business or even an MBA.
So in your sales resume, list your highest level of education. If you have a graduate degree, you can include both it and your undergrad degree.
If you have any certifications or additional training, such as software certification for a particular type of CRM, you can include that, too, although it isn't required.
Typically, sales professionals don't include an optional interests and hobbies section on their resumes, but there are a few circumstances where it may be appropriate:
Consider adding hobbies if the job you're applying to is known for valuing employee individuality.

Use projects, like volunteering or academic extracurriculars, in place of work experience if you're light on jobs.
Here's an example of what projects could look like on your sales resume: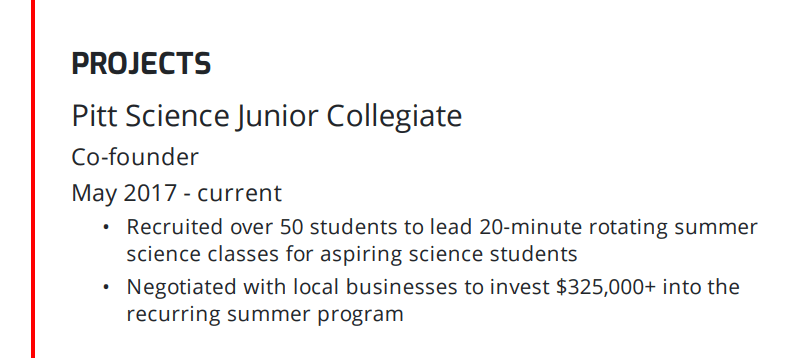 Tailor your sales resume to the job description
Remember to customize your resume every time you apply for a job. Tailoring your resume to the job description is the best way to land an interview quickly.
Start by reworking your resume objective or summary statement (if you have one). Then adjust your skills section to include skills relevant to the role. Finally, adjust your job description bullet points to include relevant qualifications.
For instance, if a job description mentions they're looking for a sales representative who can begin giving presentations on day one, emphasize your comfort in public speaking roles. Highlight your previous presentation experience, and perhaps de-emphasize the data analysis skillset that is less relevant to this job.
Pro tip: You can keep a master list of bullet points for each job title in a separate document. Write down as many skills and responsibilities as you can for every job title, and organize them based on their emphasis (time management, customer relations, data analysis, etc.). Then you can pull from this document to create fully-customized resumes quickly.
Edit and polish your sales resume
When finished writing your resume, it's tempting to submit it immediately, but it's best to take a step away first. Give your eyes and mind a rest for a day, and send your resume to trusted family and friends for review. Then you can adjust your content and check your resume for errors before you submit; that way, you don't miss the little details you may have inadvertently overlooked!
Ready for the Next Step?
The first step to having an interview-ready, professional sales resume is to take the time to research and prepare. Congratulations on helping out your future self by using our guide!
Our easy-to-use resume builder will allow you to build your resume from the ground up with perfect formatting, so you can save serious time and focus on your next sales job. If you're ready to find out how your resume stacks up, use our resume checker to give you AI-powered suggestions to polish your resume to perfection.
We know that wherever you get hired, you'll be helping customers and growing revenue in no time!